Cookware is essential for everyone, from college students that rarely cook to restaurants serving hundreds daily. Every kitchen needs some form of cookware to prepare meals.
Since it is such a staple product in our lives, there's a high demand with the number of people buying cookware, whether to replace their old ones or to furnish a brand new kitchen. This demand also comes with an as high supply. Countless manufacturers produce varying pots, pans, skillets, and more.
With cookware, the devil is in the details. The products of one manufacturer can boost sales or downright result in complaints and lots of 1-star reviews. There is a lot to note about manufacturers, materials involved, the types of cookware, and the outlook of selling cookware for your business.
Why sell cookware?
You might want to sell cookware for several reasons. It is a sensible approach for any store that sells kitchen products. It expands your product lineup, helping you reach a larger audience. A customer that buys a new knife set is just as likely to get a pot or pan to complement their purchase.
Maybe you run a home furnishing or even a home improvement store. As cookware is essential for every house, you would miss out on possible purchases if you skip it. Every home needs a wide range of cookware products, from pots and pans to skillets. Selling cookware increases the appeal of the business, as it is something standard that we need for anything that involves cooking food.
Buy Wholesale Cookware and Start Scaling up with Us Today
Contact us and connect with a sales rep to get a free quote.
List of cookware manufacturers
These bring us to sourcing cookware products from noteworthy manufacturers. Here are some of the best cookware manufacturers you can get in touch with for bulk purchases.
BergHOFF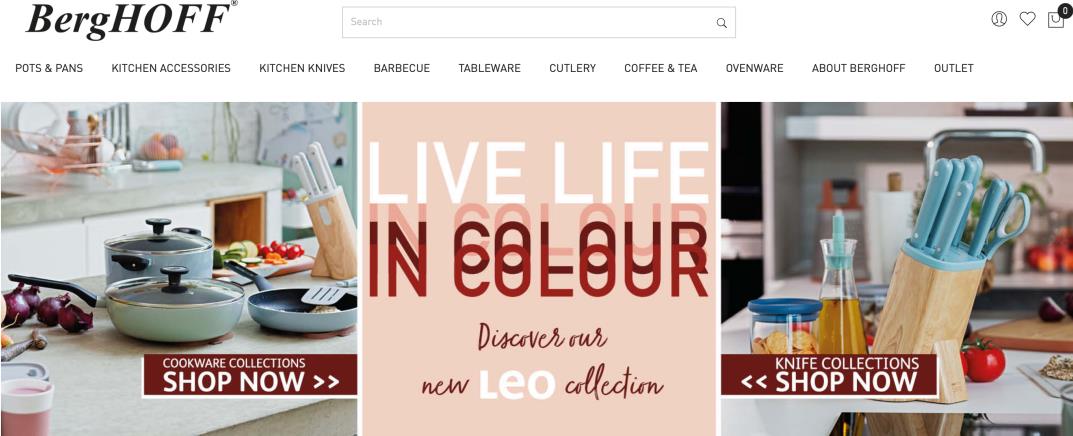 BergHOFF is a Belgium-based manufacturer of various kitchen products. It has an extensive catalog of professional cookware, cutlery, tableware, and ovenware. The company is most notably known for its Leo grater and peeler sets.
It manufactures and sells frying pans, skillets, pans, pots, griddles, and sets worldwide. It utilizes various materials to manufacture cookware, including anodized aluminum, ceramic, and non-stick. Shoppers stumble upon BergHOFF products daily in Europe at Carrefour, Zara Home, Stokrotka, and many other chain stores.
BergHOFF is one of the most notable cookware manufacturers in Europe. It is a source that stores in Europe can benefit from short lead times. If you plan to furnish your shop with various cookware products, BergHOFF is a notable manufacturer to consider. Fill out BergHOFF's contact form to get in touch for wholesale purchases.
Advantages
Various cookware types and kitchen gadgets
High-quality materials
Disadvantages
Not many material options
Not the best for stores outside of Europe
Vollrath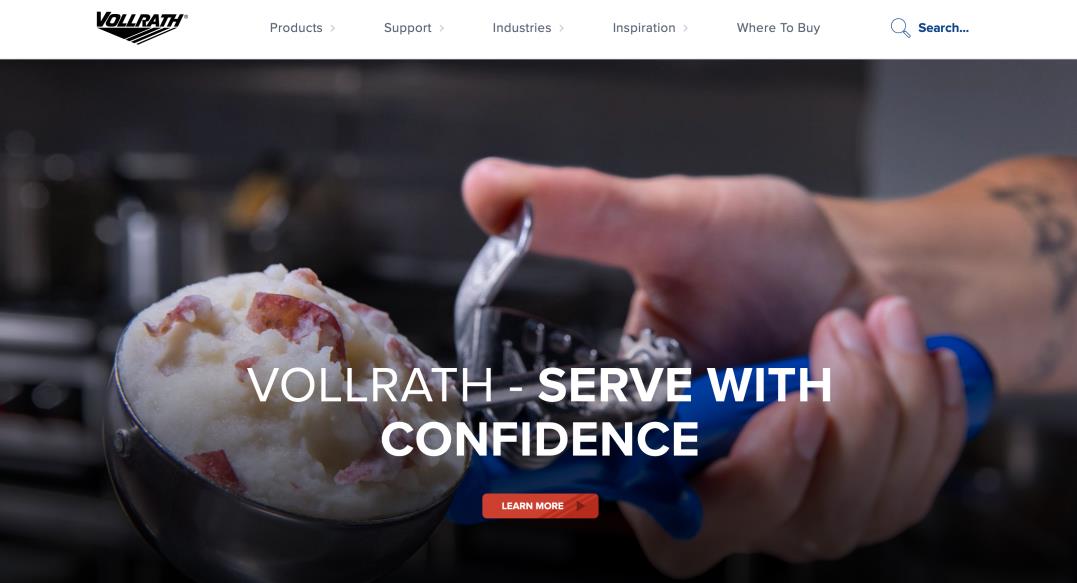 Vollrath is one of the leading companies in the food industry. It manufactures many of the cookware products wholesalers trade in the United States. Why bother with wholesalers when you can get the products directly from the manufacturer? Doing business with Vollrath without an intermediary can get you better deals and more flexibility.
Many of the products Vollrath manufactures are trademarked. Selling products like this enables stores to offer unique products to customers. A few of the trademarked cookware Vollrath manufactures include the Intrigue lineup, made from heavy-gauge stainless steel, and Arkadia, an aluminum cookware set of pots and pans.
From sauce pans to steamers, you can equip your store with a variety of Vollrath products. To source products from Vollrath, connect with one of their sales representatives using this contact form.
Advantages
A manufacturer with expertise in multiple industries
Trademarked products that can make you stand out
Disadvantages
Costly, especially for small businesses
OEM service is among the most expensive
Sarchi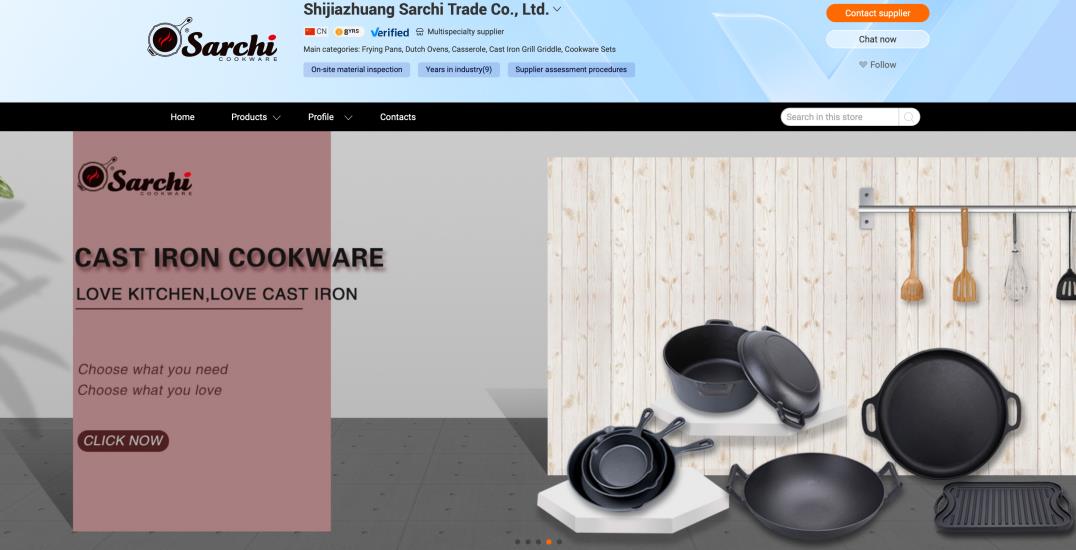 Shijiazhuang Sarchi Trade is a cookware manufacturer that focuses on enameled cast iron and cast iron cookware. It exports to an impressive number of 30 countries worldwide.
Shijiazhuang Sarchi Trade Co., Ltd. offers surprisingly affordable prices despite its reach. You can bulk purchase three pieces of cast iron skillets ranging from 6 to 10 inches in size for about $5. You can sell these at a satisfying profit margin while staying well below the competition.
The downside is their minimum order quantities – it is among the highest. You will need to order upwards of 500 pieces to get these deals. If you have the means to pay for and store large batches, you can source from this manufacturer and make a satisfying profit.
Aside from cast iron skillets and Dutch ovens, this Chinese cookware manufacturer also has miniature products for decorative and serving purposes. The MOQs for these aren't as high, so you can try and see what sells the best in your store. Check their Alibaba profile from here.
Advantages
Competitive prices
Wide range of products
Disadvantages
Very high MOQs
Long lead times
Winco US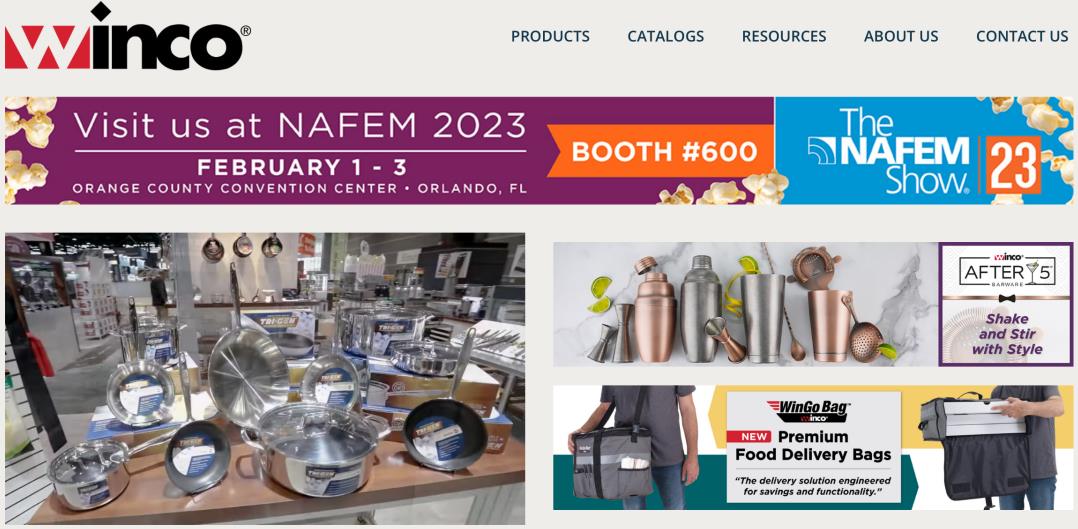 Winco is a supplier of cookware, tabletop, and countertop equipment. Not to be mistaken with the supermarket chain WinCo Foods, Winco US is a part of the Foodware Group.
Winco has a selection of cookware made from different materials, mostly cast iron, aluminum, stainless steel, and carbon steel. Out of these materials, the company offers the most variety in stainless steel cookware. These products range from egg poachers to steamers, with a sizable number of tri-ply clad stainless steel pots and pans. The company also manufactures replacement parts for its products and accessories.
Although Winco has a wide selection of products, it doesn't offer customizations. You get what you see and can't request changes outside the given specifications for each product.
Nevertheless, Winco is a reliable manufacturer that can furnish stores with stainless steel, aluminum, carbon steel, and cast iron cookware. Contact Winco for B2B inquiries from here.
Advantages
Various cookware and kitchen equipment
Excellent customer support
Disadvantages
No customizations
Quite expensive
LeeKnives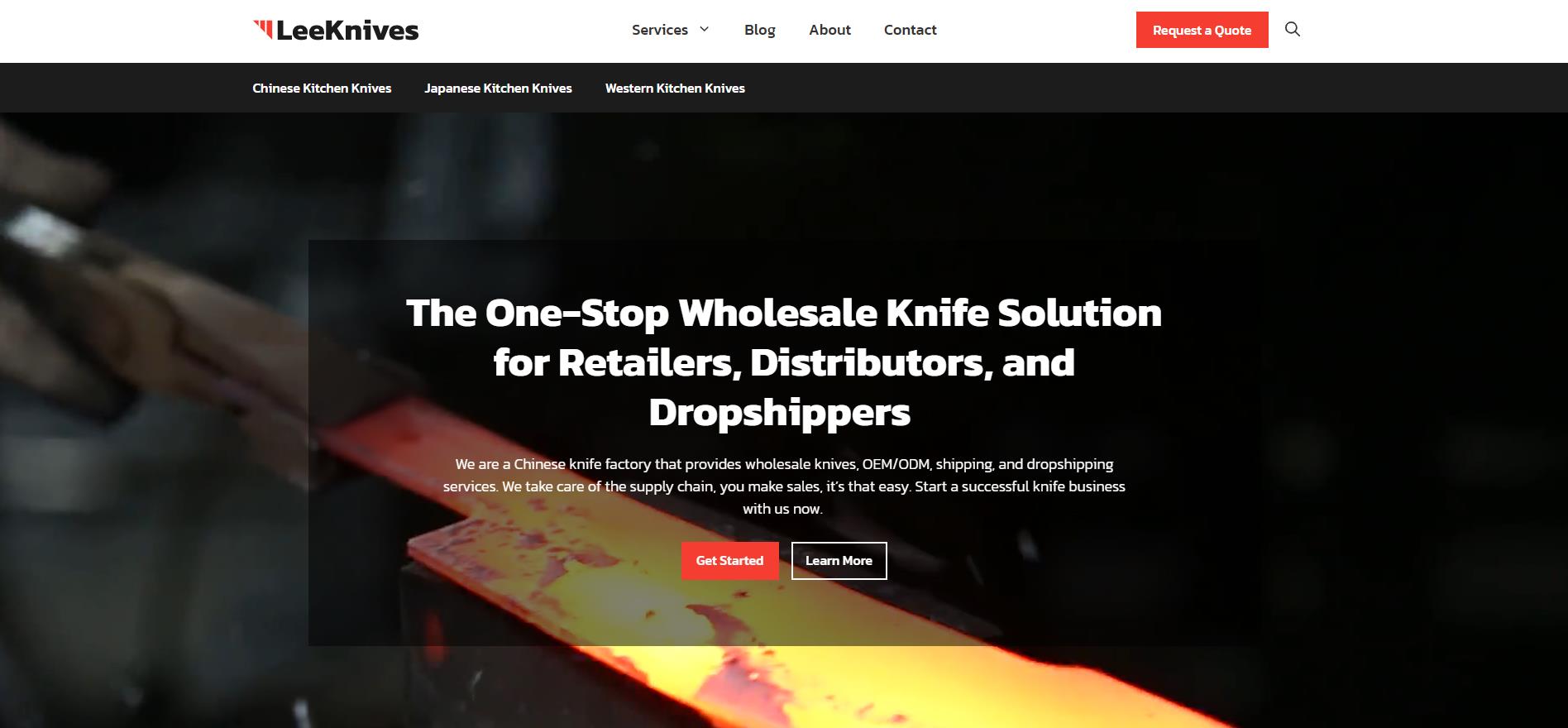 LeeKnives is a kitchen knife and accessories manufacturer, not cookware. Still, we can help you source cookware using our connections in the cookware manufacturing industry in China.
With 30 years of existence in kitchen equipment manufacturing, we can guide you to the right manufacturer. If you've already bulk purchased kitchen knives or cutting boards from us, know that sourcing cookware also follows the same hassle-free process – read more on additional ways we can help down below.
Buy Wholesale Cookware and Start Scaling up with Us Today
Contact us and connect with a sales rep to get a free quote.
Things to keep in mind when choosing a cookware manufacturer
Customer service: Pay attention to the manufacturer's responsiveness and communication. If they can't effectively communicate with you, unwanted outcomes are bound to happen.
Scalability: Make sure the manufacturer is capable of keeping up with the increases in your order size. You might find yourself short-handed if they aren't able to accompany your growth.
Services offered: A good manufacturer should present multiple services to help you stand out. Think OEM, ODM, private labeling, and other services you might need to utilize for your growth.
Qualifications: Scrutinizing is one thing; knowing the manufacturer has all the necessary certifications and standards to produce high-quality products is another. A cookware manufacturer must have the qualifications to produce safe products.
Lead times: Consider the manufacturer's lead times. You should be able to get the products as soon as possible. If not, the chances are you will miss sales during the peak season.
Terms of payment: Manufacturers have different payment terms. Some ask for half upfront and the rest upon delivery; some want everything before the manufacturing begins. Find a manufacturer that suits the payment structure you have in mind. Also, consider making transactions through marketplaces to protect your investment.
These are just a couple of tips for finding the best manufacturer for your business. By considering these, you can make a more informed decision when choosing a manufacturer to source cookware.
Consider custom cookware manufacturing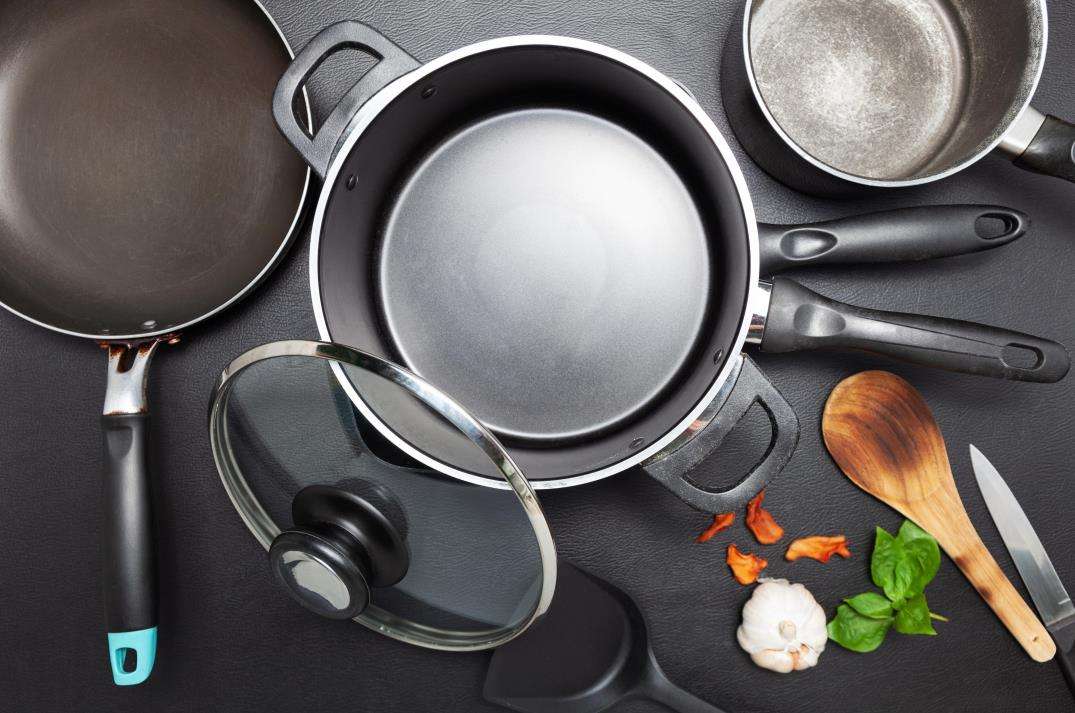 Lastly, consider selling custom products. Just like in the knife business, most cookware manufacturers have typical items. It is problematic to distinguish yourself from competitors if you don't have anything that differentiates you. Selling custom products is the best solution to stand above the competition.
Having products catered directly to the needs of your customers makes a difference and boosts sales. Do customers complain about how hot the handles get with their cast iron skillets? Why not add a wooden handle with your store name on it?
Perhaps your customers wish their Dutch ovens to have a strainer to separate certain ingredients from stews. Customizing is the best way to make your store the go-to option for buying unique products.
Ordering wholesale custom pots and pans doesn't have to cost a fortune. It is all about knowing the right manufacturers. Read this article on the list of custom cookware manufacturers to get more insights.
How LeeKnives can help you source cookware
Since we will uphold sourcing duties for your business, you will get deals and quotes from multiple manufacturers. Let's say you plan to sell tri-ply stainless steel cookware. We will contact the manufacturers that specialize in that category of cookware. From there, the details of your possible order will determine the rest.
Sourcing cookware from LeeKnives means:
Business solutions specific to your store
Best quotes from multiple industry-leading manufacturers
Access to all types of cookware and materials
Worldwide shipping through our freight partners
Private label, OEM, ODM, and IP protection services
Contact us with the materials, type of cookware, order size, and other details about your project. We will follow up shortly and get back to you with a free quote.