Designing and customizing your very own cookware enables countless possibilities. You get to sell a product that's tailored specifically to your customers. Naturally, selling products like this increases sales and brand loyalty.
Many manufacturers offer various products, but it is challenging to go beyond the typical products due to the simplicity of cookware. This can make sourcing products tricky as every manufacturer might seem to sell similar products. Selling custom cookware is a perfect business solution for shops facing difficulties with making their next big jump.
The personalized design of custom cookware speaks your brand name and functions specifically for your customer's needs. It is a unique product manufactured based on your specifications, and as such, it is different from the typical products sold by your competitors.
An understanding of what buyers want and some market research is all it takes to have great success with custom cookware. In this article, we'll list some of the reputable custom cookware manufacturers. Bookmark this page to have the service and contact information of different manufacturers ready at hand.
Cookware materials you can customize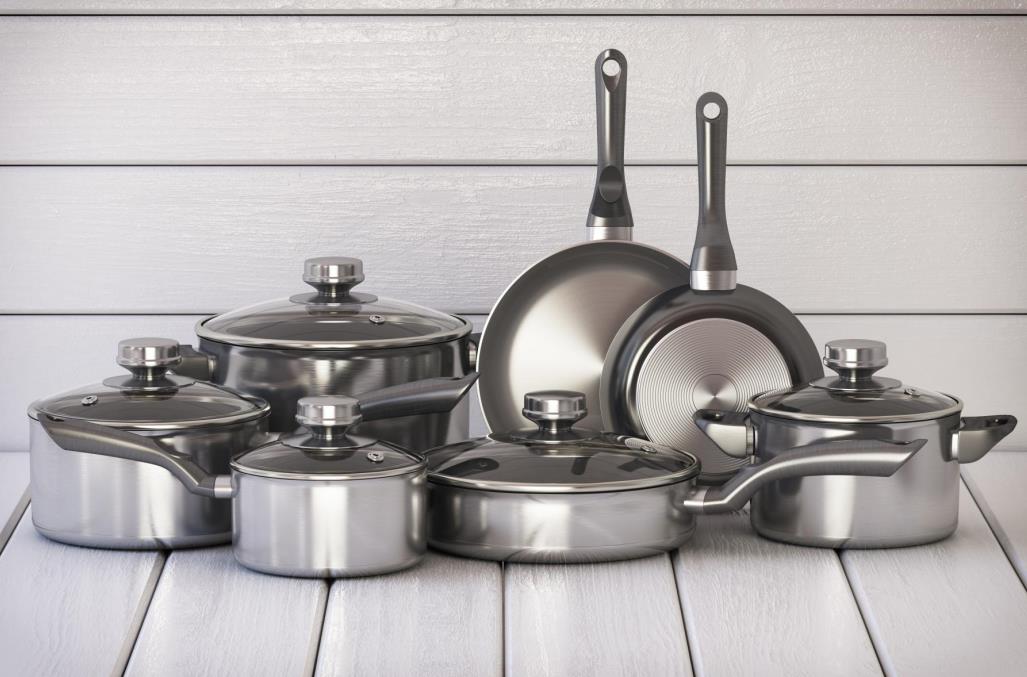 First and foremost, not every cookware material is as ideal for custom manufacturing. For example, custom manufacturing cookware from scratch is much easier with stainless steel than cast iron.
That said, manufacturers can't use all cookware materials for the same level of custom manufacturing. Some require extensive machining; some require new molds; some need treatment, and so on. Before choosing a cookware material to custom manufacture a product, consider the material's production process and other aspects it will affect, such as lead time and cost.
The chosen material's, durability, cost, manufacturability, sustainability, and marketing options all play a role in the product's success. For example, many cooks associate copper with quality. Likewise, selling copper cookware also makes shoppers match your brand with quality.
By considering how the material will affect the product and your store's success, you can settle on the best cookware material for custom production.
Buy Wholesale Cookware and Start Scaling up with Us Today
Contact us and connect with a sales rep to get a free quote.
Custom cookware manufacturers
The following is a brief introduction to different custom cookware manufacturers and services offered, along with their advantages and disadvantages.
LeeKnives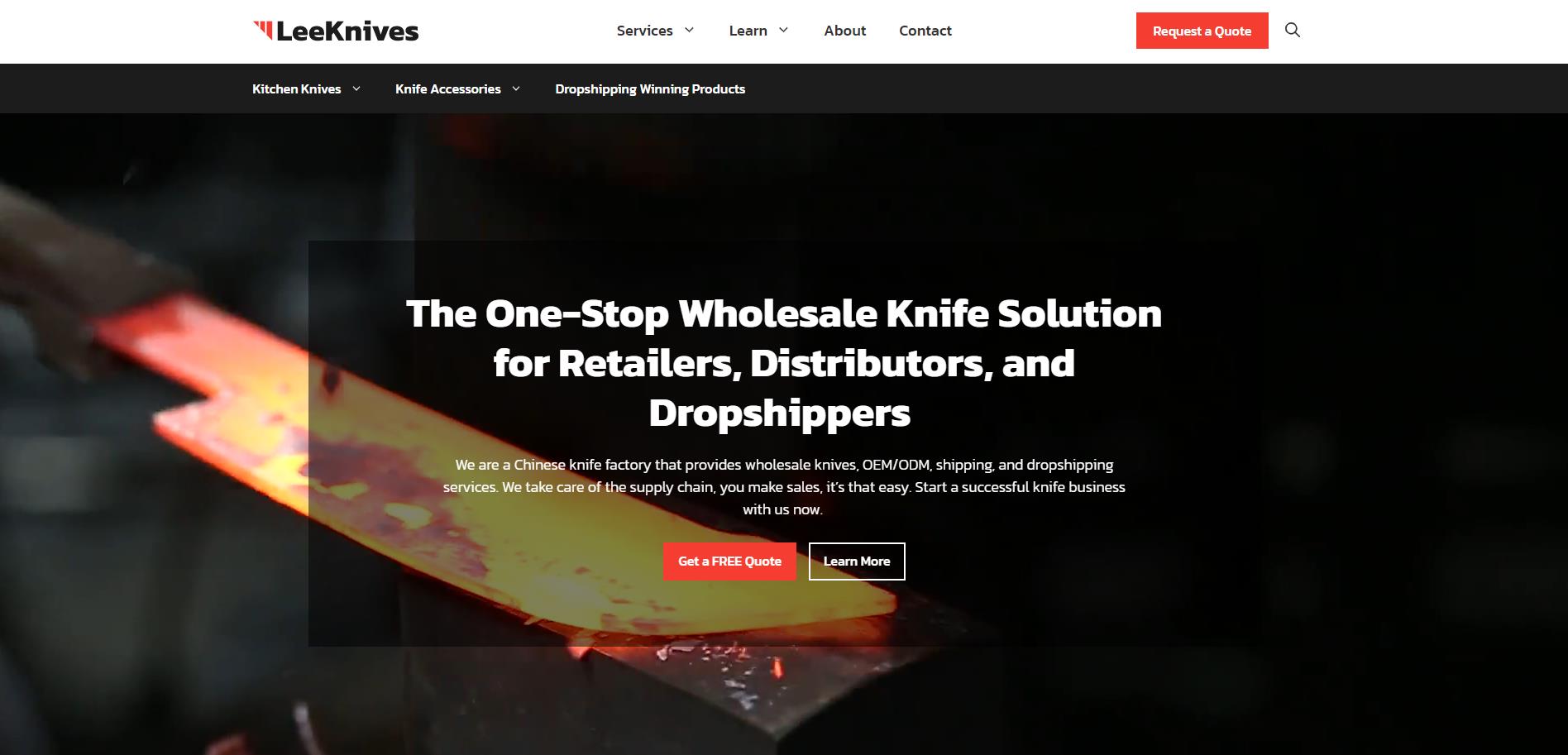 LeeKnives isn't a cookware manufacturer. Naturally, we can't custom manufacture your dream products personally, but we can help you find a reliable manufacturer. We've been in the kitchen knife manufacturing business for over three decades. Through our connections with the top cookware manufacturers in Yangjiang City, China, we can help you build the products you want to sell.
Sourcing custom cookware via LeeKnives works the same as OEM services we provide, including samples to ensure everything is as you want before mass production. Get in touch with us to learn more about how we can help your business grow.
Tmai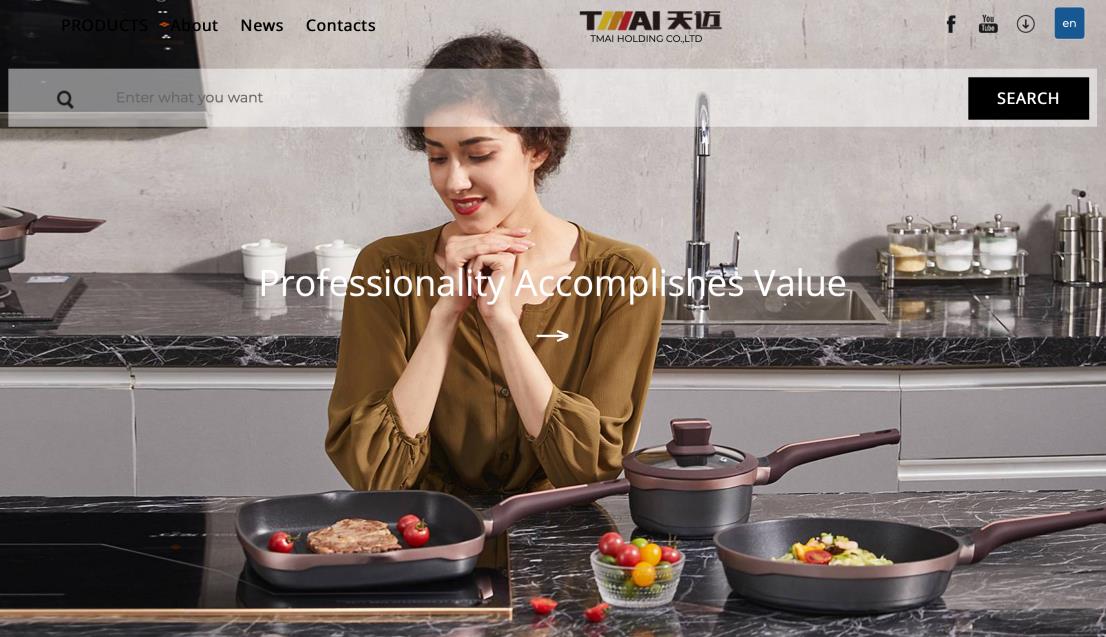 Tmai Holding Co., Ltd. is a Chinese cookware manufacturer located in Zhejiang District. The company has a high manufacturing capacity with multiple facilities and over 500 employees.
Tmai Holding specializes in manufacturing aluminum cookware. It follows various production processes, from die casting to pressing. With custom manufacturing, you have the option to equip the cooking surface of the products with non-stick, ceramic, or granite.
Tmai Holding can apply your specifications to pretty much all types of cookware, including pots, pans, skillets, casserole pots, and griddles with varying features.
If you sell aluminum cookware and are looking for ways to upgrade your products, this custom cookware manufacturer is one of the best for aluminum cookware. Although custom manufacturing can be costly with this manufacturer, your orders will come with your choice of packaging free of charge, from shrink wrapping to gift boxes with your store name.
Contact Tmai Holding from here.
Pros
A reputable manufacturer
Variety of custom manufacturing options
Short lead times
Cons
Only manufactures aluminum cookware
Costly
KOBACH

KOBACH (Hangzhou Juke E-Commerce Co., Ltd.) is a manufacturer of professional cookware. It produces stainless steel cookware with its patented non-stick coating. The company has an extensive catalog of frying pans and woks. It distributes its products to many wholesalers.
The shops mostly selling stainless steel cookware can benefit from what this manufacturer offers. You can custom-build multi-functional stainless steel frying pans and woks with a smokeless non-stick surface. Other than these, you can get in touch with KOBACH for steamers, pots, pressure cookers, and kitchen accessories.
The company allows changes to each product's handle, dimensions, lid, and overall design. You can also design your unique products and they will manufacture them based on your specifications. Visit KOBACH's Alibaba profile for custom cookware production.
Pros
Multiple options for pans, skillets, and woks
Patented, smokeless non-stick coating
Cons
Not many options for pots
Limited materials
Debien

Hebei Debien Technology Co., Ltd. specializes in OEM manufacturing cast iron and enameled cast iron cookware. The custom cookware the company manufactures has relatively low minimum order quantities. However, this manufacturer doesn't offer as extensive customizations as the others in this article. You might find yourself limited if you plan to go outside the typical changes.
The manufacturer's MOQs for custom manufacturing depend on the type of cookware. The enameled cast iron pans and woks have ranging MOQs, from 200 to 1,000. Debien also manufactures camping cookware sets. The sets consist of pots that range in size with a MOQ of 100. The woks and frying pans have a 1,000 MOQ, while cookware sets require at least 100 pieces per order.
These MOQ numbers make Debien an attractive custom cookware manufacturer. The ability to order a low number of pieces for most products requires less investment. This manufacturer can help stores looking to try custom cookware but don't have the budget to order hundreds of pieces at once. Additionally, a section of Debien manufactures tempered glass, so you also get to design lids for every product.
Visit Debien's Alibaba profile to get in touch with them for custom cookware.
Pros
Low MOQs
Various products
Cons
Limited customizations
Only cast iron and enameled cast iron cookware
M-Cooker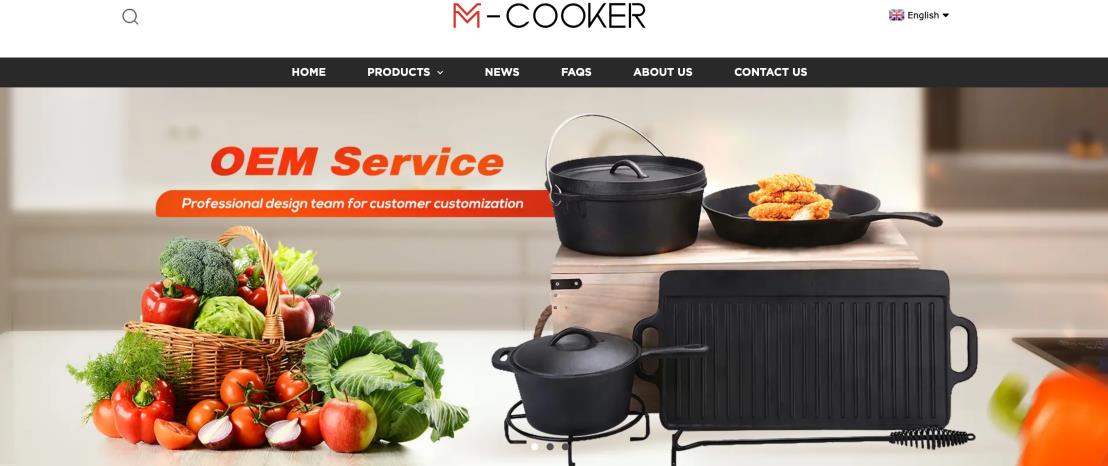 M-Cooker (Shijiazhuang Baichu Trading Co., Ltd.) primarily offers ODM services, selling their branded cookware. However, it also has extensive OEM services for enameled cast iron products. With this manufacturer, you can customize Dutch oven sets and pans.
The downside is you can't get pans as individual pieces. They have to be part of a set. The sets M-Cooker OEM manufactures are made up of multiple pots and pans. These sets include five pots and two to four pans with a minimum order of 100 pieces.
The pricing varies greatly depending on the number of pieces ordered. You can order 100 sets of custom-designed enameled cast iron for about $30. As the order size increases, the price can go as low as $13 per set.
Overall, M-Cooker is a reliable OEM manufacturer of enameled cast iron cookware. Contact this custom enameled cast iron cookware manufacturer from here.
Pros
A well-known manufacturer
Competitive prices – the more you order, the less you pay
Cons
Limited options for individual pieces
Few materials
Tips for choosing a custom cookware manufacturer
MOQ: The minimum order quantity is vital. Most manufacturers have a MOQ for the products they sell. These are usually higher for custom-manufactured products. Make sure to go with a manufacturer with a minimum order quantity manageable for your business.
Lead time: The lead time is the time it takes for you to get your products from the manufacturer. It is often determined by the complexity of your project, the manufacturer's availability of the materials, and the workload at that time. The shorter the lead time, the quicker you'll receive the orders.
IPR: The intellectual property rights protect your unique design. It ensures that others can't copy your product. Take the necessary steps to protect your design and pick a manufacturer that won't imitate your products for another client.
Quality: Make sure the manufacturer utilizes high-quality materials to produce products. The best way to check the quality is by asking for samples. Although this will lengthen the lead time, it will guarantee you the quality of the products.
Cost: Before making any transactions, get a full understanding of the product costs, shipping, and legal fees associated with your order. Also, make sure the quote you get is competitive. It never hurts to ask multiple manufacturers before settling on one.
Flexibility: A manufacturer should be flexible enough to accept changes in your order. It can be difficult for manufacturers to make changes during the production process, but if they can, they will be the best custom cookware manufacturer for your business.
Communication: Effective communication is a must when custom manufacturing a product. A manufacturer that can't communicate effectively with you can't assure the manufactured products will follow your specifications fully.
Certifications: Confirm the manufacturer's credentials. The products they produce must be certified by relevant authorities to be safe. Otherwise, you might end up with cookware that emits harmful chemicals.
Buy Wholesale Cookware and Start Scaling up with Us Today
Contact us and connect with a sales rep to get a free quote.
How we can help your business
LeeKnives is a manufacturer of kitchen knives and cutting boards. Even though we don't manufacture cookware, we can help you source products, including bringing your designs to life. We can connect you with industry-leading manufacturers and get the most competitive quotes.
Why contact any custom cookware manufacturer yourself – asking if they can produce your products when we can guide you to manufacturers that specialize in the category of products you sell? Along with these, we offer plenty of other services.
We're here to take sides with you on your store's growth by providing various services, from private labeling to IP protection. Request a free quote from us today with your project details.