Granton edges have been an extremely popular blade design in kitchen knives for ages. In the culinary world, the Granton edge knives are favored for their unique design and their ability to keep the food intact, preventing it from sticking to the knife.
The design of such edge are heat-treated and hand-ground, providing a fine cutting edge, to yield neat cuts. Perfect for squishy tomatoes as well as fatty cheese.
Owing to their efficiency, blades that are finished with a Granton edge are winning the hearts of home chefs. This is why, in addition to Santoku knives, Granton edge is now available on a variety of other knives such as carving or paring knives, etc.
To know everything about Granton knives such as their types, uses, and everything else, keep reading!
What is a Granton edge?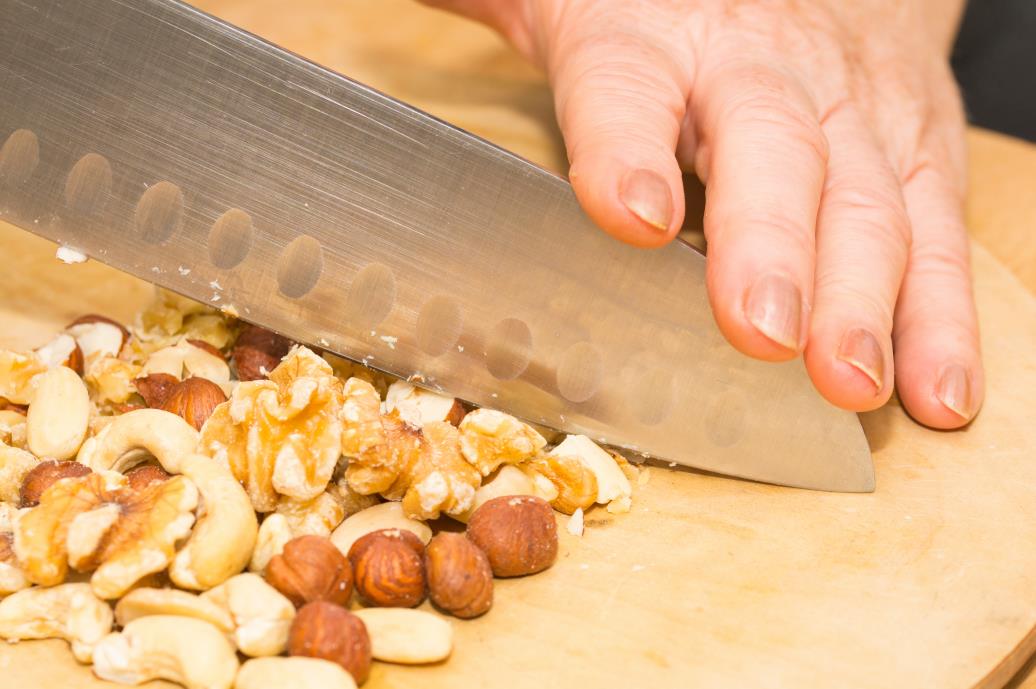 While shopping for kitchen knives, you may have seen certain knives that have scallops carved throughout the blade's length, with a straight edge. This blade design is known as the Granton edge and such knives are known as the Granton edge knives.
The scallops in a true Granton edge are hand-ground and carved to the blade's center. These scallops are carved alternatively on each side of the blade and are perfectly spaced to provide maximum sharpness and control.
Buy Wholesale Kitchen Knives and Start Scaling up with Us Today
Contact us and connect with a sales rep to get a free quote.
Who manufactured the Granton edge?
The Granton Edge was originally designed by the Granton knife company of Sheffield, England. They patented this blade design in 1928. 
Yet, different brands are selling Granton edge knives under their names.
What is Granton edge used for?
The Granton edge was typically designed for a slicer or a carver. The meticulously designed scallops help prevent food from sticking to the blade by introducing air gaps between the blade and the food.
This reduces the friction during cutting and restricts the surface area for food to stick to.
The scallops enable the knife to slip past the food without being caught or bent. This makes it especially helpful for moist or sticky food items such as meat or cheese.
Granton edge also helps obtain cleaner cuts without tearing the food. Therefore, more delicate thin slices can be produced.
What sizes do Granton edge knives come in?
There is no restriction of sizes on Granton edge knives. Its size can range from as big as 14-inch slicers or small as 3-inch paring knives. Meat slicing knives, carving knives, and Santoku are the most common knives with a Granton Edge.
Which type of knives often have a Granton edge?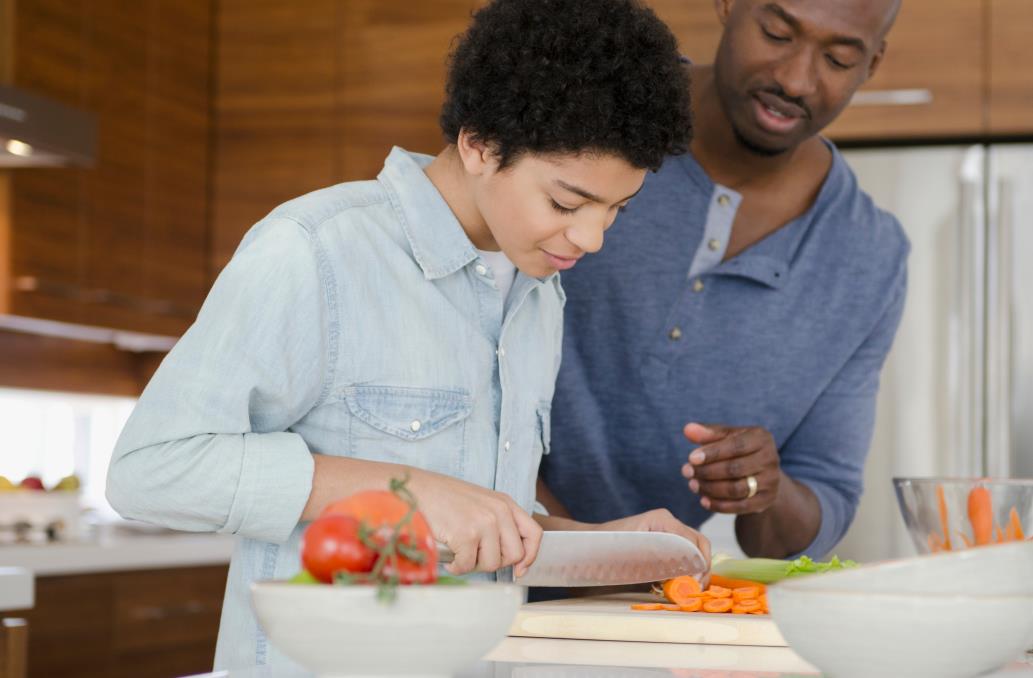 Owing to their efficient nature, Granton edges have been seen as a winning trait for ages. Due to this, knife manufacturers everywhere have started adding a Granton edge to the knives they make.
Be it chef knives, carving knives, or paring knives, Granton edges are now an additional feature to all.
Let's look at some of the most commonly used knives with a a Granton edge:
Granton edge santoku knife
Santoku knives are originally Japanese knives that are equally good for slicing meat, vegetables, and fish. Although versatile, these knives have a blade thicker than chef knives which compromises the neatness.
Therefore, Granton edge is often added to these knives to yield fine slices and delicate cuts.
Granton edge butcher knife
As the name suggests, butcher knives are used for cutting meat. These knives often have a thicker blade to provide the required strength.
Granton edges are often added to butcher knives with longer blades. These knives are generally used to prepare ribs and sirloin.
Granton edge slicing knife
Finished with a Granton edge, a slicing knife can almost cut anything neatly from squishy tomatoes to juicy briskets.
A large variety of slicing knives with granton edges are available in the market to choose from.
Granton edges vs. Scalloped edges- An easy confusion!
If you are new to knives, you can easily get confused between these knives.
Although appearing similar, Granton edge knives are different from other scalloped edge knives. To make sure you choose the right one, keep in mind the following points.
Granton Edges are scalloped blades solely made by Granton Knife Company.
Scallops are a prominent aspect of many German knives and Western variants of the Santoku knife. However, the scallops in the Granton stand out as they extend to the cutting edge of the blade.
Scalloped blades feature oval scallops carved out on either or sometimes both sides of the blade just above the edge. However, unlike Granton Edges, these scallops or 'kullens' do not influence the sharpness of the blade.
In a nutshell, the key distinction between these two knives is their placement of fillers. The scallops in true Granton Edges extend to the edge, whereas Kullenschliff blades have scallops above the edge.
At Lee Knives, you can have the best quality knives with Scalloped blades or Granton Edge blades supplied to your business or customers. You can even customize products and make adjustments based on market trends through our unique OEM services.
Buy Wholesale Kitchen Knives and Start Scaling up with Us Today
Contact us and connect with a sales rep to get a free quote.
What are the uses of a Granton edge?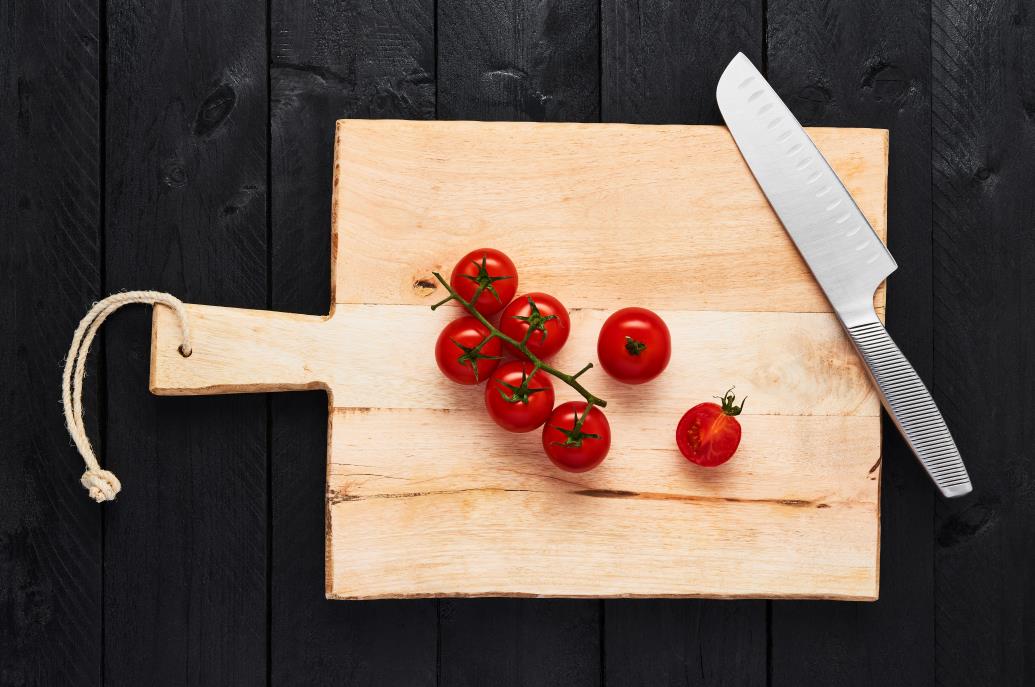 Granton edge knives are a hot selling culinary item. Professional chefs and home cooks all around prefer knives with a Granton edge blade due to a number of reasons. Some of which are highlighted below:
Scallops allow air gaps and thus prevent food from sticking to the blade.
Specialized heat treatment and grinding techniques ensure razor sharp blades.
An even edge makes sharpening comparatively easier in comparison to serrated bread knives.
More controlled cutting than a traditional knife edge.
A slightly thicker blade puts in enough weight and force to allow neat cuts.
What are the cons of using a Granton edge knife?
Although Granton edge blades are quite popular and equally convenient, there are some disadvantages to them:
They have a thicker blade to accommodate equally spaced scallops.
They are not the perfect choice for dealing with crumbly desserts such as pies and puff pastry.
Can be expensive.
How to sharpen Granton edge knives?
Since knife blades with Granton edges are not wavy or toothed like serrated edge knives, they are comparatively easy to sharpen. The flat, horizontal edge can be sharpened easily at home without any professional help.
You can either use a sharpening stone (whetstone) or an electric or manual knife sharpener for your Granton edge knife.
The blade of Granton edge knives can be a little harder in comparison to other knives. This makes them stay sharp for a longer period of time. However, regular sharpening (when needed) increases the blade's lifespan and efficiency.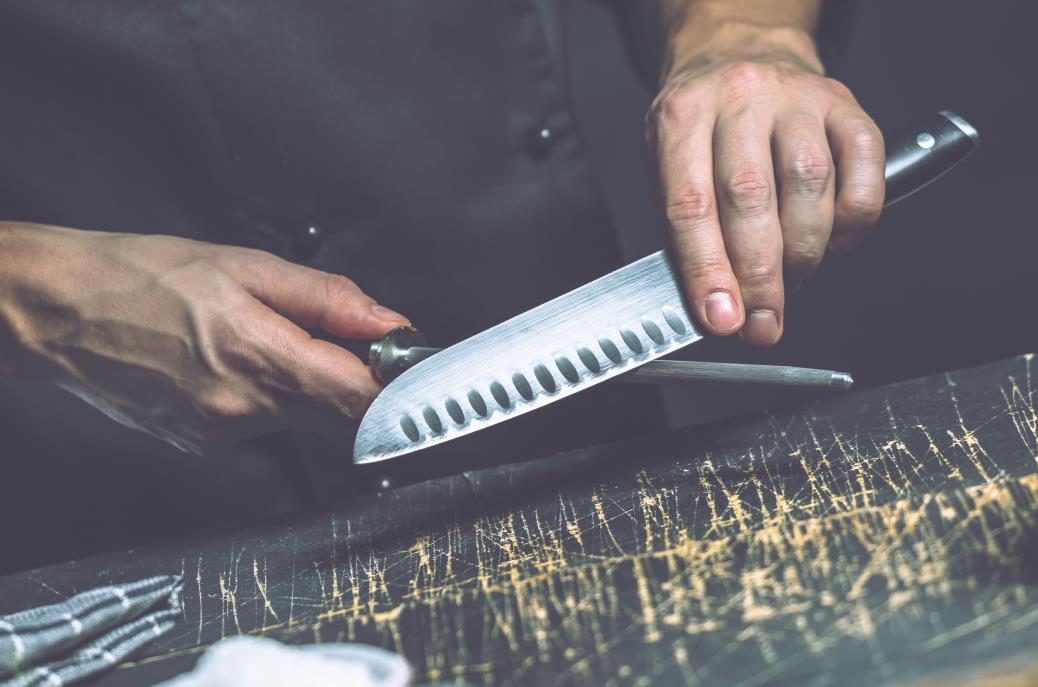 Whether you use a whetstone, a manual sharpener, or an electric sharpener to sharpen the Granton edge, is completely your own choice.
However, to do so in a proper manner check out the given procedures:
Using a whetstone
To sharpen the Granton edge blade using a whetstone, make sure to follow the given steps:
Place your whetstone in a stable place. You can use a rug or towel to avoid slipping.
Wet your whetstone to add a little lubrication.
Hold your knife firmly against the whetstone at a 22-degree angle.
Now start sharpening the blade by pushing it against the whetstone, towards the tip.
Once you are done, change the angle, i.e. towards the handle of the knife, while maintaining the sharpening angle.
After sharpening, clean the blade and whetstone to remove any metal burrs.
Using a Sharpener
Manual sharpeners generally have 3 slots, coarse, medium, and fine. To sharpen a Granton edge blade follow the given steps:
Start with the coarse slot. Pull your knife through the slot 5 to 6 times, from the handle towards the tip.
Next move on to the medium slot and repeat the process 1-2 times.
Finally sharpen the knife in the fine slot 1-2 times and you are done.
Maintain the angle and follow the blade's contour to get even results.
Clean your blade afterward.
Conclusion
There are many knives with or without a Granton edge that perform exceptionally well. A lousy knife with a Granton edge is still a bad knife. So, focus on getting an excellent knife with a quality Granton edge for your business. For which you can always trust our services at LeeKnives.