Santoku is a popular kitchen knife with Japanese origins the West adopted widely. Primarily used for general meal preparation work, it offers something simple yet effective.
German and French knife brands like Wusthof and Tefal have Santoku alongside the typical chef's knife in their collection. While cooks utilize these kitchen knives in various tasks, one might be better than the other for your customers.
This article aims to help you understand the differences between Santoku and chef's knife to determine which is best for your knife store.
Origins of Santoku
At the start of the Meiji period, Japan adopted an isolationist policy to go inwards and shut off foreign influence. This policy meant the Japanese relied on their version of everything, including kitchen cutlery.
Japan, at the time, didn't have an all-purpose kitchen knife for various reasons. Japanese chefs relied on specialized blades for every major meal preparation step. For example, Honesuki is for butchering fish, Sujihiki for general slicing, and Yanagiba for sushi and sashimi.
When trade began, so did the need for more cutlery to take care of other needs became more noticeable. Japanese knifemakers first took the standard chef's knife and derived Gyuto from it. Even though Gyuto helped Japanese chefs by providing many uses other than just cutting meat, it wasn't as favorable to use for general cutting work due to the blade design.
Santoku translates to three virtues. The naming of the Santoku isn't for no apparent reason. It's the knife chefs primarily pick up for slicing, dicing, and mincing vegetables and herbs. These alone are enough to make Santoku a multi-purpose kitchen knife.
Gyuto's curved design wouldn't let cooks utilize the thrust cutting technique. The knifemakers quickly began developing a new multi-purpose kitchen knife to suit the needs of chefs. This was Santoku, which is thought to have emerged around the 1940s, during World War II.
Design of Santoku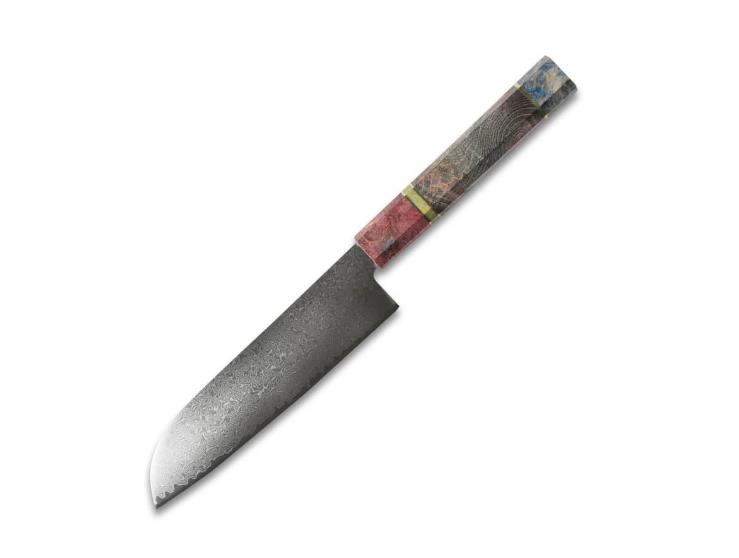 Santoku has an entirely different blade design than the typical chef's knife and Gyuto. Its spine angles downward, giving it a sheepsfoot appearance.
Santoku doesn't have the pointy tip found in a western chef's knife or Japanese kitchen knives like Kiritsuke.
The lack of a pointy tip isn't a feature cooks miss since this knife is for general work for meal preparation. Chefs pick up Santoku mainly to do not-so-detailed slicing work, chopping, dicing, and mincing vegetables and herbs.
With western-made Santoku knives, the Granton edge is highly favorable for better food separation. Knifemakers utilize the scalloped edges to ensure the slices are intact, which Santoku's wide profile can tear apart.
Edge
Other than this noticeable difference, Santoku has a flatter edge profile. It isn't completely flat, but the curve isn't enough to enable the cook to rock chop. Considering why Gyuto wasn't as preferred for basic cutting work, the edge design is excellent for cooks familiar with thrust cutting.
Size
All of this comes in a smaller package. Santoku is 6 to 7 inches long. This blade length is easier to control and lighter. The western-made Santoku kitchen knives generally have the Granton design, the scalloped edges that create air pockets for better food release.
Bevel
Unlike the traditional Japanese kitchen knives, Santoku has a double bevel edge. Being an all-purpose knife to process ingredients, it makes sense. Although Santoku has a double bevel, its sharpening angle allows for better sharpness at 10 to 15 degrees. Single bevel knives steer toward the ground side, making it challenging to make straight cuts.
Santoku cutting style
The push cut technique, where the cook moves the blade up and down over the ingredients, is the easiest way to prepare ingredients before cooking with Santoku.
Rock chopping is a more proper cutting method for other kitchen knives with curved edges. This brings us to the chef's knife and Gyuto, as their design is the same but different from Santoku. Read this article comparing Gyuto and chef's knife.
Buy Wholesale Kitchen Knives and Start Scaling up with Us Today
Contact us and connect with a sales rep to get a free quote.
Santoku uses in culinary
The primary use of Santoku is to create uniform pieces for meals. When preparing stews or a shepherd's salad, Santoku is one of the most efficient tools. Cooks can't go wrong with Santoku for any recipe that calls for chopped or diced ingredients.
The slim blade goes through ingredients effortlessly, but the wide profile can tear ingredients when slicing delicately. This issue is why the scalloped edge is highly favored with Santoku kitchen knives.
The tip is best used for slicing and the heel for chopping. Santoku's blade gets thinner towards the end, aiding in thinly slicing foods. The heel is more robust and cuts denser ingredients better. Nonetheless, cutting frozen and solid foods should be avoided.
Browse the LeeKnives Santoku catalog here.
Santoku vs. Gyuto
Before comparing Santoku and chef's knife, don't forget to consider Gyuto also. It's another all-purpose Japanese kitchen knife with a similar blade design to the traditional chef's knife. Read our comparison article of Santoku and chef's knife here.
Origins of chef's knife
The modern chef's knife as we have it today was developed in the 1730s by Peter Henckels, founder of Zwilling J. A. Henckels. Before Henckels developed a chef's knife, knives and other cutting tools were primarily used for hunting. When the hunt ended, the same sharp tools didn't do a good job carving the carcass.
Henckels' image of what a multi-purpose kitchen knife should be has paved the way for countless other knife brands. Still, the primary design elements are the same.
Just as Japanese kitchen knives share similarities with the samurai swords, the first chef's knives had the main traits of the longswords. They are tough, able to cut through dense objects, and sharpened on both sides.
Today, the chef's knife is the most popular kitchen cutlery. It's more versatile than any other, providing cooks with multiple uses.
Knife design
There is a reason why the chef's knife maintained the same design over the years. Once chefs familiarize themselves, picking up any other blade seems off.
General design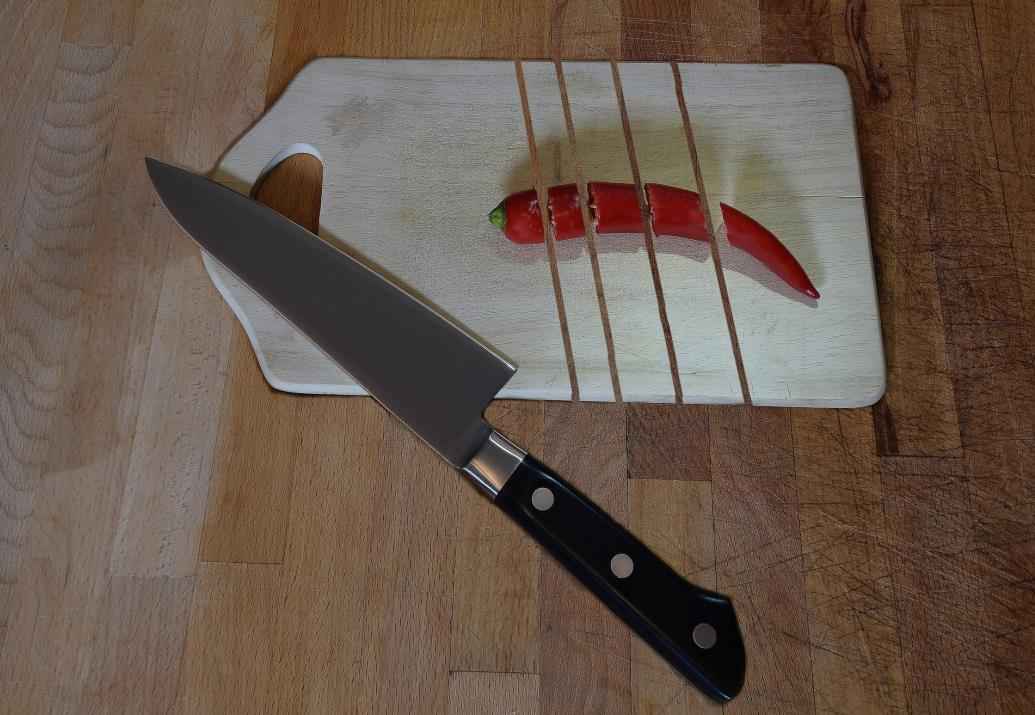 Chef's knives have a continuous curve. The cook can rest the tip on the cutting board and let the knife's weight do the work by taking advantage of this design.
Most chef's knives feature a bolster, whether semi or full. The added weight toward the handle aids the cook when processing foods.
Unlike Santoku, it has a pointy tip ideal for detailed work and stabbing foods with a dense exterior like squash and melons. The pointed tip can make cooks drop their Santoku for a chef's knife.
Size
Chef's knives have various lengths. Most home cooks use an 8-inch chef's knife, but professionals opt for a much larger blade, usually 12 inches.
The extended blade profile, the average thickness at 5mm, and features like bolster and full tang make chef's knives a bit heavier. Depending on the blade size, chef's knives can range from 200 to 350 grams.
Edge
Chef's knives have a linear curve from the heel to the tip. The curvature enables the cook to utilize the blade differently than a flat-edged knife. The typical chef's knife chops and minces the best by rocking the blade.
Bevel
The standard chef's knife has a double bevel. They are ground and sharpened on both sides. This applies not only to the chef's knife but any other western-made blade. The sharpening angle of a chef's knife is between 20 and 25 degrees for increased durability.
Cutting style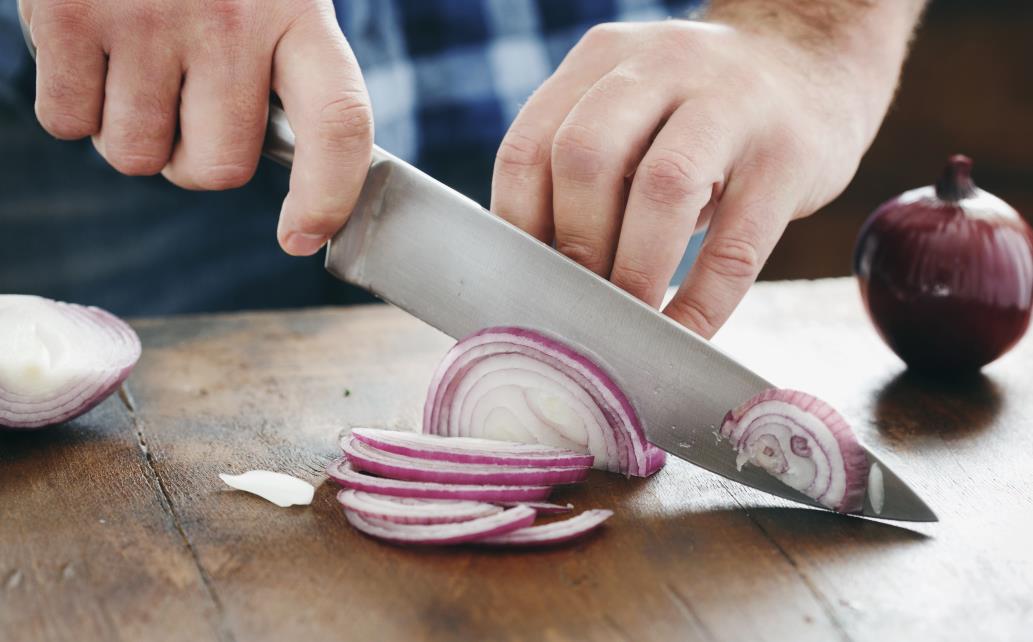 The chef's knife's curve lets the cook tilt the blade back and forth while maintaining full contact with the cutting board. Known as the rock chop technique, rocking the knife over the ingredients is one of the main reasons chefs favor it. Cooks can process foods fast and efficiently, saving time and effort.
The heel is also somewhat suitable for push cutting. The design allows the cook to pinch grip the knife from the bolster and heel, and make cuts with precision and power while pushing the blade to slice ingredients.
Uses in culinary
Any cook can use a chef's knife for all aspects of meal preparation, including butchering whole poultry and breaking down large meat cuts.
The sizable blade paired with the curved edge and the pointy tip brings many uses to the chef's knife. The all-rounder nature of a chef's knife is adaptable enough to work on vegetables and fruits of all sizes, preparing meat, mincing herbs and spices to add flavor to dishes, and many more.
A chef's knife can go through the entire preparation from start to finish, delivering any use the cook needs. It's not just the sharp edge of a chef's knife that's useful. The blade is wide enough to crush garlic, and the spine is ideal for scaling fish. The ability to get creative with the use cases of a chef's knife is why it's the only knife a cook ever needs.
Buy Wholesale Kitchen Knives and Start Scaling up with Us Today
Contact us and connect with a sales rep to get a free quote.
Santoku vs. chef knife
Japanese chefs may favor a sharp, lightweight blade, but these aren't as advantageous for their western counterparts. A sturdy, tough, and durable knife that can cut through anything at any given time makes chef's knives special for them.
This is just a minor difference compared to other factors. Here is where Santoku and the western chef's knife set themselves apart.
Cutting style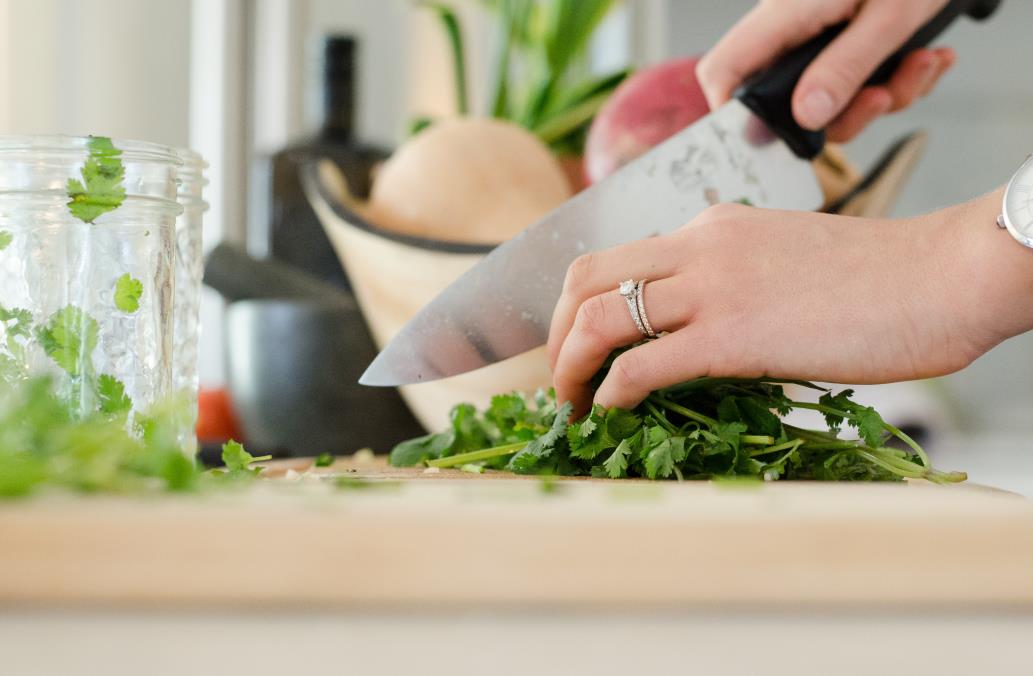 The edge design of Santoku and chef's knife is different. Therefore, they have different cutting styles. Santoku is best at push cutting as the blade has no curve to allow rock chopping. The chef's knife can rock chop, but it can also push cut as there is a length, relatively flat part from the heel to the midpoint.
These make a chef's knife more adaptable to different cutting styles. However, if the cook favors either one over the other, it's best to promote that in your shop. Santoku for push cuts and chef's knife for rock chop.
Uses
The use of Santoku and chef's knife is quite the same, as they are all-purpose kitchen knives. However, a chef's knife is more adaptable to different tasks. For example, a cook can chop, slice, and mince ingredients with both, but a chef's knife will give an easier time when carving a whole turkey.
If the cook is more accustomed to the push cutting technique, Santoku is more convenient to prepare ingredients before cooking. Think dicing vegetables for sautees. That said, Santoku is for general preparation and a chef's knife for everything else, especially if a sharp, pointy tip is needed.
One area Santoku might be a more fitting knife to pick up is slicing. The thin blade helps the cook make thin slices, especially towards the end. If it has scalloped edges, tear-ups also won't be an issue.
Blade length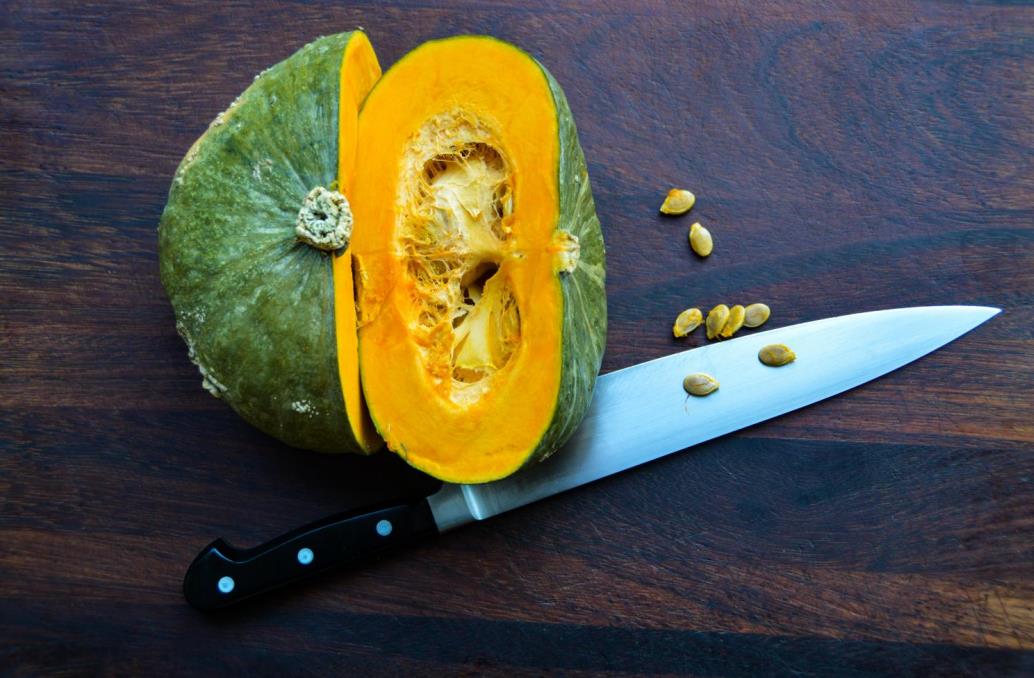 A chef's knife is larger than a Santoku, up to 12 inches in length. There are much shorter alternatives, but anything below 6 inches would make it more of a utility knife than a chef's knife.
Santoku's usual length of 6 to 7 inches is enough to chop, dice, and mince bags of vegetables and fruits. Since the cutting style of Santoku doesn't require a long blade, it's optimal.
Bevel
Santoku and the chef's knife standardly have a double bevel. All chef's knives feature a double bevel, but some knifemakers also offer single bevel Santoku knives for slicing tasks. Because this is a feature it doesn't have standardly, ordering single bevel Santoku knives for your shop requires OEM manufacturing.
Handle
As you'd expect, Santoku comes with the Japanese wa-handle, at least the Japanese-made ones. Since Santoku is widely adopted by western cooks, it's no surprise to see them equipped with the same handle found in chef's knives.
Price
Santoku and chef's knives are around the same price range. Depending on the type of steel used, blade length, and other materials, one can be way pricier than the other. Knife shoppers can find both Santoku and a chef's knife at comparable retail prices, around $50 to $100.
Overview of the differences between Santoku and chef's knife
| | | |
| --- | --- | --- |
| | Santoku | Chef's Knife |
| Cutting Style | Push cut | Rock chop |
| Uses | General meal prep work | Pretty much everything |
| Weight | 150 to 200 grams | 250 to 350 grams |
| Size | 6 to 7 inch blade length | 7 to 14 inch blade length |
| Retail Price | $50 to $100 | $50 to $100 |
| Who is it for | Home cooks and professionals but the first a bit more. | Home cooks and professionals also, but the ladder a bit more. |
Similarities
Aside from being kitchen knives with multiple uses, Santoku and the standard chef's knife don't have much in common. The handful of similarities is the double bevel edge and the type of steel used for manufacturing the blades for German and French-made Santoku.
Which one has more potential for a knife store? Should you sell both?
Santoku and chef's knives are a staple for any knife shop that appeals to professionals and serious cooks. If you're selling kitchen knives as a secondary product, Santoku may not be a worthy investment compared to the chef's knife.
Understanding the complete uses of Santoku and a chef's knife and how they benefit users can help you decide. Nonetheless, if you're going between the two and have to pick one, the chef's knife is a less risky option, but it comes with greater competition.
Be it a Santoku or a chef's knife, here at LeeKnives, we are able to provide a professional wholesale service for bulk purchase. Want to start dropship knives or sell private label kitchen supplies with us? Get a free quote now, and we will get back within 2 business days.