Selling sheaths is a natural step for knife shops aiming to expand their product lineup. The same as how cutting boards pair up with kitchen knives, sheaths complement pocket knives.
Knife sheaths are a must for knife stores with a sizable number of pocket, outdoor, tactical, and other similar knives. These protective knife accessories fit individually to each blade, protecting it and preventing the knife from accidentally cutting surrounding objects.
This, however, isn't to say that they aren't suitable for kitchen knives. Any cook going on camping adventures that wants to take their cutlery with them can benefit from knife sheaths.
Like many knife-related products, knife sheaths come in great variety. The various types of sheaths offer ranging qualities, comfort, and protection. In this article, we'll cover the types of knife sheaths you can sell in your store. Read through the end to learn about sheath materials and designs that suit diverse carrying methods.
Knife sheaths by material
In different knife sheath materials, you'll find leather to be the most popular. It's the leading and often the only natural material for making knife sheaths. There are also wooden sheaths, but their lack of durability and tendency to dull knives quickly abolished the use of wood sheaths.
Other than leather, there is an abundance of synthetic materials that fit the needs of different users.
Leather knife sheaths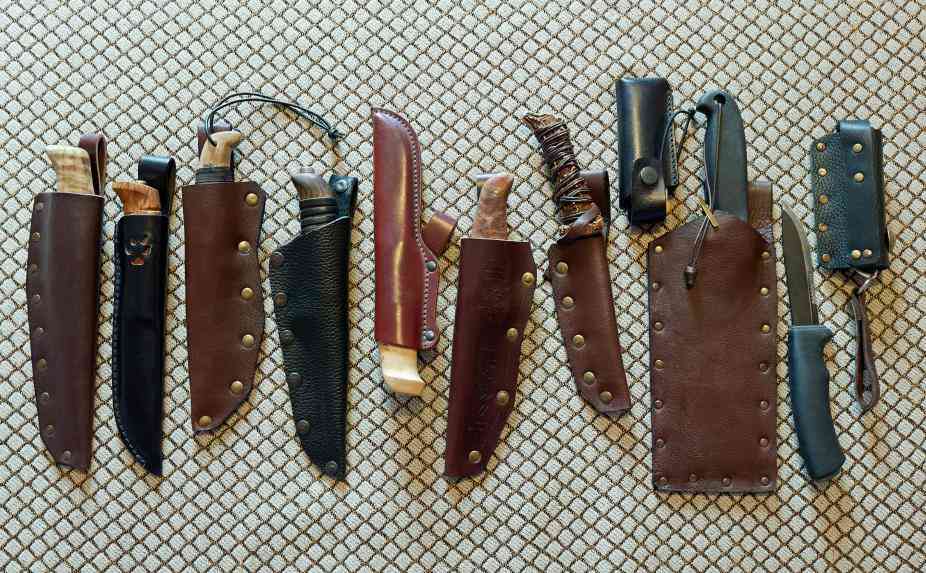 Many favor the comfort of wearing leather sheaths. An appropriately fitted leather knife sheath can make users forget they are carrying a knife. Whether out for walks, hikes, or other outdoor activities, these knife sheaths boast good comfort, durability, and aesthetics.
It isn't only the user that leather comforts. It also makes one of the – if not the gentlest – sheaths to the cutting edge. Even when the blade rubs against the sheath following physical movements, it doesn't take anything from its sharpness. This prolongs the blade's cutting ability, making leather sheaths a highly effective tool for carrying knives.
The downside to leather is the maintenance it needs. The users must use an appropriate care product for their leather sheaths, like conditioners. Otherwise, the leather can dry and lose its appearance, especially after cycles of getting wet and dry.
The different types of leather used for making knife sheaths have varying durability, maintenance requirements, and prices. While some leather types might be satisfactory, others can make a product they will never use. Knife shops must educate themselves on leather types to offer the best product choices.
Buy Wholesale Knife Sheaths and Start Scaling up with Us Today
Contact us and connect with a sales rep to get a free quote.
Real leather vs. faux leather
You have the option to bulk-purchase knife sheaths made from genuine or artificial leather.
Genuine leather varieties change depending on the tanning methods and the part of the leather. Faux leather, on the other hand, is mostly made from polyurethane (PU). The primary differences between the two are durability, texture, and price.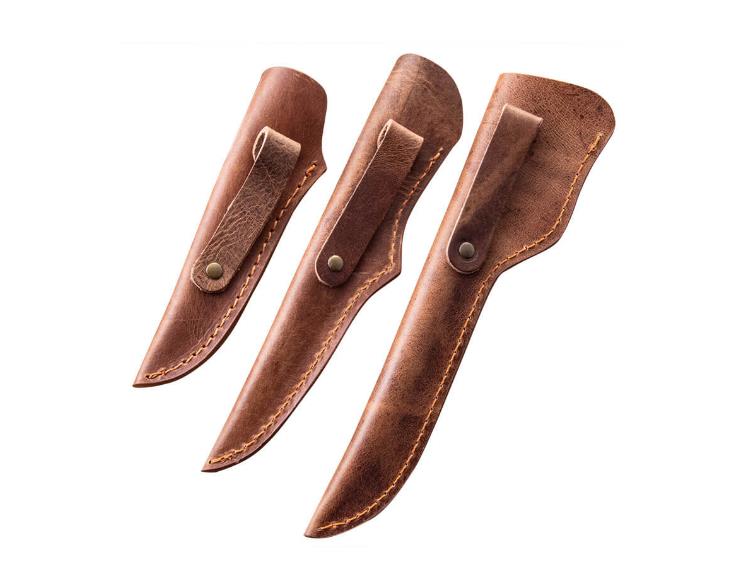 Real leather might be the priciest, but it's the most durable. The natural surface doesn't wear out as artificial leather does. Instead, it develops a patina, like carbon steel knives, to protect its surface from degrading. Synthetic leather is more susceptible to cracks and punctures but is more resistant to water damage and fading.
Genuine leather has a smooth but inconsistent surface. It has the leathery feel you'd expect from it. PU leather has a consistent texture with a synthetic look; some even appear identical to real leather. One favorable feature of artificial leather is the available colors. It can be anywhere from turquoise to black.
Lastly, real leather is breathable, whereas artificial leather isn't. It doesn't irritate users when in contact, especially with bare skin. While this is a good trait, it's more susceptible to water damage. On the other hand, PU leather doesn't absorb liquids, making it more resistant to water damage, stains, and fading.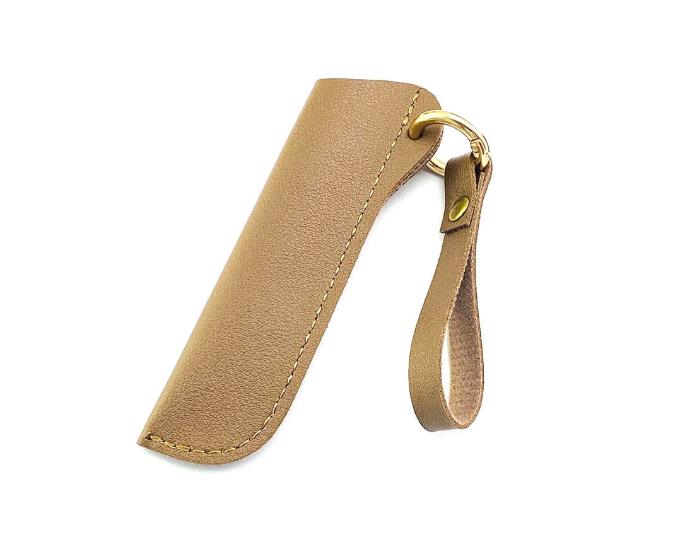 For many users, genuine leather knife sheaths are more favorable. Yet, the price can be an intimidating one. There is also the fact that genuine leather isn't vegan-friendly. This can be a significant drawback to some shoppers.
Although real leather is better in most ways, it isn't a competition to synthetic leather – it's an alternative to shoppers with a specific lifestyle. As such, it's best to keep both in stock, though most stores find better success with real leather knife sheaths.
Synthetic knife sheath materials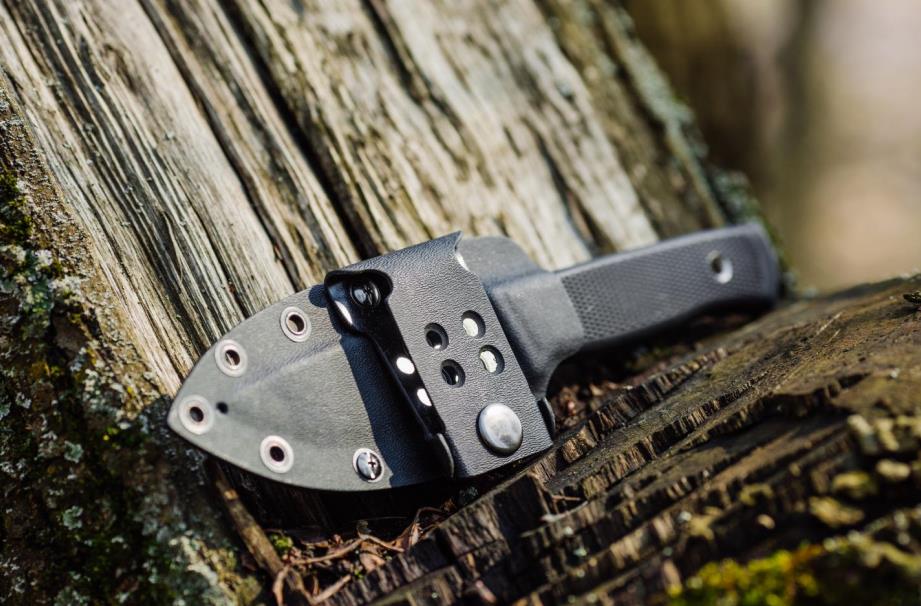 Plastic knife sheaths are the least expensive, but not all are equal. Polycarbonate (PC) and ABS are the two best plastics for making sheaths. They are temperature and impact resistant, can withstand any weather conditions, and don't need much upkeep. Despite these good traits, plastic sheaths usually fall behind others due to poor wear resistance and a tendency to dull knives.
Kydex is essentially a thermoplastic but is much more durable and resilient than others. It has a prominent place in many industries, from firearms to aerospace. Kydex knife sheaths are sturdy with incredible impact resistance.
Nylon knife sheaths are out there, but their durability is always a question. For many, nylon only makes a convenient sheath when you have nothing better. They don't offer much protection to the blades, and their sharp edge can slash through after some use.
Oxford cloth is one of the best alternatives to nylon. It has a similar appearance but is thicker and more durable. Oxford cloth makes an ideal knife sheath for users that want something lightweight and flexible. It's water-resistant with a smooth texture and is comfortable to wear.
Cordura is another alternative to nylon. Originally invented for the military, Cordura has a structure made up of twisted and cut fibers that boost its strength. This gives Cordura proper abrasion and tear resistance for making knife sheaths. If you want to sell lightweight sheaths but think the nylon is substandard, Cordura is an option to consider.
Knife sheaths by carrying method
Regardless of the material, a knife sheath can be made to fit various carrying methods. The carrying method and the sheath must go well together. If not, even the most appropriate knife sheath can be uncomfortable to carry when it doesn't suit the user's preferences.
Belt carry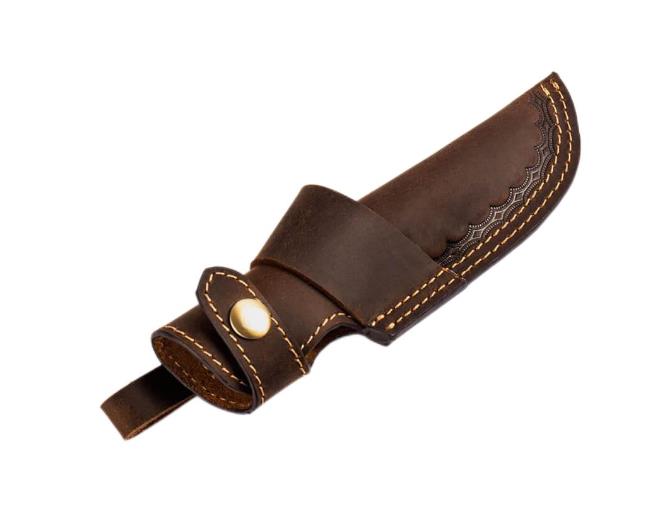 As the name suggests, the belt carry follows attaching the sheath to the belt, usually with a belt clip or loop. Belt carry is perhaps the most common and convenient carrying method for most people. Here are the different belt carry methods.
Vertical carry is when you have the sheath sitting vertically on the belt. This carrying method uses either a clip or a loop. The belt clip allows easy access to removing the sheath, while the loop ensures the sheath remains secure. The blade length and fit are critical for vertical carry. The ideal blade length is about 3 to 5 inches. Sitting and moving around can be uncomfortable if the blade is too long. The fit must be tight enough to prevent the sheath from swinging but loose enough to accommodate physical movements.
Canted carry is similar to vertical carry in structure. The difference is the sheath is attached at an angle. This can be anywhere from 15 to 45 degrees. Canted carry is suitable for carrying longer blades. The benefit of canted carry is the knife gets in the way of physical movements less.
Cross carry is identical to canted carry but is worn on the opposite side of the dominant hand. So, if you're right-handed, the sheath positions on the left. Also known as crossdraw, the cross carry is a fitting belt carry method for those that use their dominant hand to do something. Whether splitting wood with an axe or walking with a hunting rifle, the cross carry method prevents the knife from getting in the way.
Horizontal carry is for those that don't prefer their blades hanging down. Although this carrying method takes up the biggest belt space, it doesn't discomfort the user as much. The knife sheath can also rest right under the belt when attached with a loop. Known as the horizontal low carry, it's most appropriate for winter conditions where insulating clothing can cover the sheath.
Additionally, there are IWB (carrying inside the waistband) knife sheaths. This carrying method is more prevalent in firearms than knives. The tuckable knife sheaths secure the blade on the inner side of the belt. It's mainly for those that want to conceal their knives.
Dangler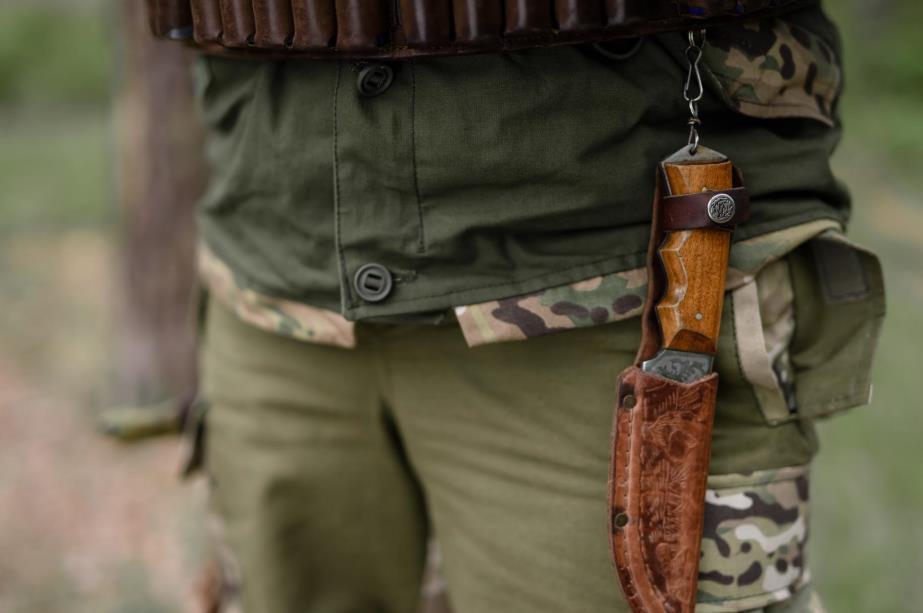 A sheath dangler attaches to the belt but doesn't stay in a fixed position. The dangler allows the sheath to hang freely. This carrying method is particularly highly favorable to users bearing big knives.
Compared to other carrying methods, danglers allow users to let their knives move freely from the waist. This also enables a quicker draw as the handle sits closer to the hand.
The hang-free nature of danglers makes them particularly useful when getting in and out of vehicles. The knife moves separately from the dangler, not affected by physical movements.
With smaller knives, a dangler can help the user to tuck the blade into the pocket, keeping it out of sight when needed. Some danglers can also be worn with a necklace, but these are more comfortable for much smaller blades.
Knife sheaths by designs
The differently designed sheaths enrich the types of knife sheaths in addition to various materials and carrying methods.
Pouch/pocket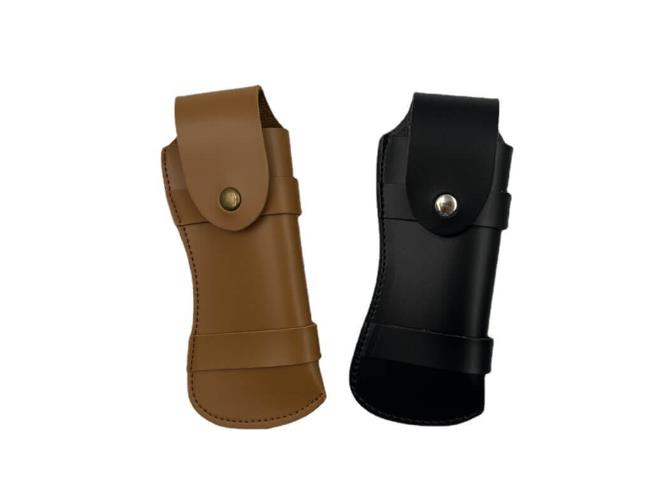 Pouch sheaths are best for small and medium-sized pocket knives. These sheaths cover the entire knife, from the base of the handle to the blade's tip. These knife sheaths are also marketed as pocket sheaths for being able to carry small knives in the pocket enclosed.
Pouch sheaths secure the knife inside with a variety of mechanisms. It can be a snap closure, magnets, buckle, or hook and loop fastener (Velcro). Snap fasteners match the look of leather the best, while hook and loop fasteners and buckles are more fitting to sheaths made from nylon, Oxford cloth, and Cordura.
These knife sheaths are more fitting for vertical carry. They don't fit well with other carrying methods due to the time and effort it can take to draw the knife.
Pancake
The pancake design features two cutouts for the belt to go in when worn. The sheath becomes a part of the belt, ensuring it's there as long as the belt is on. This design enables the user to wear the pancake knife sheath anywhere on the belt.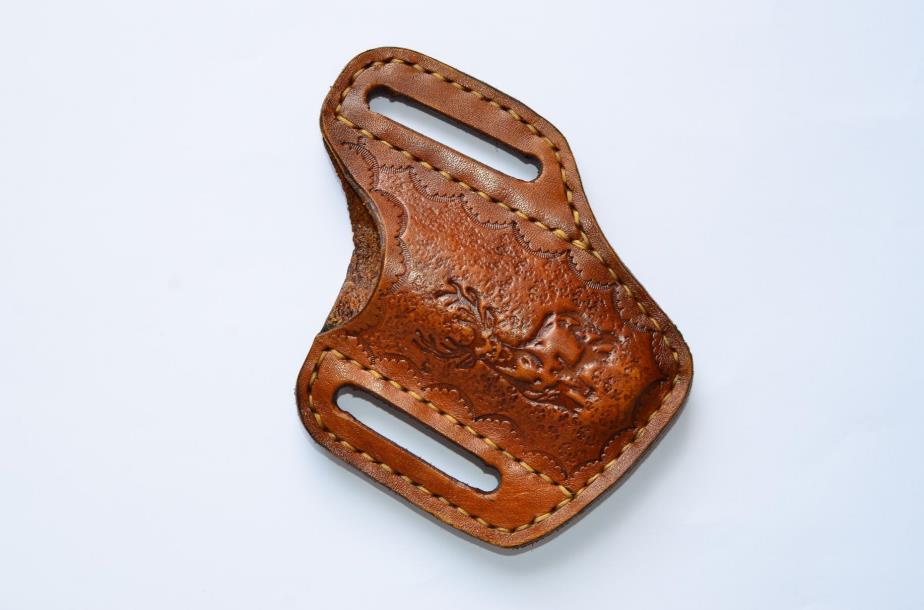 Most pancake knife sheaths have the knife slightly angled. Naturally, this makes them more convenient for cross and canted carry. Due to the preferred belt carrying method for pancake knife sheaths, they have different orientations for drawing the knife for the left and right hip. Nonetheless, there are many pancake knife sheaths for vertical carry.
While it may seem like there aren't many options, the additions, like patterns and engravings, enrich each sheath design's aesthetics. With everything together, you can sell various knife sheaths that catch the attention of different shoppers.
Tips on choosing a knife sheath to sell
Knife sheaths are just as personal as knives. Every user has something specific in mind that makes the ideal knife sheath for them. It's important to sell a variety of knife sheaths to match the image of what makes the perfect product for shoppers.
Selling sheaths made from various materials that suit ranging blade sizes also increases the appeal of knife shops. This can help you expand your reach to shoppers with different backgrounds.
We recommend selling a wide range of knife sheaths, not just a few. Any store with a considerable number of pocket, tactical, survival, and EDC knives should abide by this.
It's also important not to overlook kitchen knives. Many cooks that enjoy outdoor cooking adventures can benefit from sheaths. They offer excellent protection to all types of kitchen knives, especially all-purpose blades, like utility and chef's knives. Next to rolls and bags, sheaths offer the best protection for all kinds of kitchen cutlery.
As for the materials, leather has the most variety, with sheaths for all carrying methods and designs. The versatility of leather helps knife shops offer fitting products to any customer profile.
If real leather turns off some of your customers based on their lifestyle choices, consider synthetic options. These provide similar usefulness as genuine leather. Sheaths made from faux leather can be even better for some users with their low-maintenance nature. They don't have demanding upkeep needs as real leather does.
Other synthetic alternatives can be just as great picks. You can appeal to shoppers by offering lightweight and water-resistant products that don't bother them following physical movements.
Buy Wholesale Knife Sheaths and Start Scaling up with Us Today
Contact us and connect with a sales rep to get a free quote.
Alternatives to knife sheaths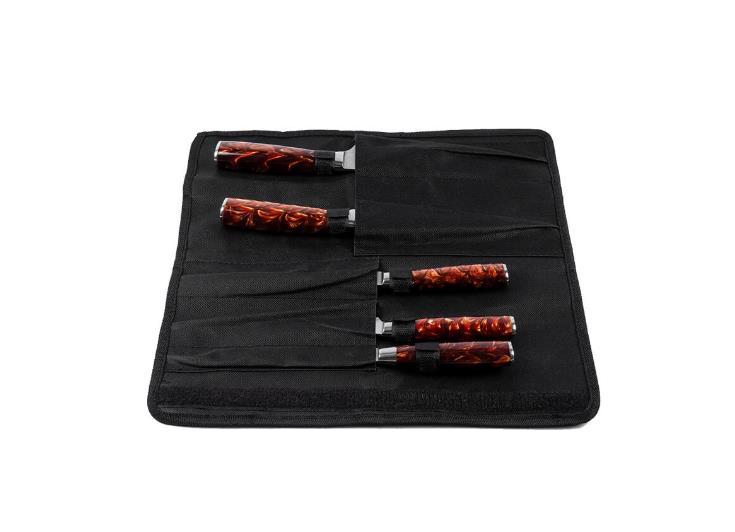 Sheaths are for individual blades. They aren't the most convenient for carrying multiple knives at once. Instead of selling several sheaths to fit many blades, selling bags and rolls. They offer similar protection in a bigger package, with pockets to fit numerous knives.
Just like sheaths, you aren't short of options for these products. You can sell bags and rolls made from various materials, including Oxford cloth, leather, and Cordura.
Although genuine leather is excellent for sheaths, they aren't as preferred for bags and rolls. The price and maintenance can be bothersome to customers. That's why faux leather is more prevalent in these products for better pricing and easier maintenance.
Final words
A sheath is the best tool for carrying a knife on you from one place to another. They not only protect the well-being of the blades they fit but the nearby objects, as well as the users themselves.
These protective knife instruments are a must for any knife. Whether you sell tactical knives or kitchen knives, or both, sheaths will undoubtedly boost sales.
Consider gifting sheaths alongside your customers' purchases, especially with high-end knives and others that are likely to be carried. After getting some use from them, your customers are likely to come back looking for some more.
You can also offer customization services to sheaths on top of selling, like adding belt loops or engravings. Want to take sheath customization to another level or are looking for a manufacturer to source products, partner up with us!
We can help you bulk purchase a wide selection of knife sheaths, customize them and ship them to your storefront – directly from the manufacturer – from us. It isn't only wholesale products we sell.
Through our OEM manufacturing, we can supply you with belt loops, clips, danglers, and other sheath accessories to go with every sheath you sell.
We use top-quality leather and vegan-friendly PU leather in our products.
Browse our catalog of knife sheaths to see the key features and specifications of each product. Already found something that interests you? Click here to request a quote.