Today's knife retailer can source knives with various handle materials and designs. Stabilized wood handles are one of the popular choices for knife handle manufacture and a material that you can recommend with confidence.
In the knife accessories field it's clear that wood is a great resource in the kitchen for items like cutting boards and butcher's blocks. Treated wood performs beautifully in the crafting of knife handles too!
We're going to be looking at stabilized wood as a material, what it is and how it's created, and how it performs as a knife handle in today's marketplace. We'll also be answering some FAQs that you could get from customers not familiar with stabilized wood.
Firstly,
What is stabilized wood?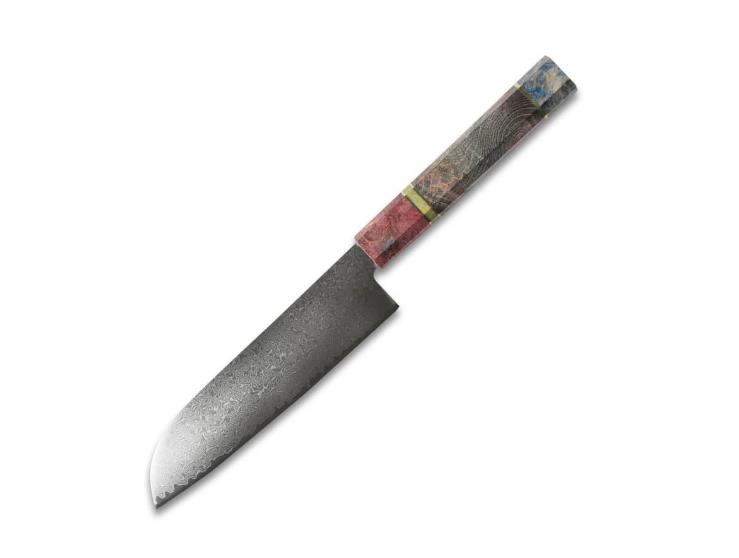 Stabilized wood starts out as natural wood as you'd get from a tree growing in a forest, the stabilization is a process that's applied to it.
Buy Wholesale Kitchen Knives and Start Scaling up with Us Today
Contact us and connect with a sales rep to get a free quote.
How does the stabilizing process work?
Pieces of wood are dried, usually in a kiln, to lower their natural moisture content. Most wood treating firms favor a level of around 6% or lower as an initial base point.
That dried wood is then put into a negative pressure atmosphere in a vacuum chamber, this pressure exceeds 1 000 lbf. In this process stabilizing agents (usually acrylic monomers or polymers) are driven into the wood's cellular structure.
The negative pressure environment displaces any air in the pockets or gaps in the wood and replaces it with the resinous stabilizing substance.
As porosity/air pockets in the wood are filled, the wood becomes heavier as the resin is heavier than the air that it has displaced.
Coloring agents or dyes can be added to the resin to create custom effects or to beautify the wood if this is desired.
After resin or chemical application is done the wood is heat cured to change the liquid stabilizing agent into a solid within the wood.
Essentially, wood stabilization is a process of changing the character and properties of the wood, to preserve it and make it stronger as a material.
How does stabilization change wood?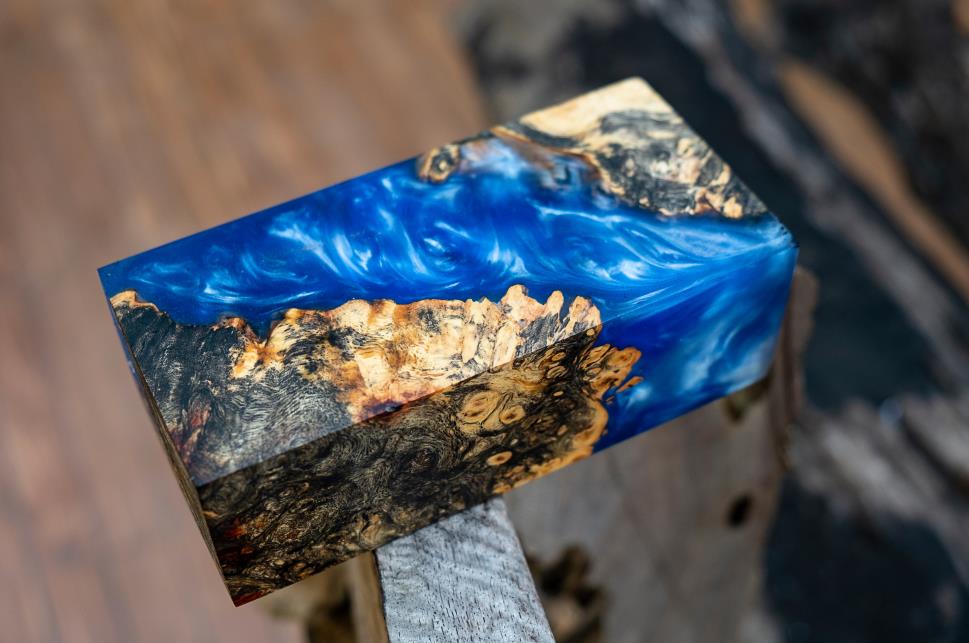 Stabilization removes air from the wood and fills the gaps left behind, reducing porosity. The addition of the stabilizer makes the wood denser and heavier, whilst making the wood substrate itself stable.
The wood now has evenly distributed hardness, instead of having patches of hard and softer wood distributed throughout.
As we said, the aesthetic nature of the wood can also be changed if dyes or coloring agents are added.
What are the benefits of stabilizing wood?
The benefits of stabilizing wood are significant and include:
Formerly porous wood becomes much more resistant to water – thus avoiding moisture damage like warping
Stabilized wood is stronger than untreated wood and has higher impact resistance
Stabilized wood gives weight to a knife handle which gives the knife user more control on their knife stroke
Because it's a poor environment for bacteria and spores growth, threats like mold and unsanitary pathogens are almost eliminated
Stabilization protects the wood from U.V damage and color loss
Stabilization helps stop very dry kinds of woods from cracking
Stabilized wood can survive temperature changes or moist environments without deterioration
The aesthetic of the wood becomes customizable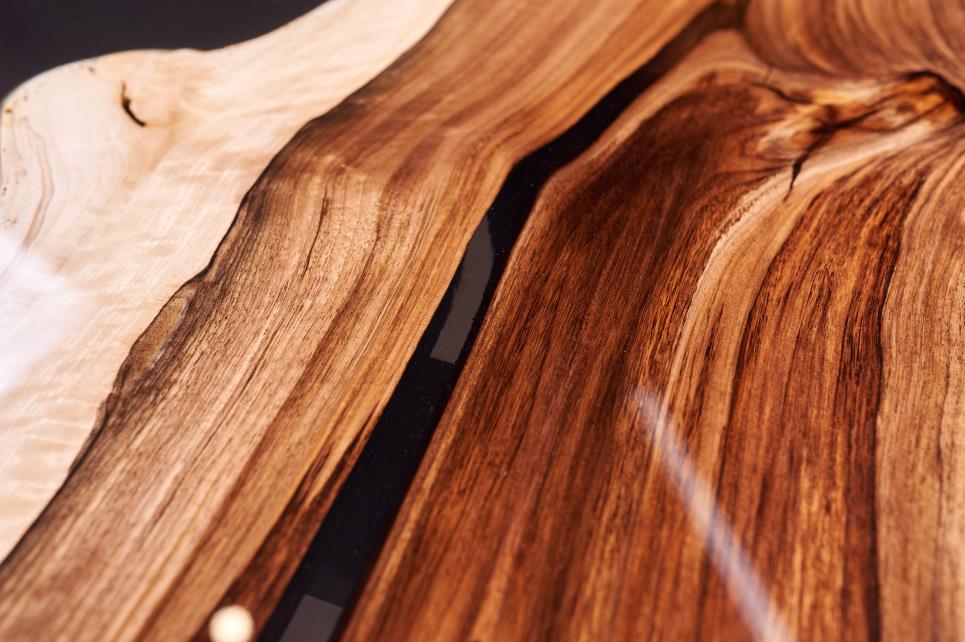 Softer woods (such as cedar) and burled wood especially can benefit from stabilization as it stops the unlikeable tendency of these woods to split and crack. This enhances their stability as a substance and their overall desirability as a material to be worked and made into household items for daily use.
So, stabilized wood is wood – only better?
Precisely.
What are the cons of stabilized wood?
No substance is entirely perfect and stabilized wood isn't perfect.
Stabilized wood is not 100% moisture or bacteria growth free, and it may still develop issues like splitting. This will depend on how well the knife handle is looked after.
Stabilizing wood greatly lessens many of the 'problem areas' of wood but it cannot be said to eliminate them entirely. Stabilized wood will still need to be oiled occasionally to preserve its moisture retardant quality.
Correct storage (for example a knife roll) and proper care of stabilized wood products is essential for customers to get top performance from their knife.
Knives with stabilized wood handles still can't go in the dishwasher unfortunately, hand wash only is still the route to take!
What do stabilized wood knife handles offer my customer?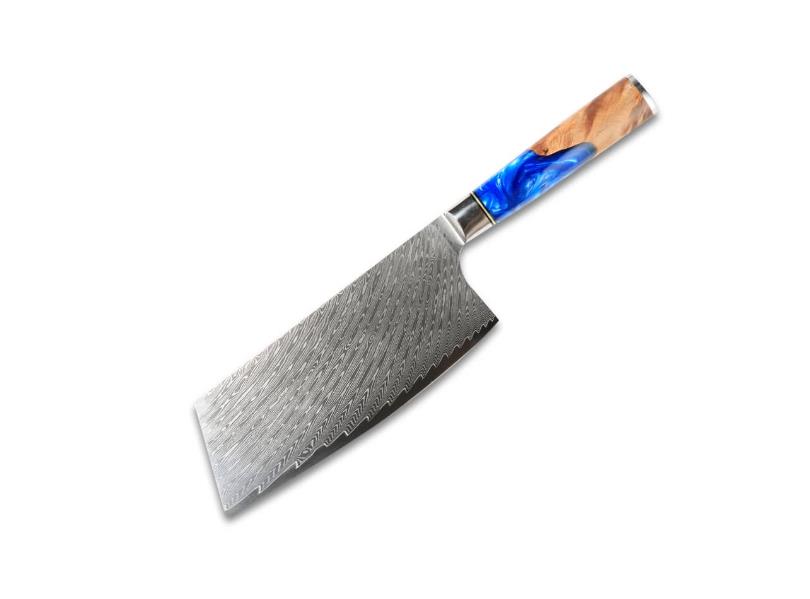 Let's take some of the characteristics of stabilized wood and match these with real life benefits for your buyers!
| | |
| --- | --- |
| CHARACTERISTIC | BENEFIT |
| Increased density | A more durable knife handle that retards moisture |
| Heavier | Gives heft to the knife stroke and more cutting control |
| Water resistant | Limits handle deterioration and inhibits bacteria growth |
| Improved strength & impact resistance | Knife handle lasts and looks good for longer |
| U.V resistant | Knife handle keeps its color and doesn't fade |
| Stable material | Knife handle can survive humidity and temperature changes |
| Color fast | Handle wood doesn't change its unique tonal character |
| Even hardness | Strengthened throughout and imperfections levelled, giving a better quality product |
| Customizable | Buyer has choice of color or finish |
Note: Another great feature you might consider offering a customer is a stabilized wood knife handle with a welded bolster. This 'tweak' adds greatly to the knife design by further improving the knife's balance in the hand, making it safer and more comfortable to use.
Should you include knives with stabilized wood handles?
As we've seen, stabilized wood in a knife handle has many benefits that add to the knife handle's looks, durability and quality. It make sense to include this knife handle material as something tough and attractive for your customers.
Buy Wholesale Kitchen Knives and Start Scaling up with Us Today
Contact us and connect with a sales rep to get a free quote.
Besides knife handles, what else is stabilized wood used for?
Stabilized wood is easier to shape than natural wood so it's beloved by knife makers, but it's also used for things like razor handles, pistol grips and jewelry products.
Frequently Asked Questions
In conclusion
LeeKnives trusts that this article on stabilized wood has helped you to understand this knife handle material better, and to see what it offers in real life terms to your customers.
While you're here, do review our stabilized wood catalogue, it's everything you need in gorgeous knife products at your fingertips. We're also clued up on wholesale and offer in depth knife sales and product information on our blog, so please don't be a stranger!
Our quote portal awaits you with friendly customer service and prompt attention to your queries. At LeeKnives you can also explore the exciting world of custom knives to take your strategic sales game to the next level.