How would you like to become a knife dealer? It has quite the ring to it, don't you think? If this potential title has piqued your interest, you'll be happy to know that getting a knife business up and running requires much less effort than you'd think.
Many entrepreneurs look past the opportunity to dropship knives, as they presume this business model entails strict regulations or various legal setbacks.
In truth, these items are easy to sell, benefit from a large customer base, and allow more-than-generous profit margins. For those bold enough to try, of course.
If you can see yourself becoming a knife dealer, we encourage you to read the following guide. It should teach you all you need to know before you can get a slice of the knife market for yourself.
Can dropshipping knives be your next successful venture?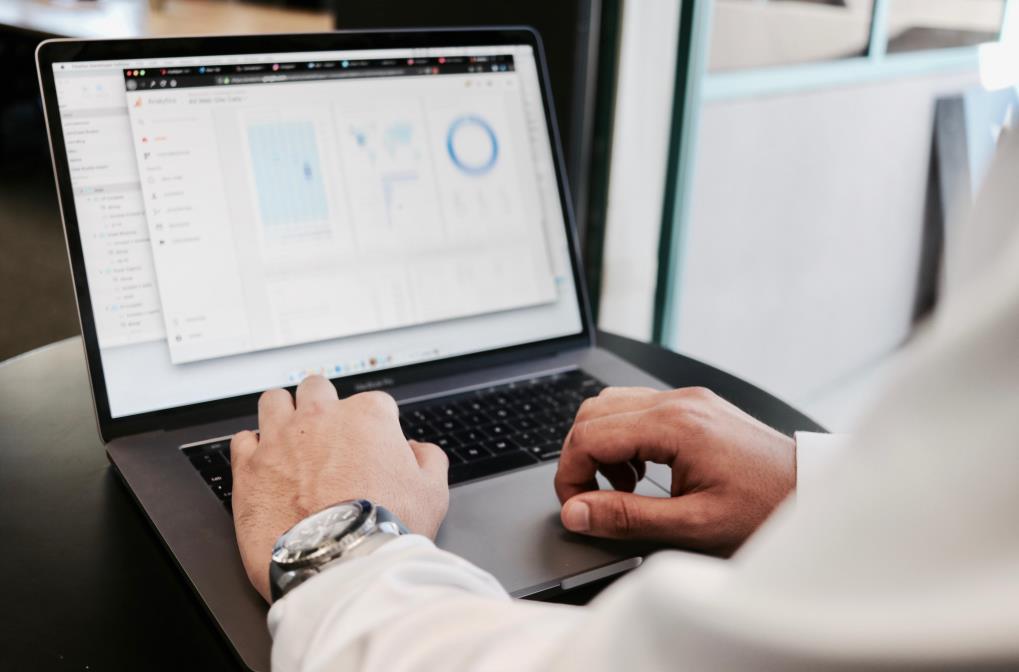 First things first, let's talk about the law. Depending on the country you will be targeting, the legislation surrounding knife selling will differ. You should do your due diligence and check whichever rules apply to your future customer base.
As a rule of thumb, you won't need a license to sell knives meant for domestic use. The same rule applies to homemade and craft knives.
Yet, when it comes to knives that might be considered weapons, you will need to get in contact with the relevant regulatory bodies. In most cases, you will be required to obtain a sales permit.
Moreover, you will need to make sure you aren't selling knives to anyone under 18, and that your products are shipped in professional packaging. This is one of the reasons why choosing the right supplier is a vital step in this process.
The riches in the kitchen niches
If you've read so far, you might be asking yourself: "why knives?" The answer is quite simple. The kitchenware market has seen constant growth and is expected to reach $77,4 billion by 2025.
Kitchen essentials practically sell themselves, as there will be no demand shortage as long as people have to eat. When it comes to kitchen knives, the global market size was valued at $1.17 billion in 2018.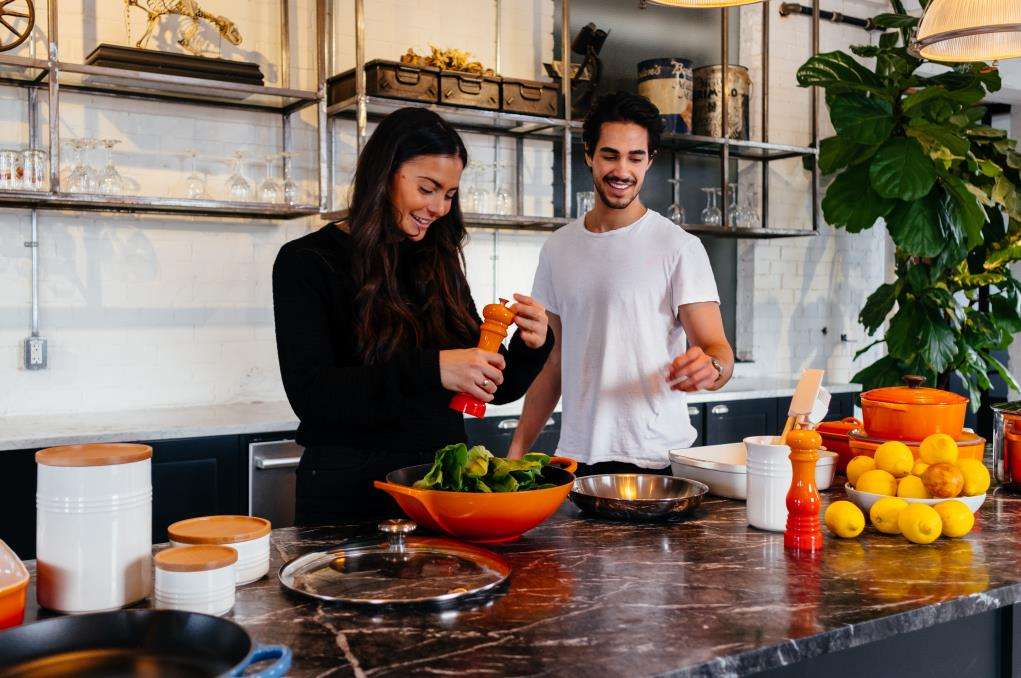 The growing popularity of kitchen-themed reality shows, like Top Chef or MasterChef is expanding the market at an 8.6% compound annual growth rate (CAGR).
And even if you're not much into numbers, there are several factors that indicate a demand boost over the following years. Manufacturers introduce new, advanced products that are stronger, more durable, and easier to use.
Plus, the rapid globalization nudges many kitchen enthusiasts to try various ethnic or visually appealing dishes. People will gladly pay for the tool that will give them the perfect julienne, brunoise, or macedoine.
Stress less with dropshipping
There are many online services that will help you get a knife business off the ground, without you worrying about stocks, warehousing, packaging, or shipping.
It is estimated that the dropshipping market size will reach as much as $476 billion by 2025, with an average growth rate of 23.7% per year.
With its low start-up fees and the benefit of no inventory, it's not difficult to understand why dropshipping became the fulfillment model of nearly 33% of online stores.
Moreover, since they're not dependent on inventory space, dropshipping retailers are 18.33% more profitable than those relying on traditional channels.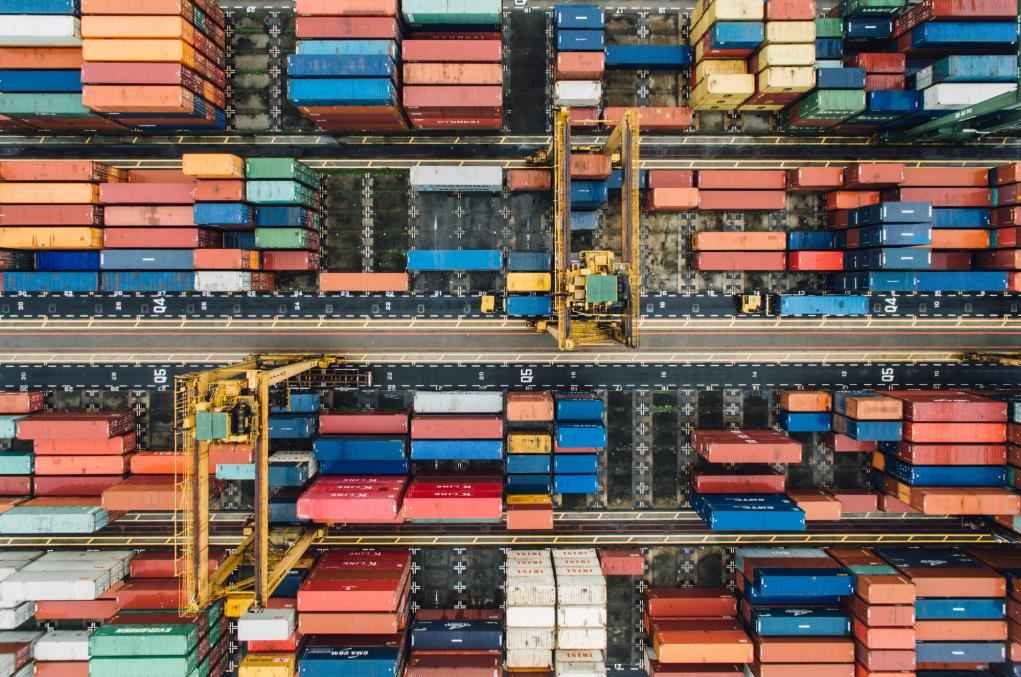 Of course, the overall success rate of the dropshipping industry is hard to determine, as there are no statistics that could reveal the bigger picture.
This eCommerce model is considered a medium-risk business, yet the low initial investment often turns it into a risk worth taking.
Whether your dropshipping business succeeds or not depends on many factors, including advertising campaigns and a visually appealing website.
Yet, many eCommerce retailers will confess that the initial stage of finding and securing a professional supplier is the biggest obstacle they've encountered.
Dropshipping knife suppliers to jumpstart your business
For a dropshipping business to bring you maximum profits for the least amount of effort, you will need to choose your supplier carefully. A major part of the operation lies in their hands, which is why you should vet ruthlessly.
How to choose the best knife supplier
There are several aspects you can consider when choosing the perfect supplier, and the most important ones will depend on the particularities of your business.
Say you'd like to distinguish yourself from competitors through unique, branding packaging. In this case, you'd need to look for a professional supplier that offers white label services.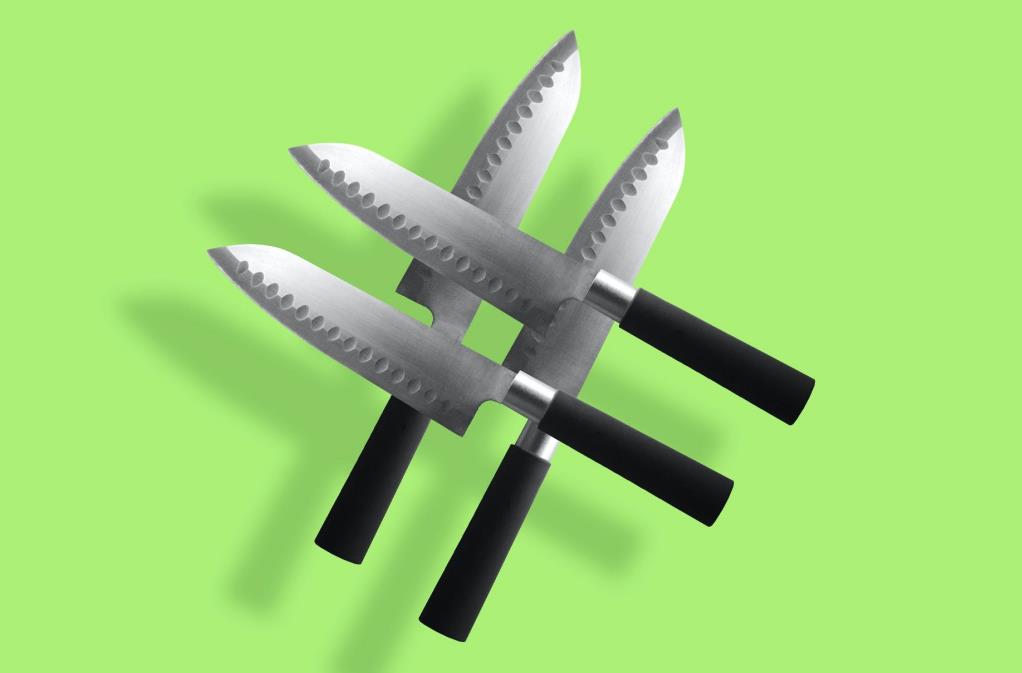 Maybe you'd like to take things one step further and have your products directly branded under your business name – such as having your logo engraved directly onto the product. Private labeling services can do that for you, but they will come at a higher cost.
It's important to check whether your desired supplier is licensed for distributing and manufacturing knives if they also offer Original Equipment Manufacturing (OEM).
Not to mention, there are some other general factors to consider. A retailer with several years of experience on the market will probably be more desirable than one that's just starting out.
The variety of offered products, shipping policies, and customer testimonials are also things you can check to ensure you're going for the best option available.
How we chose our recommendations
Below, we've compiled a list of wholesale suppliers that are worth your consideration. In order to devise this list, we've looked at the most successful retailers we could find online.
Then, we've rated them using the vital business aspects cited by successful dropshippers, to ensure they can offer a great starting point for someone looking to rely on this business model.
Without further ado, let's carve right in.
LeeKnives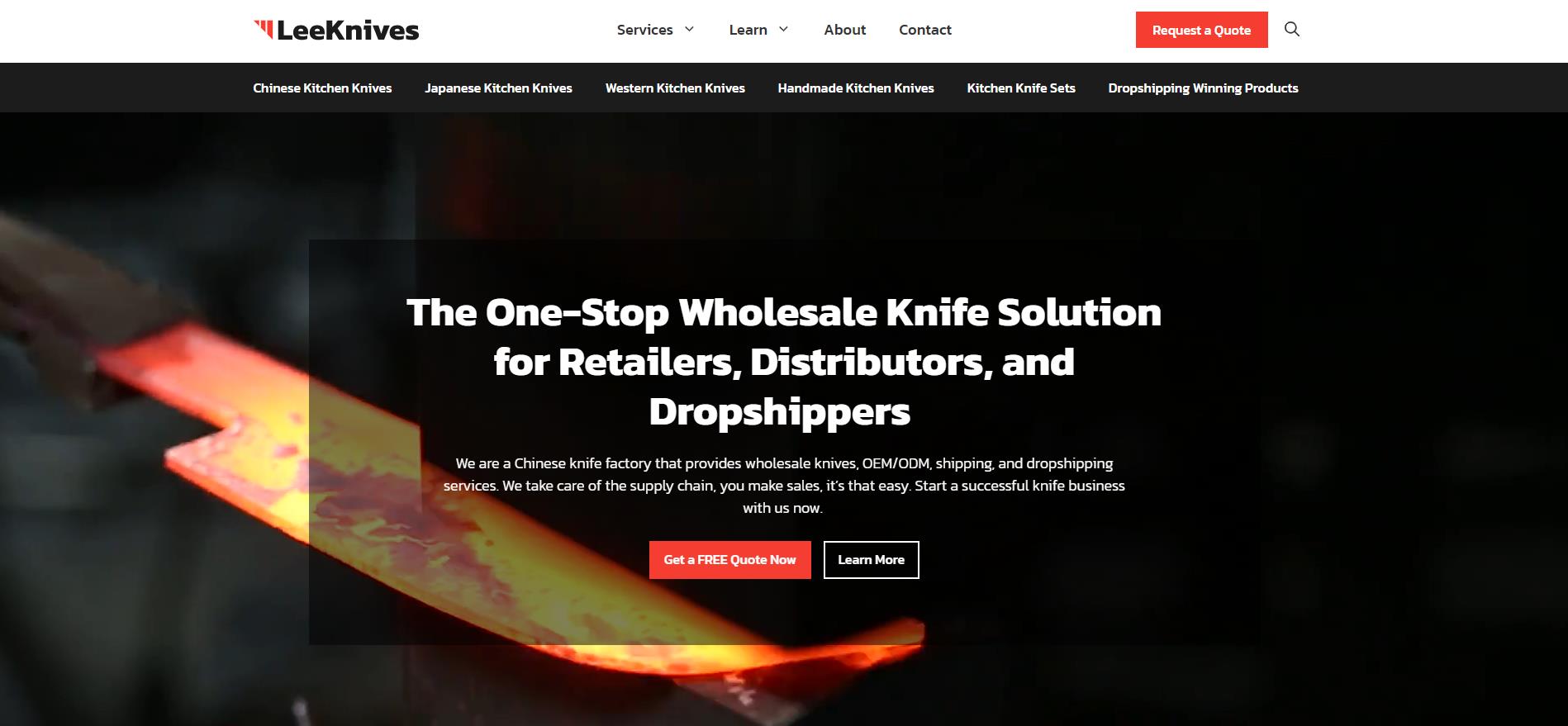 LeeKnives is one of those companies that can convince you how important specialization is to a business. Instead of listing several weaponry and novelty options, this retailer focuses on great quality knives and accessories for domestic and outdoor use.
What sets them apart from competitors is their factory, which allows them to manufacture original equipment and even offer custom products, in line with the customer's design.
They take care of the entire supply chain, from production, labeling, packaging, and shipping, so you can focus on a single thing – relying on advertising to make sales.
| | |
| --- | --- |
| Established | 1993 |
| Location | Guangdong, China |
| Main Categories | Chinese Kitchen Knives, Japanese Kitchen Knives, Western Kitchen Knives |
| Services | Wholesale, Private Label, OEM, Dropshipping |
Pros
Factory sourcing with custom products available
US warehouse for fast shipping
Dedicated dropshipping agent to guide you through the entire process
Full integrations with Shopify, WooCommerce and eBay
Custom branding including packaging, engravement, and logo printing
Cons
5%-10% dropshipping fee that is added to the amount of the purchase
Buy Wholesale Kitchen Knives and Start Scaling up with Us Today
Contact us and connect with a sales rep to get a free quote.
KnifeImport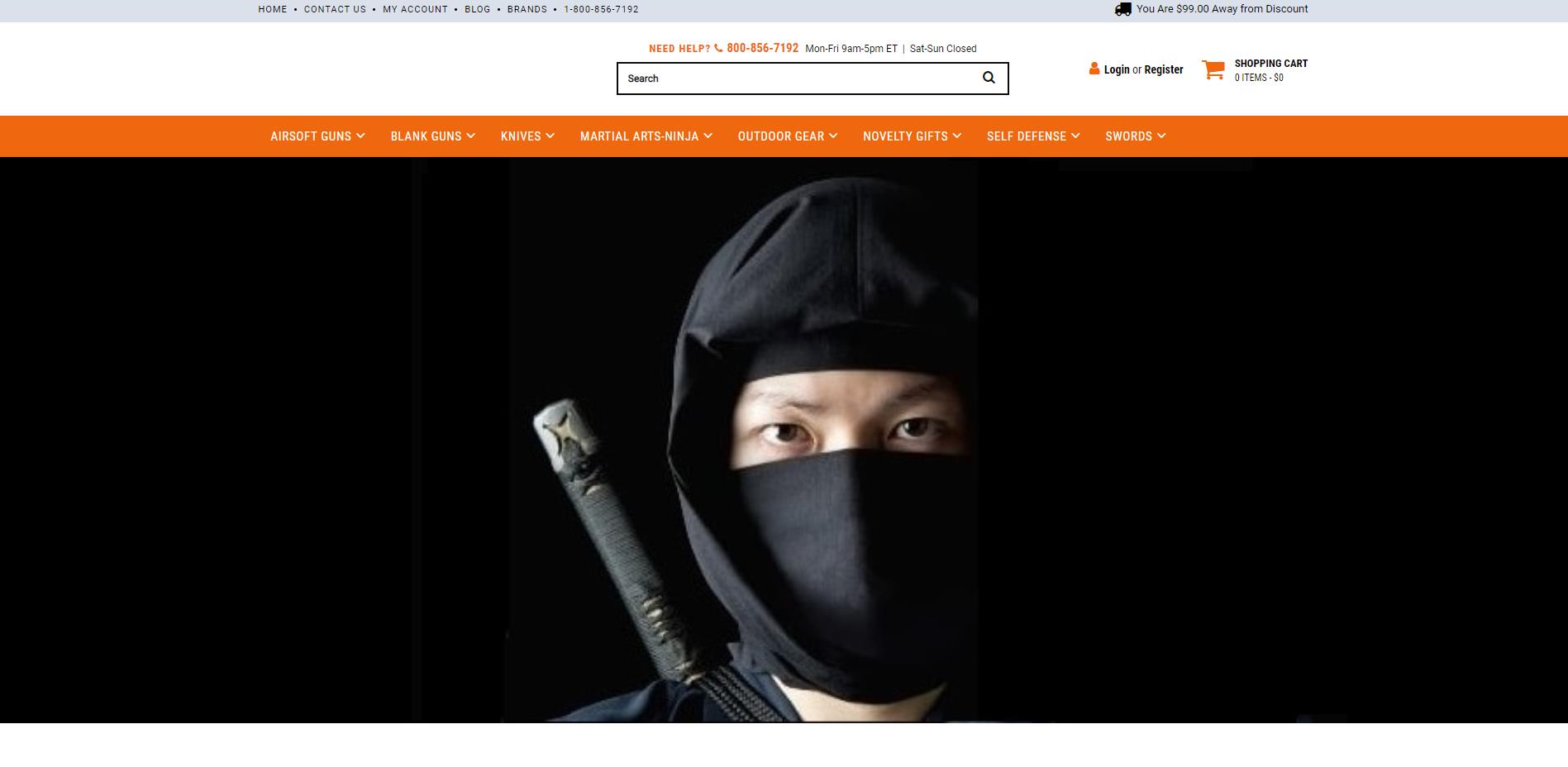 With more than a decade of experience in the knife business, this supplier conquered a sizeable chunk of the market through expert targeting.
They offer a broad range of products, including multiple types of knives, domestic or otherwise, swords, outdoor gear, ninja equipment, and self-defense products.
Although they don't have a dedicated dropshipping service, they offer great discounts for larger orders and impeccable shipping times across the US.
| | |
| --- | --- |
| Established | 2012 |
| Location | Pennsylvania, United States |
| Main Categories | Knives, Pocket Knives, Swords, Self-Defense Weapons |
| Services | Wholesale |
Pros
Broad range of products from high-quality brands
Fast US shipping through UPS and FED EX
Hefty discounts, even on smaller orders
Reasonable wholesale prices
Cons
No custom packaging or product branding
No dedicated dropshipping services or eCommerce integrations
Long international shipping times
Blue Ridge Knives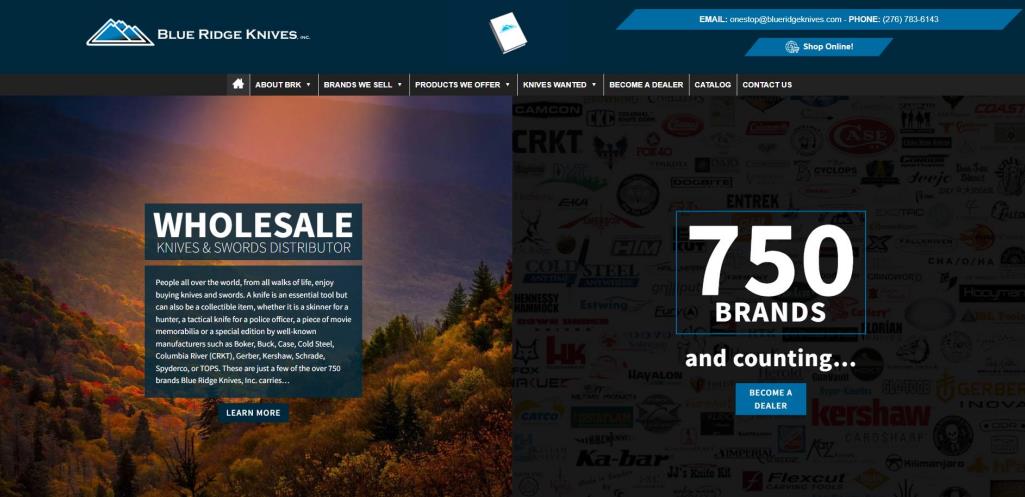 One of the more experienced options out there, Blue Ridge Knives makes for a perfect option if you're serious about becoming a knife dealer.
Their knives range from kitchen blades to hunting and fishing, outdoor accessories, throwing knives, military and tactical knives, and even swords and replicas.
Registering as a dropshipper with them will give you access to their special discounts catalog. One thing to note is that they have a minimum order of $100 for US customers and $500 for International customers.
| | |
| --- | --- |
| Established | 1979 |
| Location | Virginia, United States |
| Main Categories | Knives, Tools, Outdoor Accessories |
| Services | Wholesale |
Pros
Small minimum order for US customers
Broad range of products from quality brands
Free shipping on orders above $1000 in the US
Long-standing business with many years of experience
Cons
Minimum order prices, unfit for beginner dropshippers
No eCommerce integrations or custom branding
CJDropshipping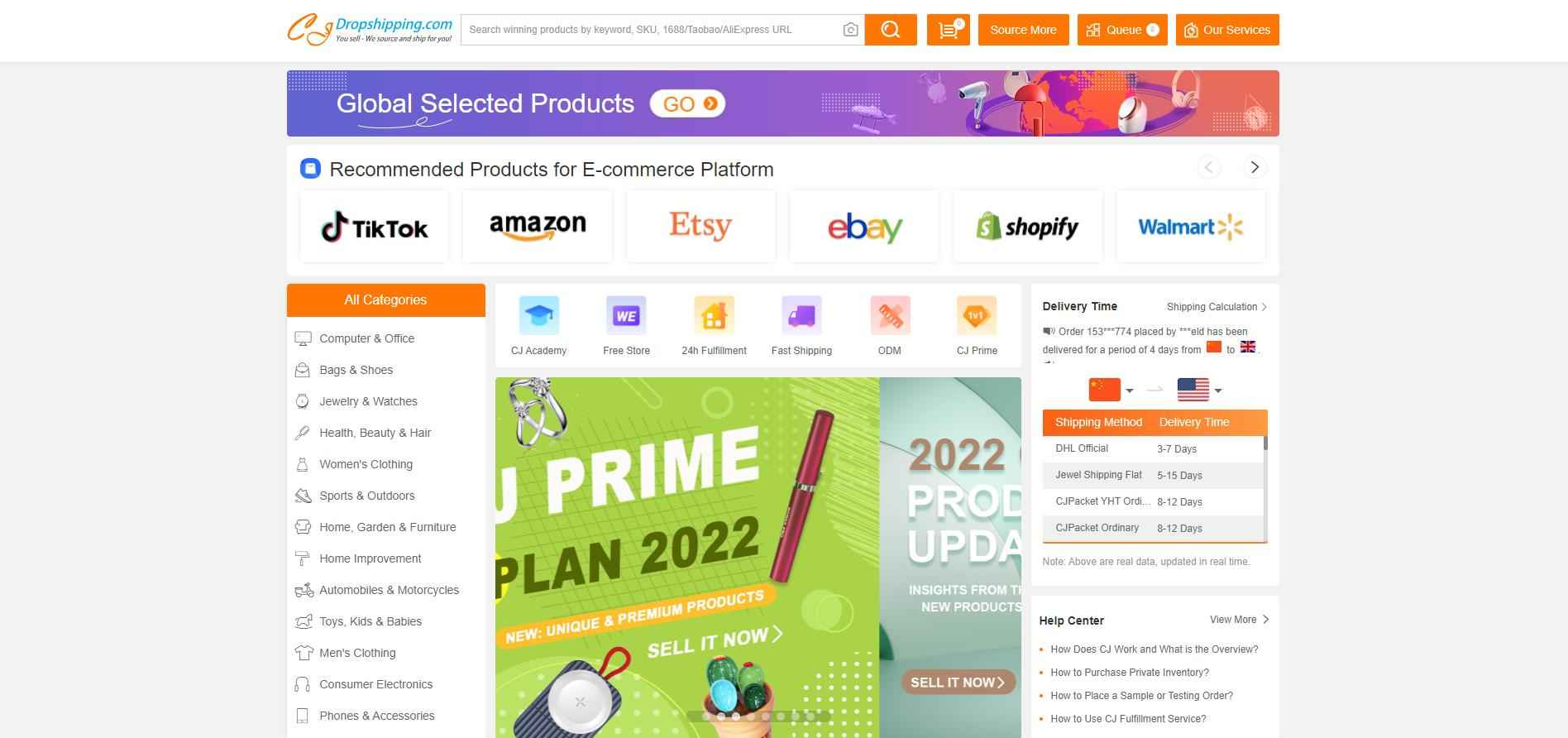 This company is an experienced dropshipping supplier and a great alternative for platforms like AliExpress. They have 32 dedicated warehouses around the world, which ensures timely shipping to all international customers.
They offer bulk purchases at hefty discounts, print-on-demand services, and even order tracking. You can store your inventory at one of their warehouses, and if you source your products directly from them, the storage is free for 90 days.
| | |
| --- | --- |
| Established | 2000 |
| Location | Zhejiang, China |
| Main Categories | Broad Range of Products |
| Services | Product Sourcing, Dropshipping, Marketing |
Pros
Great one-stop dropshipping services
Broad range of products, albeit, across all categories
Fast worldwide fulfillment
Free warehouse storage for products you acquire from them
Complete customization options
Integrations with a large number of eCommerce platforms
Cons
Unspecialized product sourcing with generic options for knives
Fully automated dropshipping process that can be difficult to set up as a beginner
WholesaleBlades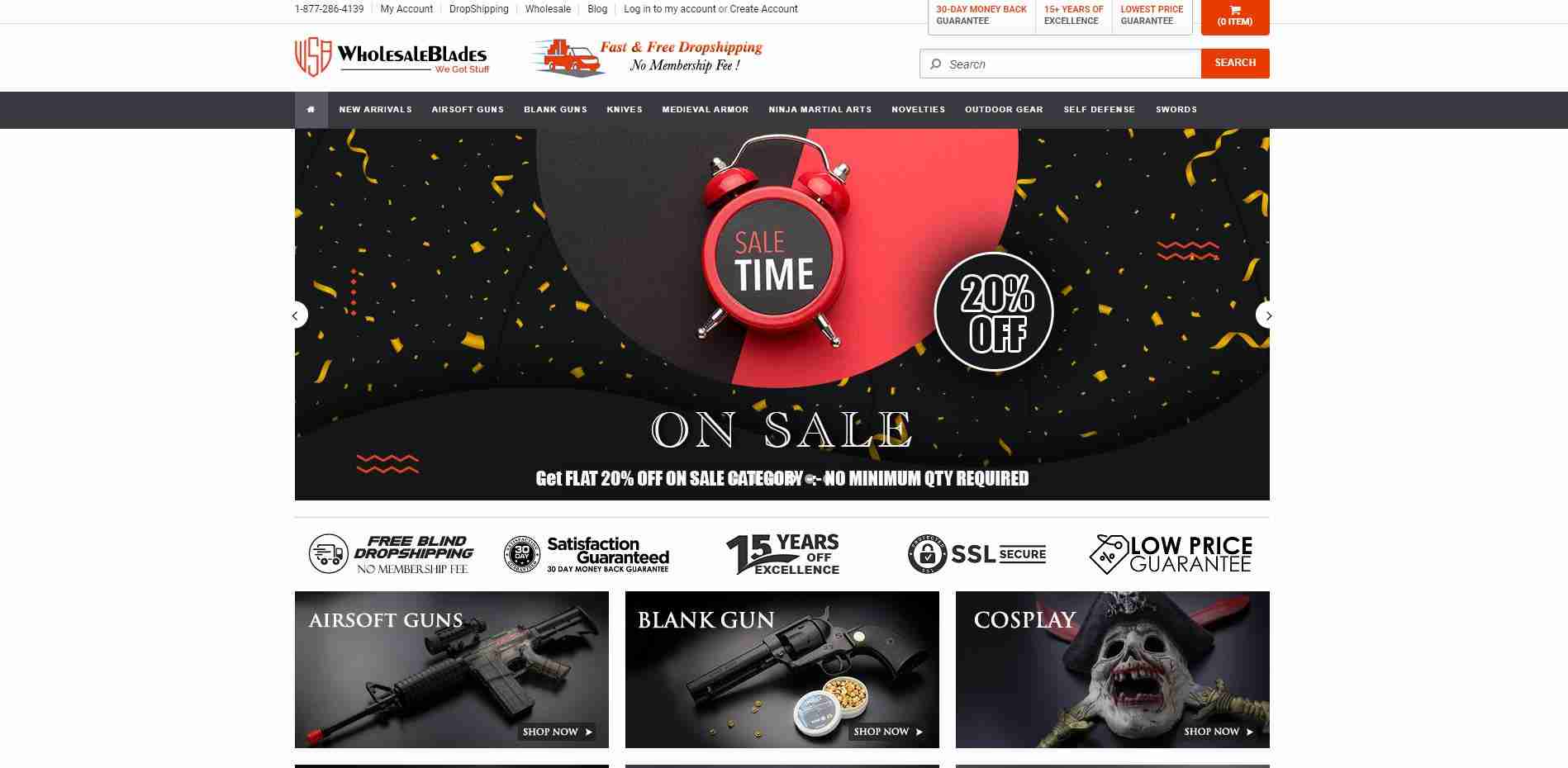 As the name suggests, this retailer offers a high variety of blades, that can fit any store's profile.
With more than 13 years of experience, a stellar customer service team, and a broad range of products you can choose from, they make for a great option for beginners.
WholesaleBlades offers the ever-popular fixed blade knives, Damascus knives, pocket knives, daggers, butterfly knives, and even hidden-blade knives, among many others.
One of the biggest advantages of working with them is their no minimum order policy. This means that if you're just starting out, WholesaleBlades will fulfill any order, no matter how small and they don't charge any dropshipping or membership fees.
| | |
| --- | --- |
| Established | 2016 |
| Location | Pennsylvania, United States |
| Main Categories | Knives and Accessories, Outdoor Equipment, Swords, Armour |
| Services | Wholesale, Dropshipping |
Pros
No order restrictions
No dropshipping or membership fees
Large range of wholesale blades, including domestic, novelty, and weaponry
Low prices allowing for higher mark-ups
Cons
No dedicated customer support
No onboarding help for new dropshippers
No online store integrations, requiring you to forward each order to them
No customization options
NicheDropshipping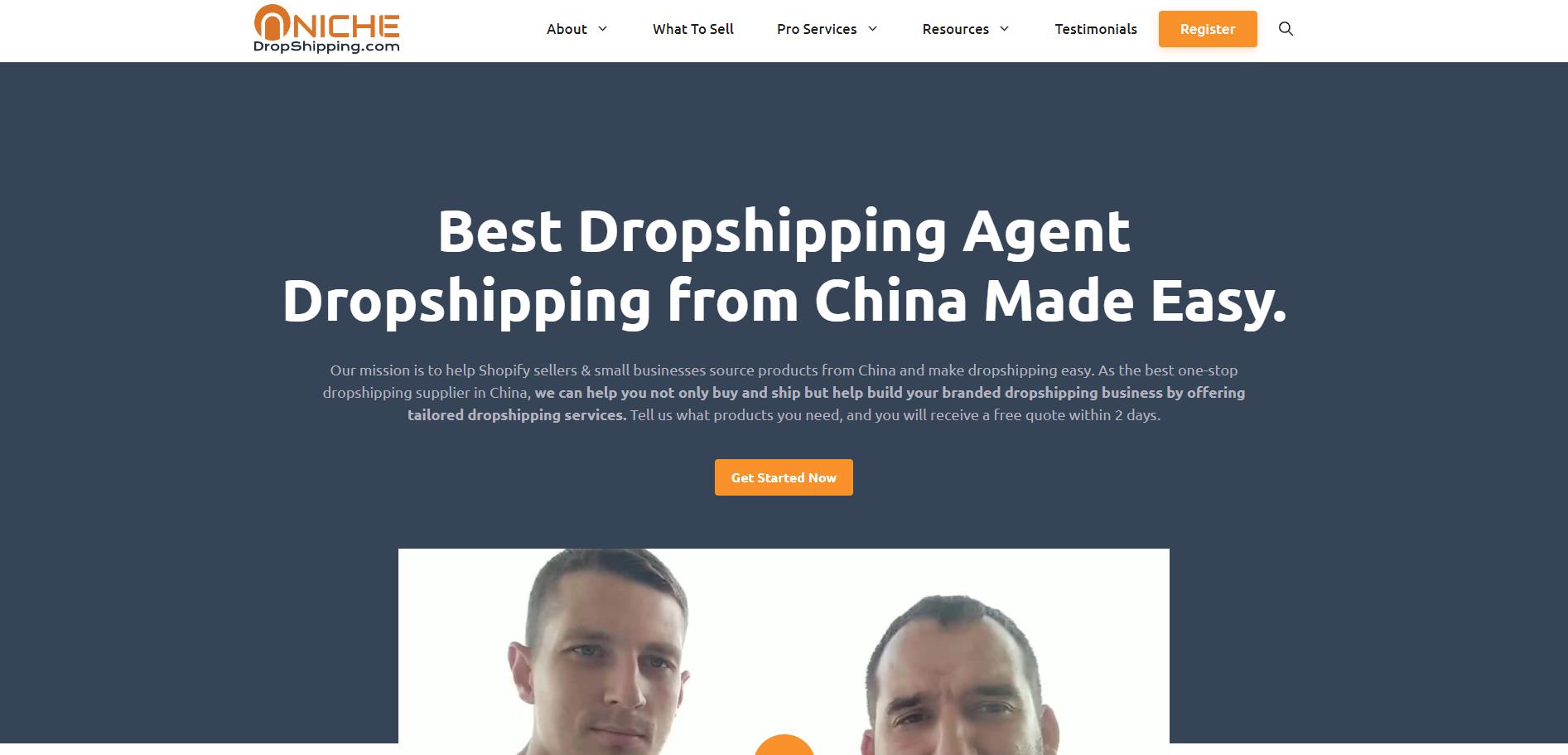 Although new on the market, NicheDropshipping quickly became a dropshipping favorite due to the large number of services they offer.
This small Chinese company offers one-stand dropshipping services to anyone looking to start a business. They will take care of sourcing your products (for free), getting bulk deals, and fulfilling your worldwide orders.
They offer custom branded packaging and even private label services, fast shipping through their global fulfillment centers, and easy integrations with the most popular eCommerce platforms.
| | |
| --- | --- |
| Established | 2019 |
| Location | Zhejiang, China |
| Main Categories | Broad range of products |
| Services | Wholesale, White Label, Private Label, Sourcing Agent, Automated Dropshipping |
Pros
One-stop dropshipping services with a dedicated sourcing agent, bulk discounts, store integrations, and more
Private inventory storage and worldwide fulfillment
Custom packaging, white and private label dropshipping services
Cons
Unspecialized store – all products are sourced from other businesses
Little experience on the market
Not sure what kind of knife you should dropship?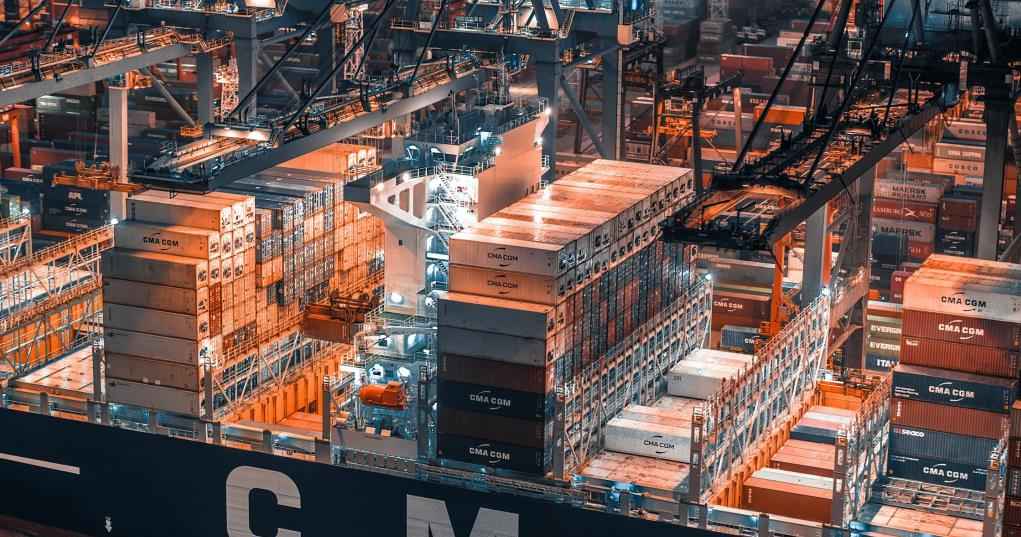 Although there are several factors that can decide whether your dropshipping venture will turn successful or not, such as advertising budget and website quality, the types of products you will sell remain the bread and butter of this activity.
As a beginner, it's certainly tempting to want to cover a broad range of products. You'd think that the more diverse your offer, the better the chances of you finding more customers.
However, that's seldom the case. Your best bet is to stick with a few good-quality products and do your best to distinguish yourself from the competition.
Once you've got that out of the way, you can think about scaling and adding new products to your site.
Who is your ideal customer?
To determine your initial offer, the first thing to consider is a customer persona. Don't just shop around for products you find "cool." You might discover that what appeals to you won't sell as quickly as you'd expect.
Profiling your target customer can sound daunting, but it's much easier than you'd think. There's no need for a Ph.D. in marketing for this step.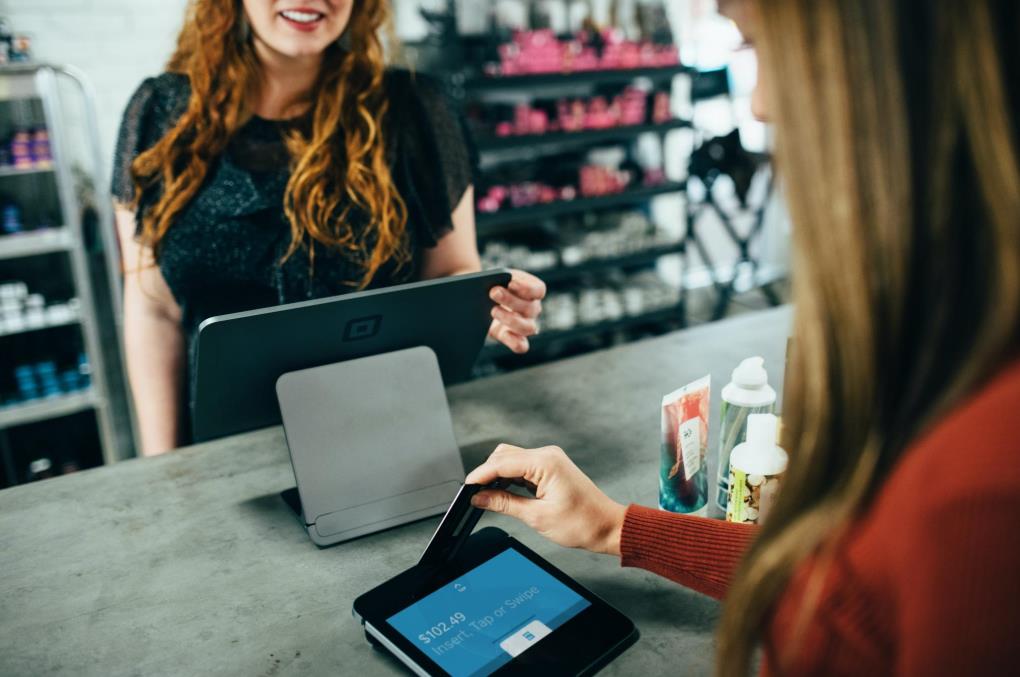 You need a piece of paper, a pen, and a bit of imagination. Think about your ideal customer. Include gender, age, income bracket, and location. Think of their hobbies. How do they spend their day?
How do they shop? Are they likely to think well before making a purchase, or are they impulse buyers? Does necessity drive their purchases? Are they collectors? How will they use your knives?
Some customer examples
Here are some well-known customer types that should serve as a base for your targeting efforts. Each of them implies a slightly different ideal offer, so we offered a few viable choices to get your started on your documentation.
Don't forget that you can always check our knife catalog for more inspiration and additional information on each knife type.
The kitchen beginner
These people come from all backgrounds and are just looking to equip their kitchen. Maybe they discovered a new hobby in cooking, or perhaps they just moved.
For this reason, they will need cheap, quality products that can be used for multiple purposes. They aren't too interested in the visual aspect and won't spend too much on specialty knives.
With this customer in mind, you can focus on all-purpose knives, as well as specialty knives that would be found useful in any type of household. Beginner cooks will always appreciate a solid choice for a chef's knife.
Santoku knives, the Japanese version of a chef's knife is also a terrific choice, increasingly popular with vegetarians. Cleavers, paring knives, and serrated knives can make their way into your list, as they are quite useful for any level cook.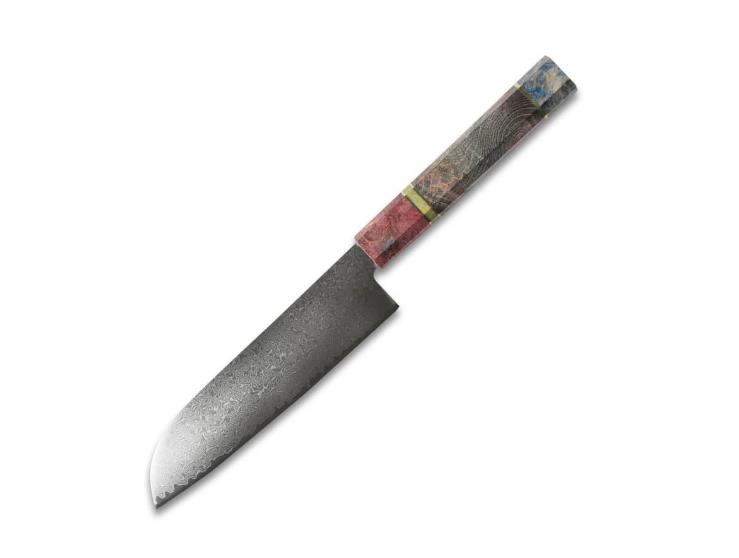 The professional chef
Chefs are always looking for high-end products that will make their lives easier. Formal training or not, these people will buy high-ticket items, so it's helpful to stock up on those.
High-quality, durable materials, specialty knives needed for advanced dishes, and even visually appealing tools like Damascus knives are great choices when targeting this customer type.
When catering to professional chefs, we highly recommend Japanese knives. Gyuto, the Japanese version of a chef's knife, is suitable for cutting most meats and vegetables and allows the user to make very delicate cuts for aesthetic purposes.
The sushi chef might appreciate the slender blade of a Yanagiba knife, while a Nakiri will suit chefs who prepare a lot of vegetables.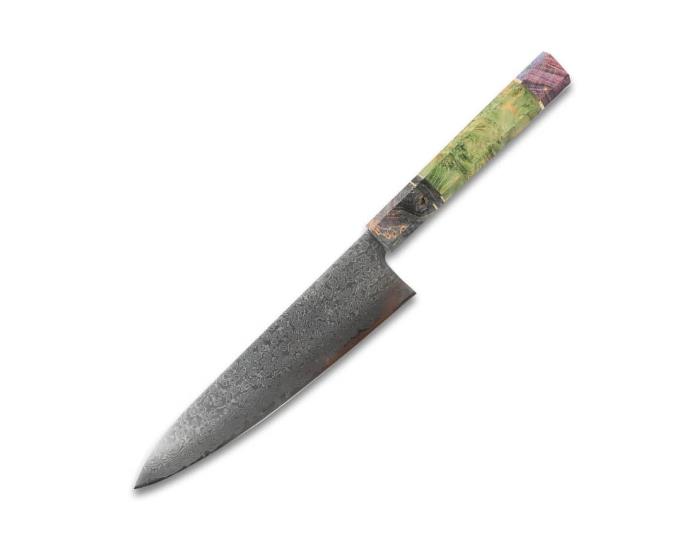 The collector
This category is a bit unique. No matter what your ideal customer base is, it's essential to know that the collector can lurk inside any kind of buyer.
Having a few high-end, aesthetic, or unique choices alongside your base inventory will ensure you'll get a few unexpected sales.
For this category, you can focus on forged knives with appealing patterns on the blade, or high-quality carbon knives with beautiful handles, such as those made of bone, veneer, or curly birch.
The most popular types of knives for dropshipping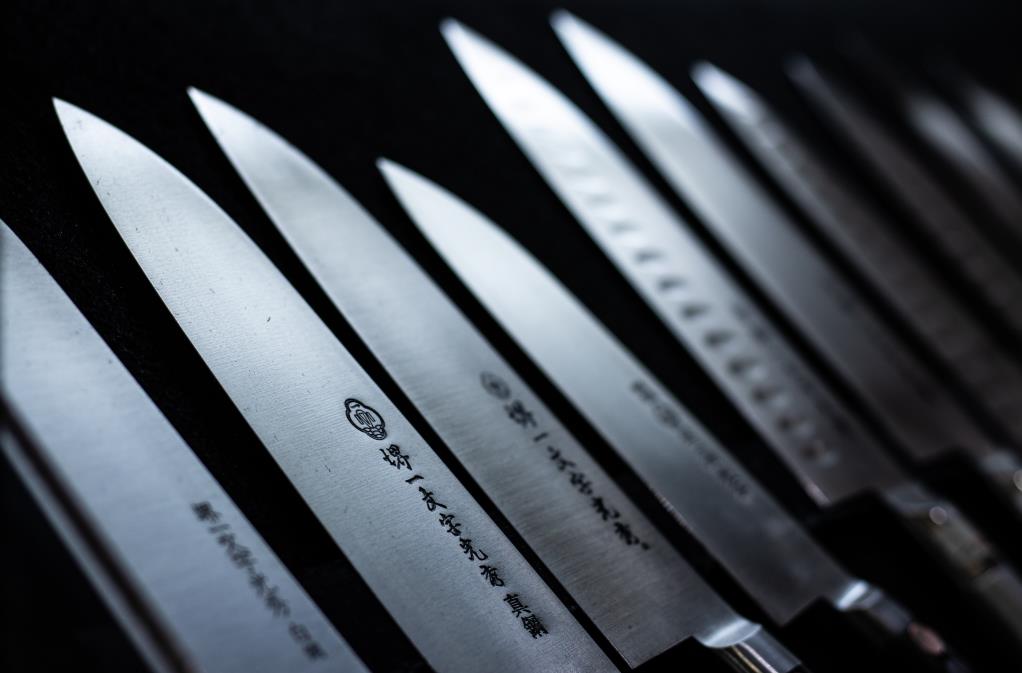 You shouldn't let this list hinder your creativity. Remember that the products you choose to advertise will be nothing less than your business card, so it's essential to really make your "inventory" your own.
Yet, you can rely on the following options if you don't know where to start. According to Google Trends, these are the most sought-after products, so it's a great idea to offer them as a starting point for your store.
Bread Knife
Chef's Knife
Bone Chopping Knife
Damascus Kitchen Knife
5P Kitchen Knives Set
Paring Knife
Apart from their utility, customers often look for particularities when shopping for knives. Fixed blade knives are top-rated and a great option to cover in your store.
The stamped blade segment accounted for the largest share of the market in 2018, at 75%. These are popular options because they are highly flexible and light.
Don't forget to offer a few different sizing options, as well. By 2025, 5-7 inch products are expected to cover the largest size of the market due to their excellent residential applications.
Moreover, plain kitchen knives sell best, followed by serrated knives, then Granton.
Ready to become a knife dealer?
Armed with the above information, you should find it relatively easy to get a knives dropshipping business off the ground.
With a minimum initial investment of $300-$400 and an extensive range of services to make your life easier, there are no reasons why you shouldn't at least try.
Apart from the apparent potential profits, we need to reiterate the massive confidence boost one would get from becoming a knife dealer. A lucrative, legitimate business that also gives you street cred.
When you're done, remember that you don't have to do everything alone. Far from it, actually. We're ready to help throughout the entire process, so let's have a talk.