Cast iron cookware comes in various shapes and sizes. Therefore, getting the right one is crucial for creating the perfect kitchen recipes. "Which cast iron skillet sizes are the most popular" is a question that frequently arises among business owners who are looking for cast iron cookware to source.
The most popular cast iron skillet sizes are typically 10-inch and 12-inch skillets. However, commercial users prefer larger skillets of 15 inches and 17 inches, respectively.
Let's discover all about cast iron skillets and their sizes without further ado.
Features of cast iron skillets
Cast iron cookware is one of the most commonly used cookware items, and we will talk about its features below.
Shape
Cast iron skillets mostly come in rectangular, square, and circular shapes. They usually come with shorter handles to easily lift heavy pans. Larger models also have another U-shaped handle to pick up the pans easily.
Versatility
The best thing about cast iron skillets is that they are perfectly compatible with gas stoves, open fires, electric stoves, and induction stovetops. If your customers ask, cast iron can also go in the oven for baking.
Heat retention
Cast iron pans have high heat retention capabilities and can hold onto heat well. Therefore, these skillets are good for thorough cooks. Moreover, slow-cooked dishes such as soups and turkey cook best on cast iron skillets.
Heat distribution
Cast iron skillets are slow to heat up. Slow heat-up allows for a more even heat distribution in these skillets. However, this point is valid only when the burner is the same size as the skillet. If the burner is smaller than the skillet, the center will heat up more, while the corners will take more time.
Buy Wholesale Cookware and Start Scaling up with Us Today
Contact us and connect with a sales rep to get a free quote.
Sizes of cast iron skillets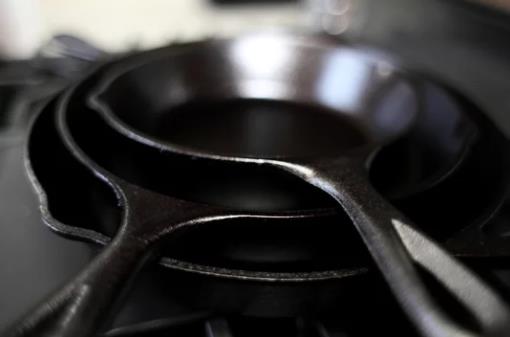 Cast iron skillets come in varying sizes. They are available in the market in sizes ranging from 3 to more than 15 inches wide. If you are wondering how to evaluate a cast iron skillet: they are measured from one end of the top rim to the other to determine their size.
On the other hand, the cast iron skillet has a cooking surface which is calculated by measuring the diameter of the base from side to side. This base is usually smaller than the measurement of the skillet across the top because most cast iron pans have a slant on the sides.
Here is a handy chart:
| | | | | |
| --- | --- | --- | --- | --- |
| Skillet size | Cooking Surface | Weight | Fits | Uses |
| 3.5" | 2.2" | 0.62 lbs. | One egg | Ideal for single servings and desserts |
| 5" | 3.4" | 1.15 lbs. | One egg | Ideal for single-servings and breakfast |
| 6.5" | 4.6" | 1.94 lb. | Two eggs | Ideal for breakfast recipes |
| 8" | 5.8" | 3.2 lb. | Three eggs | Ideal for small meals, baking, stir-frying, and grilling |
| 9" | 6.81" | 4.17 lb. | Four eggs | Ideal for baking, stir-frying, and baking pies |
| 10.25″ | 8" | 5.35 lb. | Five eggs | Ideal for cooking, searing, broiling, frying, baking, and large family meals |
| 12" | 9.125" | 7.89 lb. | Six eggs | Ideal for cooking, searing, broiling, frying, baking, and large family meals |
| 13.25" | 10.25" | 10.5 lb. | Seven eggs | Ideal for cooking, searing, broiling, frying, baking, and large family meals |
| 15" | 11.75" | 12.36 lb. | Eight eggs | Ideal for baking, cooking, and large family meals |
| 17" | 13.75" | 13.53 lbs. | Nine eggs | Ideal for commercial use |
Sizes for home cooks
Home cooks usually have medium-sized cast iron pans in their arsenal, enough to prepare meals for themselves or their family and friends.
Starting with the 8-inch skillet, this pan is versatile enough to cook one-person meals and small enough to fit in compact storage spaces. 9-inch skillets offer similar versatility but grant a bit more cooking space. They are moderately weighted to toss and turn when needed.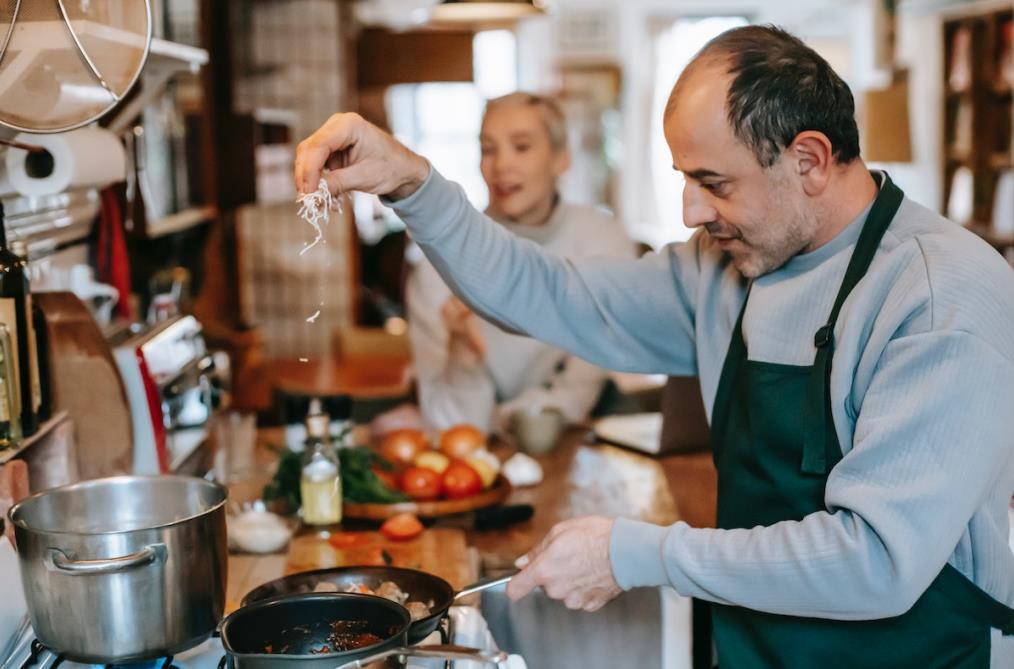 The most commonly used cast iron skillet, however, is the 10.25-inch one. It is ideal for cooking meals for two people and usually comes with two handles for easier hold.
Another popular size in cast iron skillets is the 13.25-inch size. This tool is versatile enough to prepare bigger meals and large enough to cook for a whole family.
Sizes for commercial kitchens
Commercial kitchens cook in large quantities and therefore, prefer larger-sized skillets. The most common sizes in such kitchens are the 15-inch and the 17-inch skillet.
Both of these sizes are versatile enough to prepare big meals and cook for a larger number of people. However, cast iron is a poor heat conductor, and larger sizes may cause the center to become hotter than the sides.
In such skillets, it is best to preheat the pans before use. 
Other sizes
Iron cast skillets are also available in 3.5 inches, 5 inches, and 6.5 inches.
The 3.5-inch skillet is a particularly small yet durable, sturdy, and long-lasting tool. However, it isn't practical in the kitchen because of its petite size. The 5-inch skillet is slightly bigger than the 3.5-inch one and is suitable for breakfast meals only.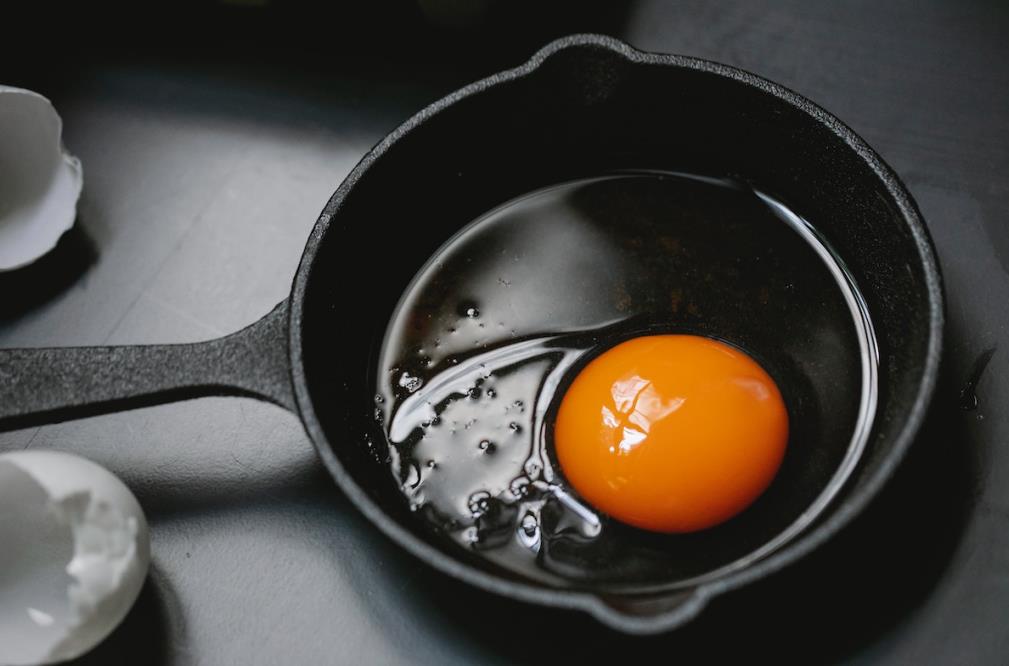 The 6.5-inch cast iron skillet can be your perfect travel partner. Ideal for breakfast dishes and serving purposes, this utensil is comparatively handier than the previous two. 
What size cast iron should you sell?
As evident, various cast iron skillet sizes are available in the market.
Of these, only a select few are recommended to be sold out in the market. Based on their sheer versatility, weight, cooking surface, and the number of people they can accommodate. Before sourcing and selling iron skillet sizes, think about who your target customers will be.
Large-sized cast iron skillets, such as the 15-inch and 17-inch ones, are best for restaurants, hospitals, and other places that regularly house large meals.
On the other hand, if your target audience is homeowners and people who generally cook for themselves or their friends and family, it's best to source 8-inch, 10.25-inch, and 12-inch cast iron skillets.
Some users may also buy 13-inch ones for dinner parties and entertaining guests.
How to care for cast iron skillets?
Cast iron cookware makes for great cooking material. When handled with optimal care, it can last for years to come. Here are the steps to take to clean, care for, and maintain your cast iron skillet:
Cleaning
After use, clean the cast iron skillet by following these tips:
If there are leftover fats and oil on the skillet, use paper towels to absorb them before washing them.
If the cast iron requires scrubbing, pour salt on the pan and put it over high heat. Next, rub the pan with paper towels to scrub the gunk.
Wash the cast-iron skillet with warm and soapy water. Then, dry it out thoroughly with some paper towels.
Note: Make sure to avoid placing the skillet in the dishwasher. Soaking in water is not allowed for such pans either. Submerging it in water leads to rusting and can ruin the non-stick qualities of the pan.
Maintaining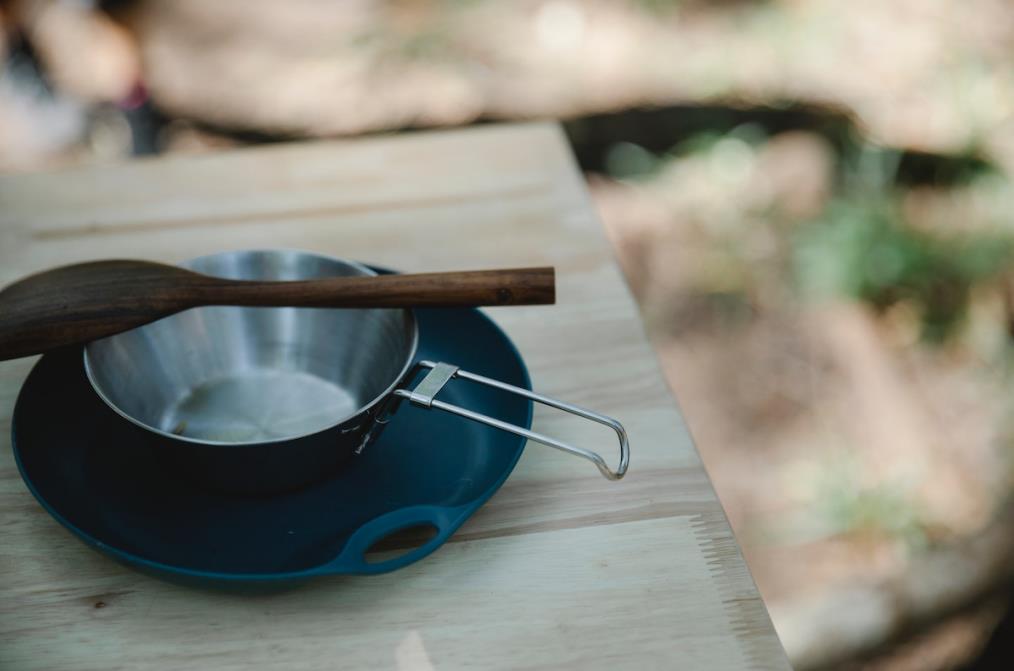 Season the cast iron pan to prevent rusting. Seasoning also helps to give the pan a natural non-stick surface. You can use unsaturated cooking oil such as canola or corn oil to grease the pan lightly.
Storing
Cast iron cookware needs to be stored in a manner that allows air circulation to prevent rusting. Hanging them from a pot rack is one ideal option for storing them.
Alternatively, cast iron holders can also be used that allow pans to be stacked over one another without touching each other.
Always make sure you store your cast iron pans in a dry place to prevent exposure to moisture.
Cast iron skillets vs. skillets made from other materials
Cast iron skillets are one of the most functional cookware on the market. They can take on high heat, retain it well, and are flexible enough to be used anywhere from stoves to open fires. Let's see how cast iron skillets compare with other skillets:
Enameled Cast Iron
Enameled cast iron is an upgraded version of cast iron. These skillets need no seasoning before use, are easy to maintain, come in pretty colors, and have better models. But on the other hand, they are heavier than cast iron and take comparatively more time to heat up.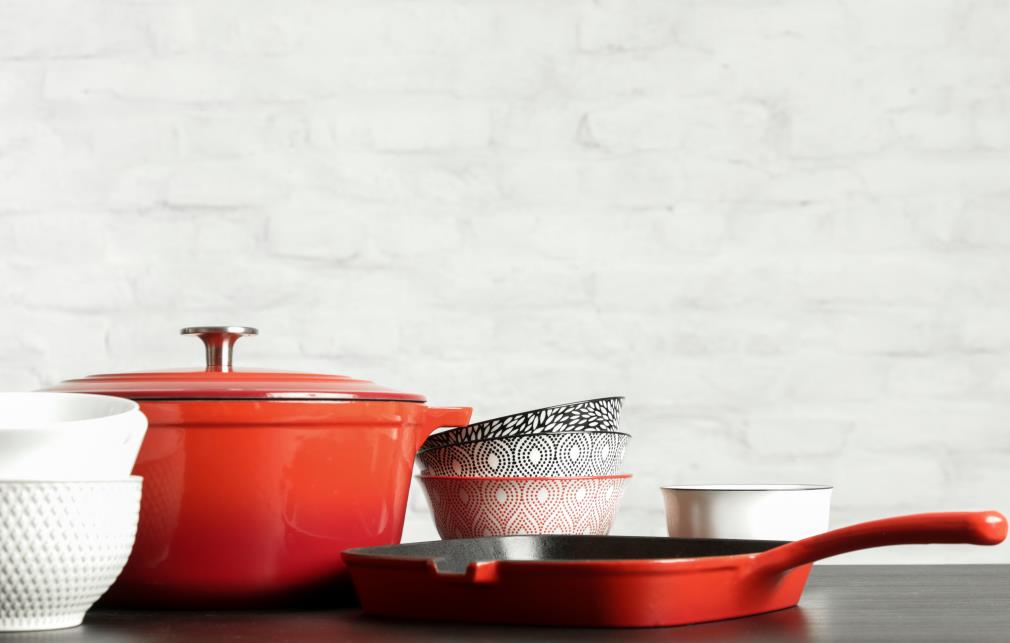 However, when they are heated, they retain this heat very well. A downside to enameled cast iron is that its surface does not become non-stick with seasoning.
Stainless steel
Stainless steel is a durable, dishwasher-safe cookware that is resistant to rust and corrosion. However, a significant drawback of stainless steel is it's a poor conductor of heat. As a result, stainless steel skillets are only effective when they have another layer, such as aluminum, on top of them to conduct heat.
Carbon steel
Carbon steel pans need to be seasoned and maintained just like cast iron. However, these skillets are good at withstanding high heat and are quick to react to temperature changes. They are also excellent conductors of heat, durable, and affordable.
Buy Wholesale Cookware and Start Scaling up with Us Today
Contact us and connect with a sales rep to get a free quote.
Conclusion
Cast iron skillets come in varying shapes and sizes. They are highly-versatile cookware preferred by households and commercial use alike. As a business owner, you only have to decide which ones are worth sourcing and selling to your prospective customers.
LeeKnives is here to support you as a business owner selling cast iron cookware. We offer wholesale solutions and expert advice to help you succeed. Get in touch with us today to request a quote.