Your customers (and indeed yourself) may be confused over charcuterie boards and cutting boards as both are, essentially, pieces of wood.
How do these two food and entertaining products stack up? How are they different and how are each sold most effectively?
We're demystifying wooden charcuterie and cutting boards, and simply – the main difference lies in their purpose and use, but more on that later!
Charcuterie board vs cutting board: the basics
Charcuterie board by definition is a a food service board featuring ready to eat cured meats, cheeses, preserves, fruits, etc. They are often lightweight with attractive designs for presentation purposes.
Cutting board, however, is a food prepare board used for cutting and preparing kitchen ingredients. They were made to be more durable and sturdy than serving boards. We will look closer and break charcuterie and cutting boards down further below.
Charcuterie vs cutting boards: how they compare
Size & design
Charcuterie board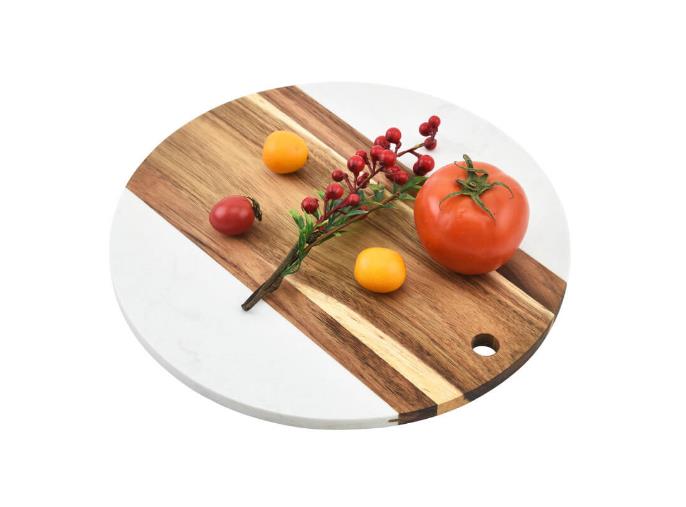 In terms of standard size, charcuterie boards are usually around 9 x 13 inches in dimension and ¾ inch to 1 inch thick.
Available in a range of shapes, charcuterie boards are often made from aesthetically pleasing materials such as face grain wood, marble, glass, stone, etc, to please the eye of the diner. Good looks are important for a charcuterie board as it's a showcase for the food being displayed and creative designs are desirable to the customer.
Charcuterie boards are made lightweight so that they're easy to move and hand around to guests. They have built-in designs including drawers to store cheese knives, and separating food compartments. Under most circumstances, a charcuterie board comes in with an extended handle allow users to easily carry it around.
Cutting board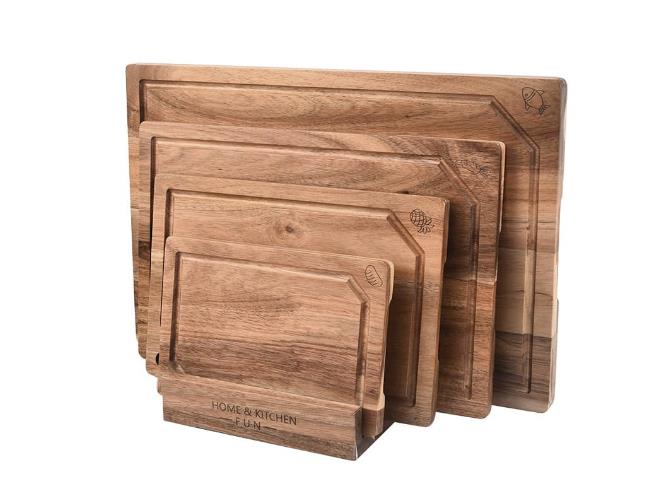 Cutting boards can be regarded as the bigger, heftier cousin of the charcuterie board. Usual size is 12 x 18 inches in dimension and 1.25 inches in thickness or thicker.
Cutting boards can also be varied in the shape, with the most popular shape being rectangular. Cutting boards can be made from any grain of wood with end grain being the most desired and thus most expensive option.
A cutting board's design is made for kitchen use and cutting tasks and thus it is built to be sturdy, resilient and durable with less emphasis on aesthetic. Many cutting boards have juice grooves as a standard feature because the cook will be prepping ingredients that release liquids, like juicy fruits.
Buy Wholesale Cutting Boards and Start Scaling up with Us Today
Contact us and connect with a sales rep to get a free quote.
Uses
Charcuterie board
A charcuterie board's function is to provide an attractive and portable 'canvas' for food to be served and displayed to best advantage.
Cutting board
A cutting board's function is to provide a sturdy, impact resilient surface on which even hard ingredients can be cut and prepped for cooking.
Clientele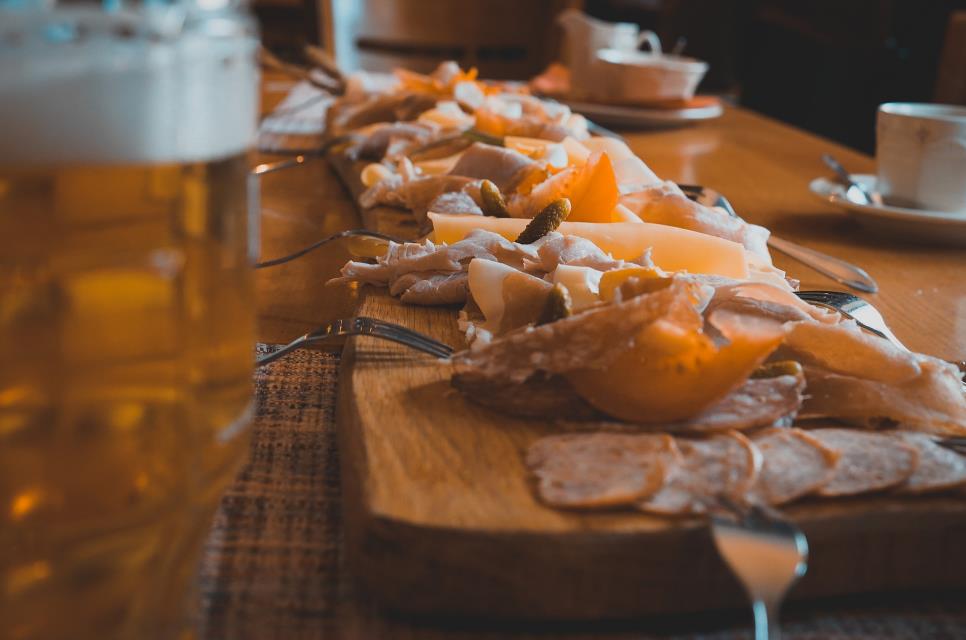 Charcuterie board
Customers who buy charcuterie boards will likely be people with the disposable income, living space and time for entertaining guests.
Such customers appreciate fine dining, exotic ingredients and culinária. Understanding these things helps when offering the product or building a customer – retailer relationship.
Cutting board
Every kitchen whether home based or professional will necessitate a good quality cutting board so the market here is undeniable.
Dependent on their needs, some customers will lean more towards utilitarian, or even very heavy pieces like butcher's blocks, whilst others will favor lighter, smaller, but still durable cutting boards for a smaller food prep area.
Having a diverse range of cutting board stock allows you to satisfy all areas of the cutting board market.
Maintenance and care
Charcuterie board
As it's often used far less than a cutting board, a charcuterie board will need less maintenance comparatively speaking.
As it's a wooden surface it will still require oiling perhaps twice a year and needs to be hand washed and thoroughly dried in an upright position.
As the surface of a charcuterie board is it's 'selling point' this should be protected and only smooth or blunt edged knives like cheese knives should ever used on it to avoid unsightly knife marks.
Cutting board
With much more frequent and harder use, a cutting board requires more care and maintenance to keep it in tip top shape!
Oiling monthly with food grade mineral oil, washing by hand, and drying thoroughly in an upright position are recommended and will all prolong the life of this kitchen workhorse.
Are charcuterie boards and cutting boards interchangeable?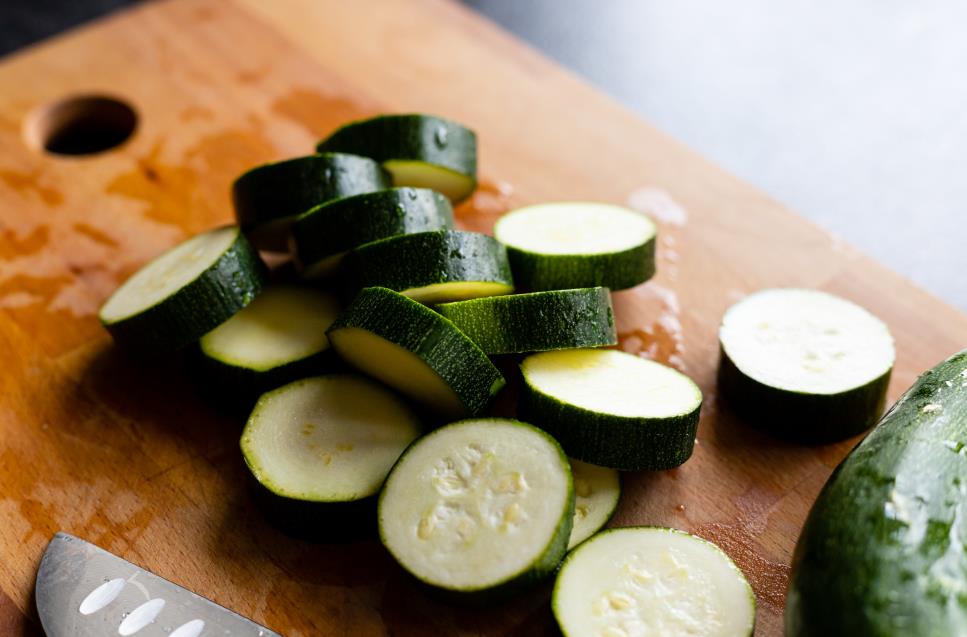 By this we mean, can you use a charcuterie board as a cutting board or vice versa? This is a great question and one you'll need to answer for buyers so here's our take:
A charcuterie board is meant for serving and display purposes and knife marks/wear will adversely affect the look of the board.
For this reason, we don't recommend cutting, scraping and food prep on a charcuterie board as you want to maintain and protect its finish.
A cutting board can be used as a charcuterie board provided that it's attractive enough, not marred by knife marks, and preferably of the thinner type.
A thicker, bulkier cutting board could be used for serving charcuterie, but it would be somewhat unwieldy and cumbersome.
Selling charcuterie boards vs selling cutting boards
Charcuterie boards and cutting boards will suit different socio – economic segments of the market to some extent. The markets for each product are slightly different and there is overlap with some customers (optimally) buying both charcuterie and cutting boards.
It's up to you as the retailer to turn the sale of the one product into the sale of both types of product by highlighting their particular strengths which we've outlined.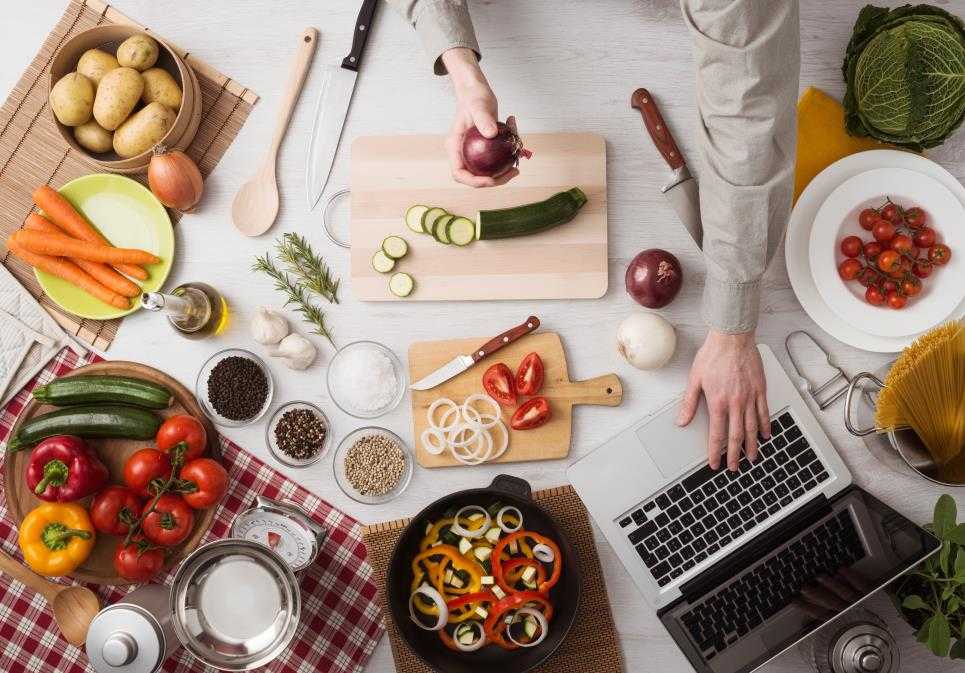 Charcuterie boards
Customers you may want to consider are –
Banqueting and conference venues
Hotels and guesthouses
Airport and travel lounges
Higher end individual customers
Buffet and al fresco type dining restaurants
Cutting boards
The market is much broader here and includes –
Home cooks
Gifting – particularly newlyweds or as a housewarming present
Restaurants
Hotel, spa and conference facility kitchens
School cafeterias, military or naval kitchens or any establishment where food prep is performed
Need some inspiration or guidance on what products you can access as a successful retailer or wholesaler?
Look no further, LeeKnives provides charcuterie and cutting board wholesale and will be glad to assist you in picking out some top pieces to grace your store!
Buy Wholesale Cutting Boards and Start Scaling up with Us Today
Contact us and connect with a sales rep to get a free quote.
In conclusion
Both charcuterie and cutting boards are useful, desirable and worthwhile products to sell. Hopefully this overview of both has given you some ideas on how to approach their presentation and sale!
The world of knife and knife accessories sales is an exciting one and we're very pleased to offer the best in knife accessory products to you.
Don't be shy, we're full of instructive info and eager to please you through our quote portal. The blog is chockablock full of articles to hone your understanding and prowess within the knife products sales arena.
Have a yen for wholesale? We're pros in the game and can give you the starting tools and after sales support you need for success in your retail market.