D2 is a high carbon, high chromium tool steel that's been around for over a century. It's a popular knife blade material for its easy heat treatment requirements, affordability, and availability.
S30V steel is one of Crucible's CPM steels that was intentionally designed for making knives. Crucible consulted leading figures in the knifemaking industry and developed CPM-S30V with this in mind.
Since both steels have a big following among knife enthusiasts, it is only right to compare the two and assess the differences. In this article, we'll do just that and help knife stores determine which one appeals to their customer base.
Continue reading to discover how D2 and S30V stack against each other, covering their composition, properties, and more.
A brief summary of D2 steel
D2 is a tool steel developed for high wear and tear applications. Although this is favorable for knives, D2 steel's origins begin in the manufacturing industry. It was mainly used for making machine dies and molding parts. Sometime around the 1960s, D2 steel's popularity grew as knife steel.
Since then, countless knifemakers have picked up D2 steel to forge knives. The affordability and straightforward heat treatment requirements as an air-hardening steel put D2 above other steels for many.
Composition
Carbon: 1.55%
Chromium: 11.50%
Manganese: 0.90%
Vanadium: 0.80%
Silicon: 0.45%
Copper: 0.35%
A brief summary of S30V steel
S30V, also known as CPM-S30V, is a powder metallurgy steel. Crucible went above and beyond to develop S30V to get a steel that could be heat treated with standard knifemaking equipment yet had balanced properties. Its release in the early 2000s was warmly welcomed by knifemakers.
In today's knife market, S30V stands as a popular choice with excellent properties that impress even the pickiest buyers.
Composition
Carbon: 1.45%
Chromium: 14.00%
Molybdenum: 2.00%
Vanadium: 4.00%
Buy Wholesale Knives and Start Scaling up with Us Today
Contact us and connect with a sales rep to get a free quote.
D2 steel vs. S30V steel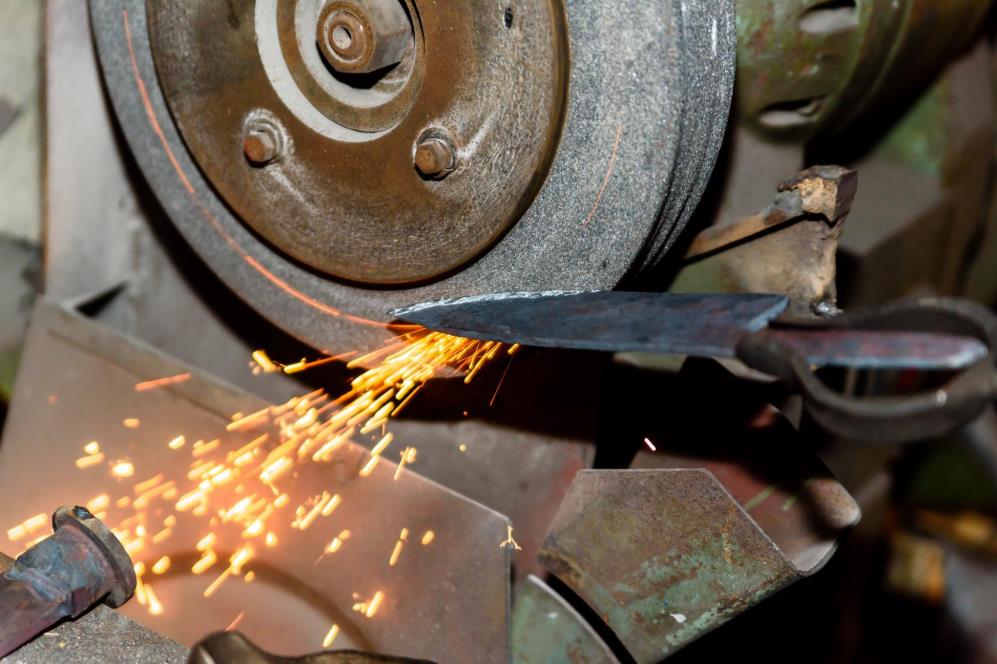 Apart from the slightly higher carbon content in D2, the composition of D2 and S30V differs significantly. As a result, these two materials exhibit vastly contrasting properties, ranging from wear resistance to grindability.
Hardness
The typical hardness of D2 knives falls somewhere in the range of 58 to 62 HRc. S30V steel, on the other hand, has a minimum hardness of 58 HRc and can be hardened up to 64 HRc. The optimal hardness for knife use is 58 to 61 HRc. So, the hardness ratings of D2 and S30V are somewhat similar.
Edge retention
D2 steel is designed with high wear applications in mind. However, it's a much older steel than S30V. There is nearly a century that separates D2 and S30V apart. While D2 may have had good wear resistance for its time, it's not as good as S30V.
The difference in wear resistance makes S30V knives able to keep a sharp edge longer than their D2 equivalents. D2 steel can hold an edge impressively, but S30V steel is simply better.
The CATRA testing for edge retention shows that D2 measures around 450 to 500 TCC (mm), whereas S30V surpasses it – nearing 650. So you can expect 30 to 40% better edge retention from S30V steel knives. 
Toughness
S30V isn't known to be tough with its composition, but the Crucible Particle Metallurgy process promotes a uniform microstructure. This powder metallurgy manufacturing technique enhances S30V steel's toughness.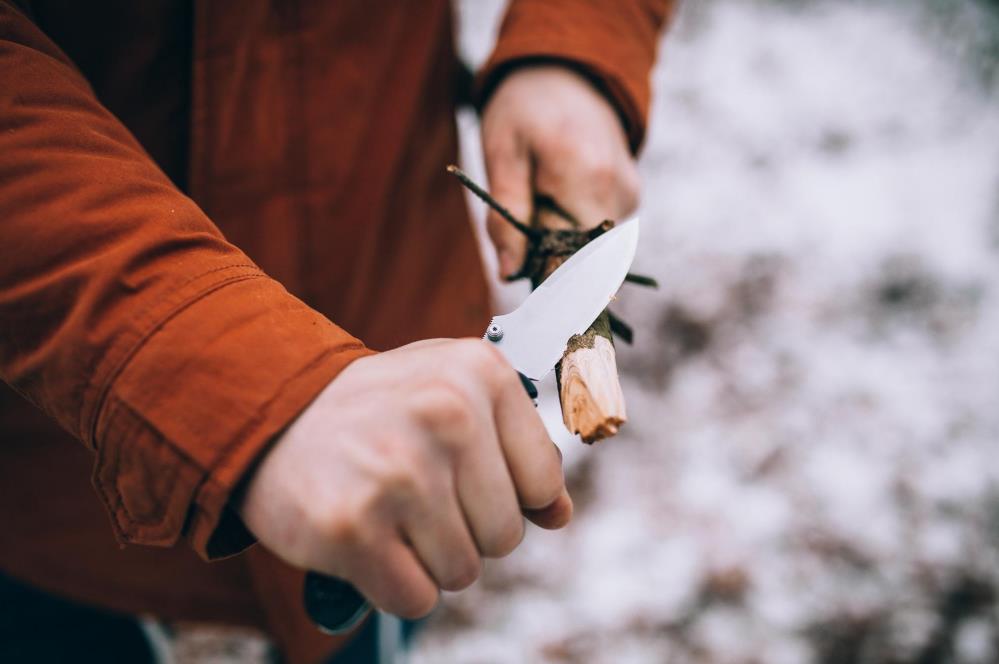 Nonetheless, the toughness of S30V and D2 aren't too far apart. You can expect similar resilience from both steels following robust uses. However, D2 steel has one downside compared to D2. The edge of D2 steel knives tends to microchip, where the blade starts cutting like a saw.
This doesn't necessarily mean the knife loses its sharpness; it doesn't deliver consistent cuts. While this can be a problem for kitchen use, it may benefit users outdoors when cutting dense objects.
Corrosion resistance
The chromium content of D2 and S30V is enough to categorize them as stainless steels. Yet, D2 steel knives aren't known to be practical when faced with corrosive substances, moisture, or humidity.
D2 steel knives require some maintenance from the user to prevent corrosion and rust. Neglecting care may darken the blade (patina) or even rust when subjected to corrosive elements and environments.
These aren't a problem with S30V steel, as it has great corrosion resistance. You can use S30V steel knives outdoors or in the kitchen, cutting acidic foods without fear of the blade picking up rust.
On top of the superior edge retention, S30V steel is easier to sharpen than D2 – not only in the amount of grinding required but also more manageable on the whetstone. The powder metallurgy processes that equip S30V with a fine, uniform grain structure provide consistent grinding. This makes the blade forgive sharpening mistakes and wears down equally.
Price
The price is as critical as the other properties of steel combined. D2 steel is much more affordable than S30V steel. The powder metallurgy production and having better yet balanced properties drive S30V steel's cost up.
On average, expect to spend about $15 to $20 on D2 steel knives at wholesale. The wholesale price of S30V knives can be anywhere from $40 to $100, depending on the manufacturer and design.
Comparison table
| | | |
| --- | --- | --- |
| | D2 steel | S30V steel |
| Hardness | 58 – 62 HRc | 58 – 61 HRc |
| Edge Retention | 6/10 | 7/10 |
| Toughness | 4/10 | 5/10 |
| Corrosion Resistance | 4/10 | 7/10 |
| Sharpening | 6/10 | 7/10 |
| Price | Inexpensive | Moderate |
Which steel should you choose for your store?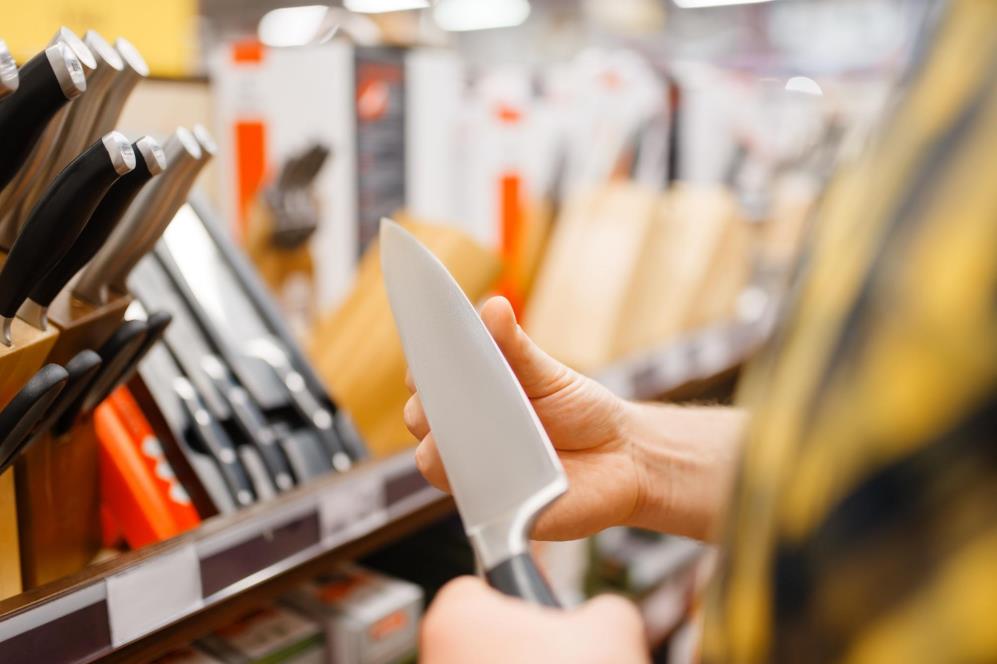 Choosing the right knife blade material for a knife store requires careful inspection. The price, blade performance, design – pretty much everything that goes into the product are all data points to consider.
S30V is overall a better knife steel with properties that overshadow D2 steel. It's a lot more corrosion-resistant and slightly sharper and stronger. These alone make S30V a better choice.
That's, however, until you factor in the price. S30V steel knives cost a lot more. Whether its price is worth over the toughness, edge retention, and corrosion resistance it has is up to you to decide.
Many favor D2 steel due to its affordability and edge retention. S30V takes users further, but it comes at the expense of paying more. If your customers are willing to pay more, S30V is undoubtedly the better option. For buyers with a budget limit, D2 offers one of the best value in the market.
Buy Wholesale Knives and Start Scaling up with Us Today
Contact us and connect with a sales rep to get a free quote.
Other alternatives
440C steel: 440C is an affordable yet balanced alternative to D2 steel. It has satisfying edge retention for recreational users with good corrosion resistance and toughness. If the price of S30V is an issue, 440C will serve you as one of the best budget steels.
10Cr15CoMoV steel: 10Cr15CoMoV is an all-rounder steel. The wear resistance of 10Cr15CoMoV is on par with D2, and its corrosion resistance and toughness are similar to S30V. The knives made from this steel are affordable, making it a high-performing budget steel.
VG-10 steel: Japanese kitchen knives benefit from the sharpness and edge retention of VG-10. The properties of VG-10 are right between D2 and S30V. It's an ideal steel choice for those that want a knife as wear-resistant as D2 and corrosion-resistant as S30V.
Get wholesale knives from LeeKnives
LeeKnives is a knife manufacturer with over three decades of expertise. Located in Yangjiang City, China, we manufacture all kinds of knives and accessories.
We're prepared to be the only supplier for your product sourcing needs, from knives to cutting boards to sheaths. Are you? Click here to request a free quote today!