Knife retailers should understand the importance of a well-formed knife handle and the many different materials that a knife handle could be made of.
An effective knife handle is vital to the overall operation and handling of any knife. In this article we're looking at different handle materials and suggesting some industry favorites.
Which handle materials are going to offer your customer the best kitchen experience? What options are available out there? What factors should you be considering when it comes to sourcing superior knife handles?
We're going to address all these questions and more in our look at knife handle materials!
What's important in a knife handle?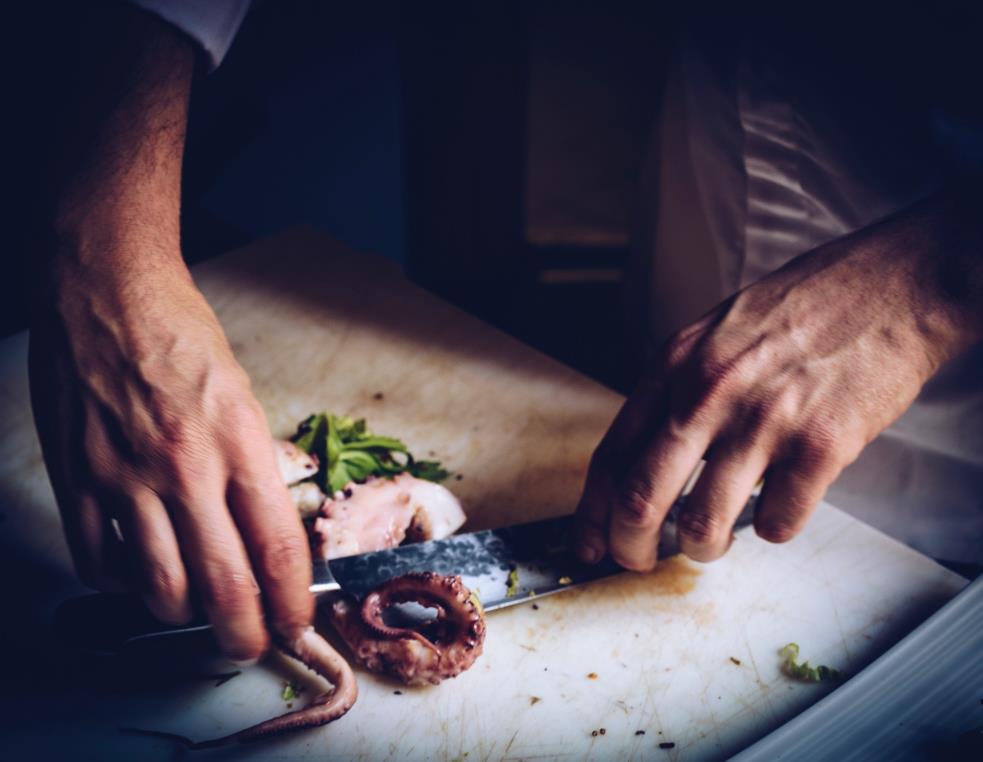 The right knife handle can transform an unwieldly, unattractive, and unsafe kitchen knife into an object of beauty, performing like a master and giving its user pleasure to hold.
Let's look at some things that need to be considered when choosing a knife handle:
Aesthetic – pleasing to the eye
Balance – balanced to suit the buyer & cutting stroke
Durability – will last over time
Grip – the grip is comfortable, formed to hold easily
Safety – safe to use without injury or strain
Corrosion/Moisture resistance – it should repel liquids
If you're ticking these boxes, you can be confident that the buyer will receive a knife product that will give them decades of pleasurable use!
In terms of knife handle materials, what options are out there for the knife seller? Let's first look at some natural handle materials.
Natural knife handle materials
Natural materials offer an earthy and sympathetic gripping surface, so it's no wonder that they see regular use for knife handles.
Ebony wood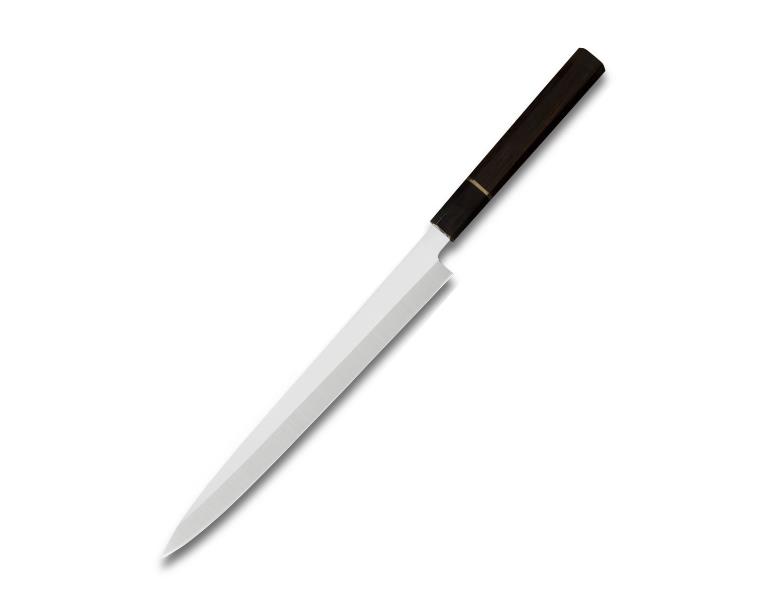 Ebony wood is super handsome with dark, gothic shades that ooze shine. Besides looking the part, your customer can be confident that ebony is also very dense, which makes for a tough handle that'll last.
As a premium material, ebony wood offers a fine grain that gives a mirror polish effect without trapping food particles.
Ebony handles are particularly suited to users that appreciate a heavy handle to give solidity in the hand. With antibacterial properties and a natural resistance to moisture, ebony handles are both long lasting and tough in the kitchen.
Rosewood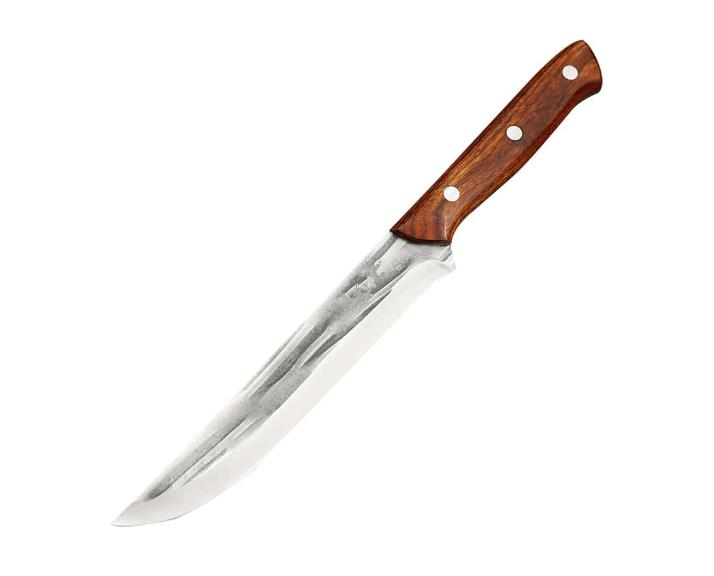 Rosewoods, particularly Indian Rosewood, offer a well – priced wood knife handle that develops a unique and appealing patina as it ages.
That's not all rosewood has to offer though!
Rosewoods are also dense and strong without being heavy or cumbersome. With oil heavy wood, a rosewood handle retards pests like wood borer and that oil also gives the wood an enchanting fragrance.
Rosewood has a pleasing finish that's easy on the hands. It's a great wood to retail because it's ecologically sound if sustainably sourced, and the diversity of color within the species offers a lot of choice for your customer to pick from.
Teak wood
Teak is another good choice for the customer that appreciates natural materials.
Although teak doesn't have the blingy good looks of ebony or rosewood, treating it with an oil really rewards the effort as a deeper color and shine come up on its surface quite easily.
As a hardwood used for boat building for many centuries, teak has excellent resistance to both water and wood destroying pests.
The grain/tactile texture of teak gives a 'grippy' surface that offers high confidence when doing slippery tasks like skinning chicken breast.
As a note, teak isn't the MOST durable of woods, so it's better on a knife handle that'll see gentler use or with a customer that understands caring for wood surfaces.
Stabilized wood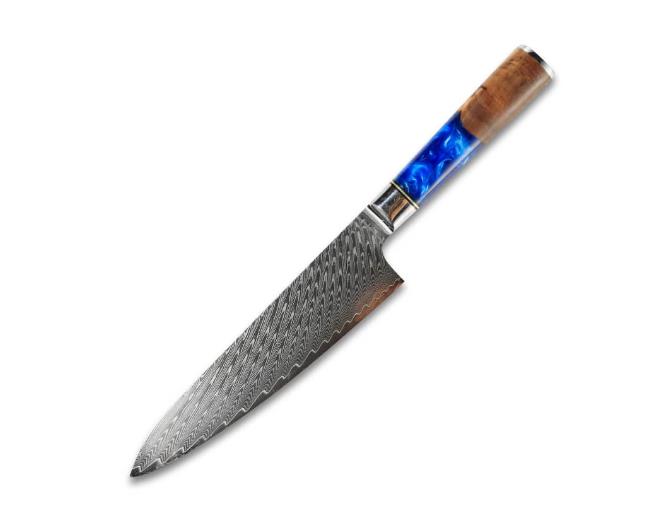 Stabilized wood, though not entirely natural, offers so many benefits to the knife buyer that we had to include it here.
Stabilized wood gives the charm and good looks of wood in a knife handle but it's even better than the natural version.
Stabilizing wood makes it water resistant – so important in the kitchen. This also means that it's a poor environment for bacteria to grow, so your buyer can be assured of good sanitation.
When wood is stabilized it becomes stronger and has more impact resistance, this builds the overall strength of the knife.
With added weight in the wood from the resin it's absorbed, stabilized wood offers a heavier handle for the client who wants weight behind their cutting stroke.
The stabilizing process makes wood both customizable (pattern and color) AND it protects the wood from U.V and color loss damage. This means that the knife handle looks new for much longer.
As yet another bonus, stabilized wood is great for climates with fluctuating temperatures as the resin in the wood protects it from cracking.
Abalone shell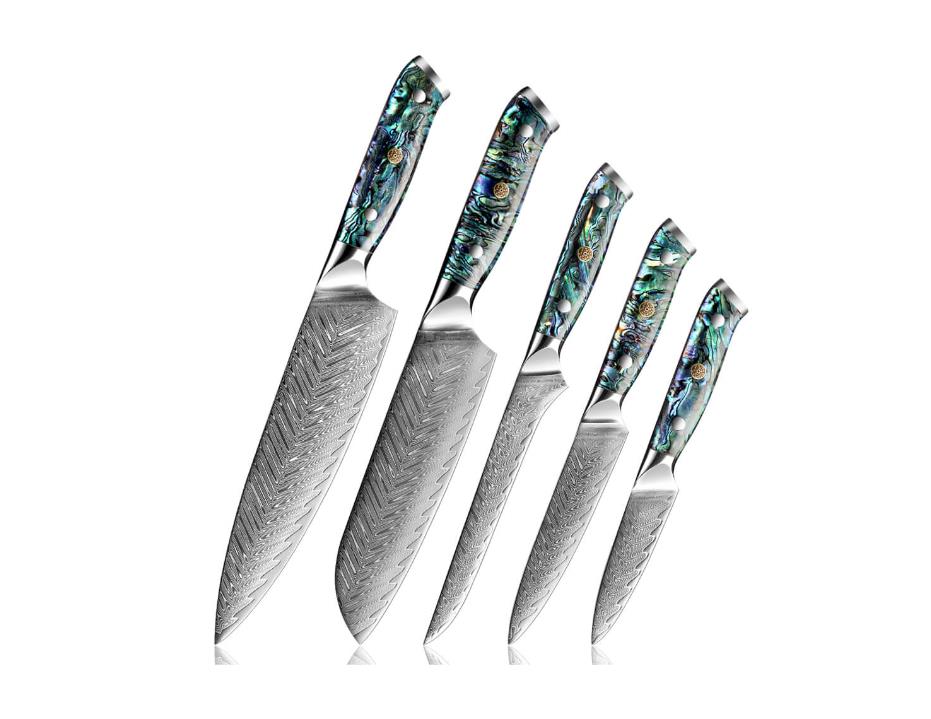 This treasure of the sea is available on desirable kitchen knife handles too! It's glowing character and rainbow hues truly complement the finest in steel knife blades.
Abalone is hard enough to be used in the kitchen environment and is usually waterproofed to create added durability.
With a multitude of patterns and colors available, it's a spectacular material often offered as accent or collar pieces on premium knife handles.
This diversity offers every customer a look they'll love in their kitchen.
With a sumptuously smooth finish, abalone gives exceptional feel in the hand and the appeal of a kitchen accessory that's functional yet also unique to look at.
Synthetic knife handle materials
Man made knife handle materials have come a long way in recent decades and our examples will demonstrate that.
With the industry knowledge and manufacturing 'know how' to develop impressive materials, knife manufacturers have really stepped up to the plate with materials that are good for knives, and good for knife users.
Let's have a look at some of today's top picks in synthetic knife handles!
G10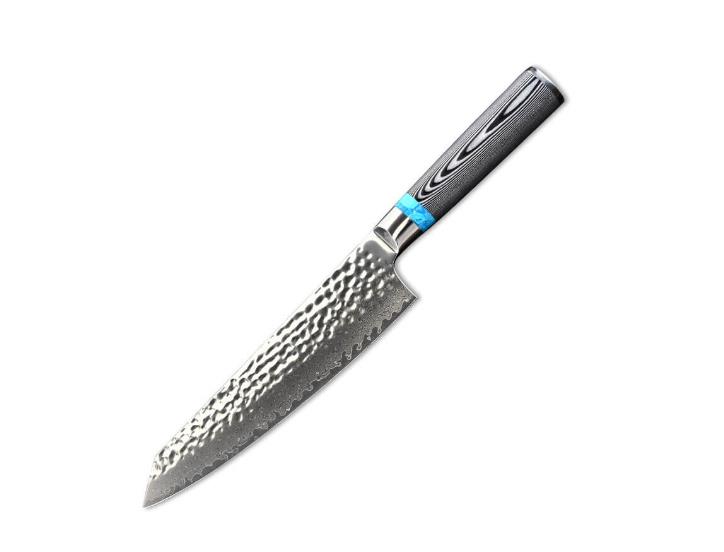 G10 is a laminate composite made of fiberglass. Not to worry though, once dried it's completely safe and has no toxicity around food.
G10 is particularly popular for outdoor use and hunting knives because it's extremely tough and hard but shapeable in the manufacturing phase. This means that the knife handle ergonomics can be tweaked to get the best product.
G10 is lightweight with an easily textured surface for enhanced gripping feedback. Being non – porous, G10 knife handles do brilliantly in wet conditions and cost a lot less than pricey knife handle materials like carbon fiber.
G10 knife handles are also very customizable with patterning and coloring available to suit the buyer's taste.
Pakkawood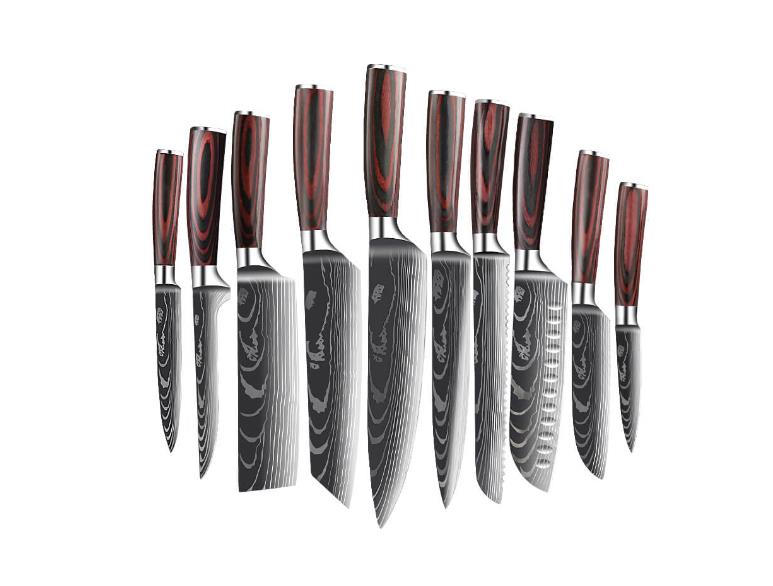 Pakkawood is pieces of hardwood veneer combined with plastic resins to form a composite material. As a composite of man's and nature's best, it has a lot to offer for kitchen knife handles.
Pakkawood is water impermeable, this means no material decay or warping. With a resin strengthened surface, bacteria cannot enter the knife handle and breed there, this is great for kitchen hygiene.
Pakkawood, like other composite wood materials, can be texturized for better grip and this makes for a knife handle that's comfortable to hold and maneuver a blade with.
Pakkawood makes a good knife for customers with joint/mobility issues as it's relatively lightweight. The lightness of its composition means that it can withstand broad impacts but is vulnerable to edge/sharp knocks.
Because Pakkawood just like natural wood is unique, each pakkawood knife handle will be a 'one off' in its aesthetic, so you're selling an individual product with its own specific charm.
Carbon fiber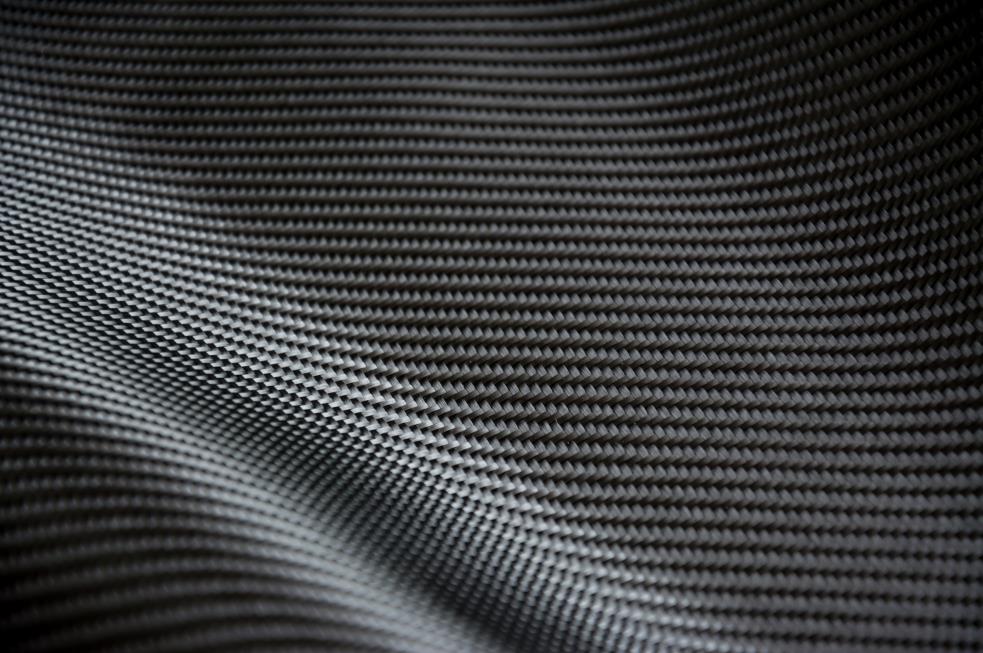 Carbon fiber is epoxy resin containing thin strands of carbon.
It can be pricey due to a labor intensive manufacturing process. Thus, it's best marketed to a client that is willing to spend more on their knife collection.
Carbon fiber knife handles are lightweight, and easy to manipulate with an impressive strength to weight ratio.
Carbon fiber is resistant to corrosion and temperature changes and knife handles made from carbon fiber can be sandblasted to enhance the gripping surface. This is often done for hunters or meat dressers who work with fatty ingredients but it's a bonus in the kitchen too.
Being customizable, customers can have some range of choice in the color or 'look' that they'd like to own in a carbon fiber handle.
Like Pakkawood, carbon fiber is a very strong material but it can be chipped by sharp impacts so care must be taken.
Now that we've learnt about some knife handle materials on the market today, let's talk more about other important knife handle factors and how these will affect your customer.
Knife handles – how to choose wisely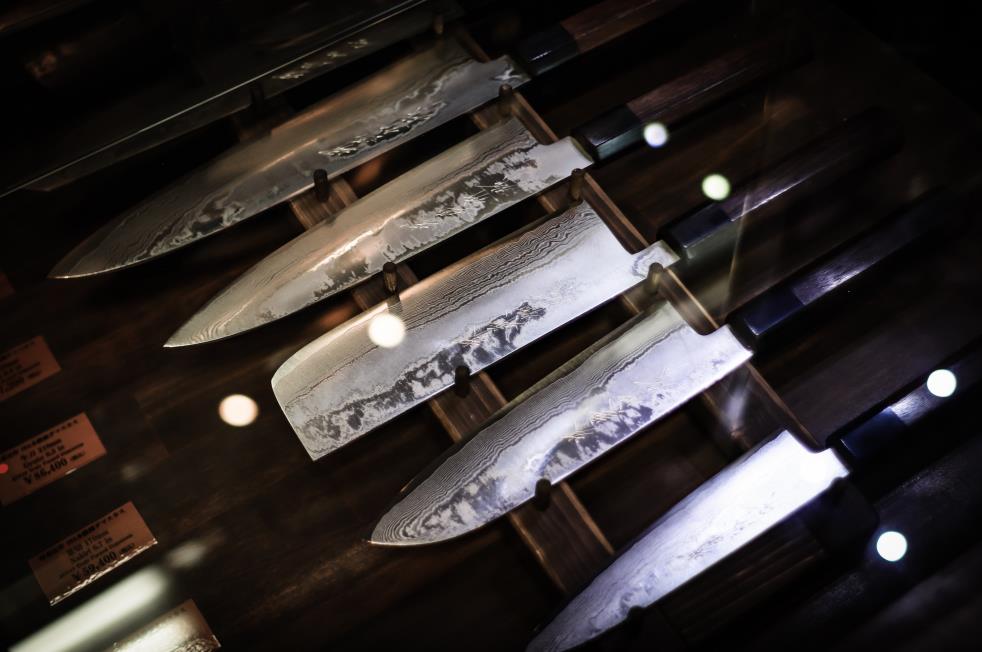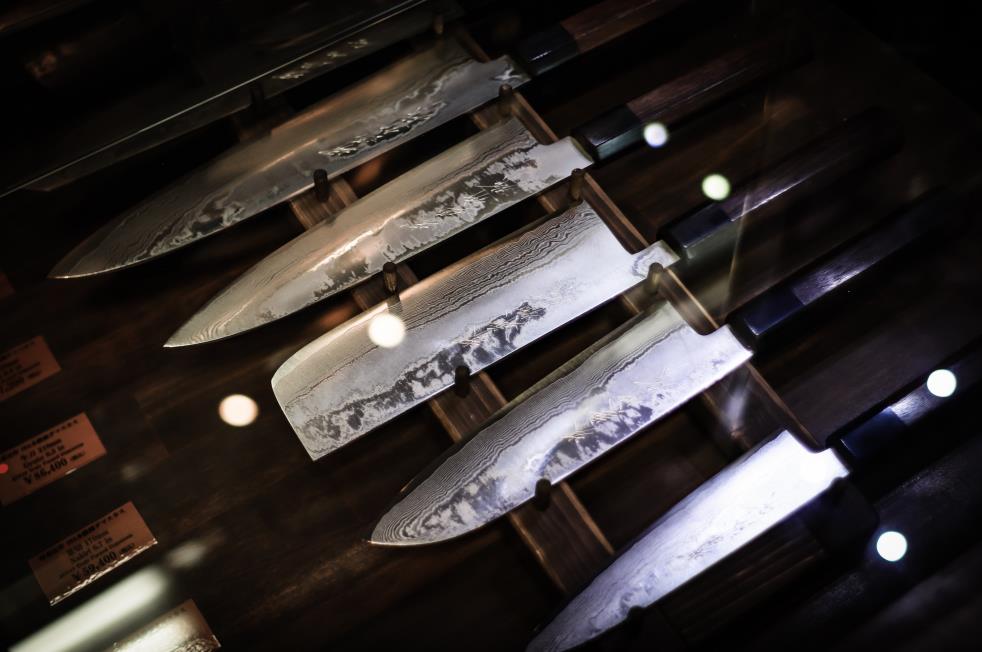 Dimensions
It may seem obvious, but it bears stating – the size of the knife handle should be suited to the customer's hand size.
A customer with tiny hands or joint problems is not going to be able to use a heavy, overly bulbous knife handle easily and safely.
On the opposite side of the spectrum, a professional chef jointing down large pieces of animal daily will be frustrated and possibly injured by a smooth textured, lightweight handle that offers little grip.
Ideally, the customer should be offered a range of knife handle sizes so that they can choose a handle that'll fit their hand comfortably.
This means that both fingers and palm are in contact with the handle without discomfort or wrist strain.
Aligning knife handle with functionality
An effective knife handle will give the user:
Ease of movement
Fluidity in the cutting stroke
Good directional and force control
A sense of security because their grip is firm
Protection from food related bacteria
Low maintenance performance
An attractive addition to their cookware
These elements all need to be brought into conjunction with clever design and ergonomics that suit the task that the knife was created for.
A gorgeous knife is something to behold, but form MUST meet function.
For customers involved in professional food preparation a very tough and durable knife handle is best as the knife will see use (and abuse) day in and day out.
For your home cook, a more elegantly shaped and crafted handle could be appropriate because the knife is not used as heavily or as often.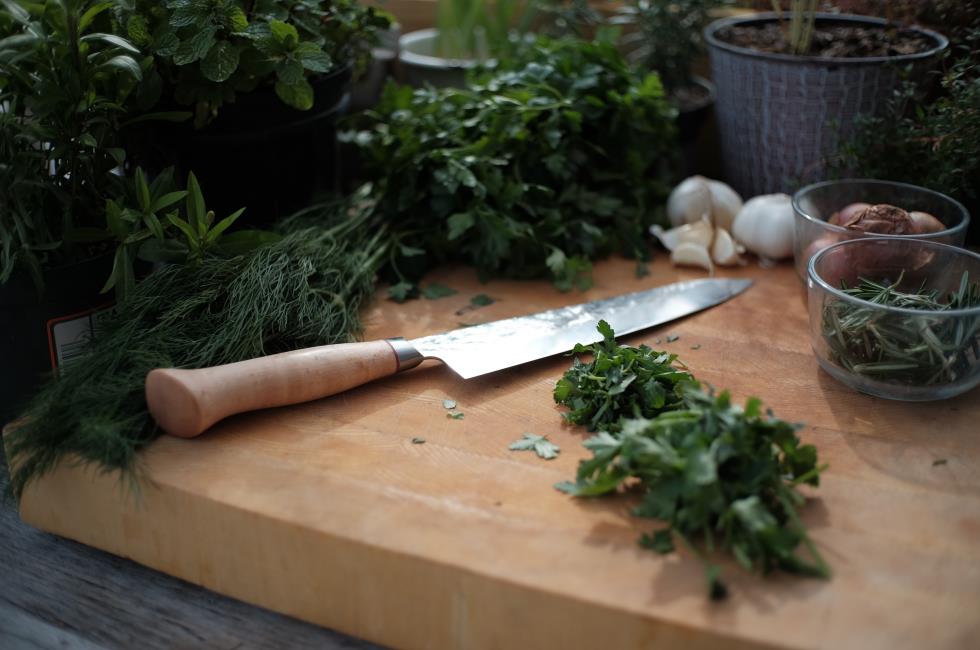 For those involved in seafood or fish preparation, such as sushi or sashimi chefs, an octagonally shaped 'wa' handle in the Japanese style offers more sideways grip when filleting and slicing slippery fish.
The needs of the cook concerned, and the purpose of the knife involved should marry neatly with how the knife handle is contoured and designed.
Maintenance
A knife and its handle (dependent on the material) will require particular and specific levels of maintenance.
It helps the customer if you sell them a knife that suits their lifestyle and time available for product maintenance.
Cleaning
Knives, particularly wood handled knives, shouldn't be washed in the dishwasher, and need to be dried thoroughly after washing.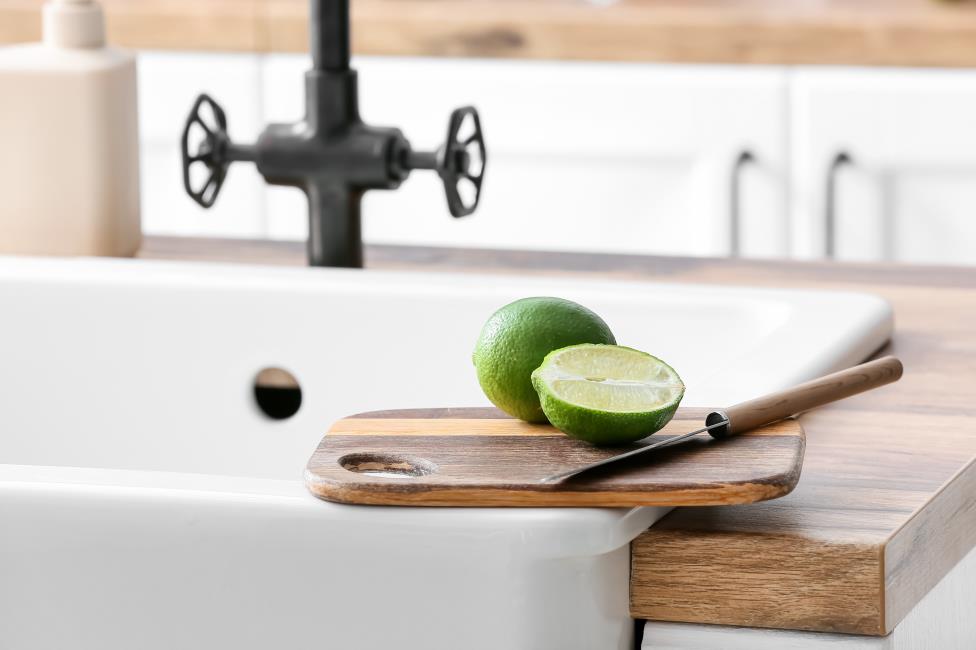 Oiling
Knives with wood or wood composite handles need to be oiled around twice a year.
For this your customer can use food grade mineral oil or Boiled Linseed oil, which is much faster drying than regular Linseed oil.
Carbon fiber knife handles won't require oiling, they're easy that way.
For G10 knives, a soft toothbrush and hot soapy water are great for cleaning, and for surface oiling a product called Ballistol rubbed into the completely dry G10 surface will restore shine and color.
What kind of knife handles should you include in your range?
As the more 'visual' part of the knife, the choice of knife handle is influenced by the customer's taste, culture, and preconceived ideas about what a knife should look like.
Also, people will have preferences for easy clean, low maintenance synthetics like G10 whereas others will hold fast and true to the stunning natural handle materials such as wood.
For this reason, it's important to get your customer's input and align them with the right product for them.
A good range of knife handle materials (both natural and synthetic) is always prudent as this allows you to have something readily on hand for every buyer.
Tried and tested wood knife handles are a market winner and have stood the test of time with buyers, so carry a wide range of both natural wood and 'wood look' composite products – these won't let you down!
Stabilized wood in particular offers great knife handle performance and is so customizable that no customer need be disappointed in achieving the aesthetic that they desire.
In conclusion
Knife handles offer such a broad field for customization and personal taste that it's no wonder that many people regard the handle as the most interesting part of the knife!
With the appropriate base material and skilled ergonomics that fit the hand, knife handles have come a long way in recent decades.
At LeeKnives we pride ourselves on offering the best available thinking and design when crafting our knives, and that patience and research is reflected in our product range.
Need a quote for a sales venture? We'll shoot the numbers with you at our quote portal.