When thinking about American brands that produce cast iron skillets, Lodge is one of the first to come to mind. The company has been manufacturing cast iron skillets and other cookware for over a century.
Got a cast iron skillet that served you for years? The chances are Lodge made it.
Lodge Cast Iron is a well-recognized manufacturer of cast iron cookware with a foundry in South Pittsburg, Tennessee. From casting to pre-seasoning cast iron cookware, South Pittsburg is where Lodge products get made.
Lodge has been manufacturing cookware in this foundry since 1896. However, not all the products come from South Pittsburg. Some of the products it sells rely on manufacturing partners outside the US, particularly China. Like many brands, Lodge also sells products made in China.
In this article, we'll discuss where Lodge Cast Iron products are made. Read to the end to find out what products America's oldest cast iron cookware company manufactures in China.
Introducing Lodge Cast Iron
Lodge was founded by Joseph Lodge in 1896. The brand Lodge envisioned continues to be one of the oldest cookware manufacturers in the United States to this day. The way the company manufactures cookware has changed a lot since its foundation, but the core motive remains the same – producing high-quality cast iron cookware.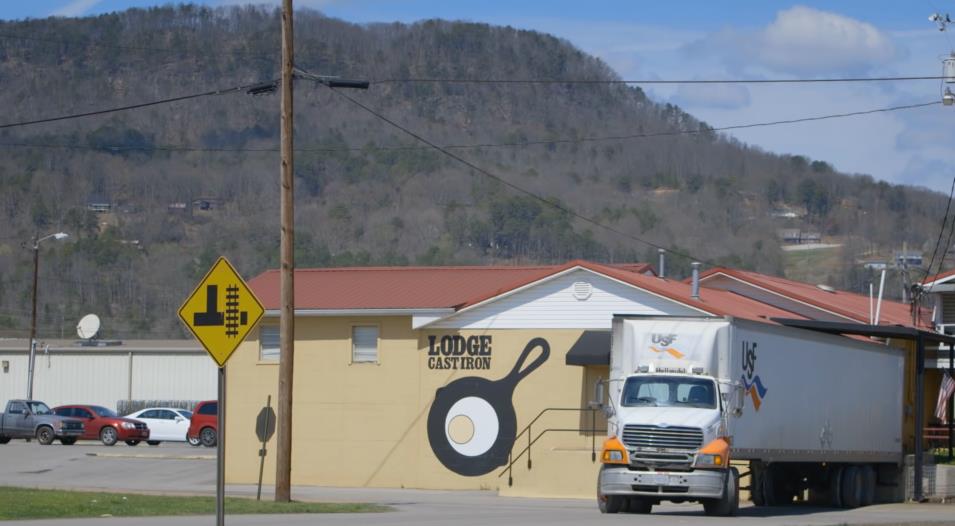 The quality, consistency, and familiarity make Lodge Cast Iron one of the leading cookware brands in America. The company has various collections with different logos at the base of the cookware. The Wildlife series, Lodge x Yellowstone, and all the others feature something unique.
The Classic, Blacklock, and Chef collections dominate the market. These collections feature various skillets, woks, pots, and griddles ranging in size. There is a Lodge Cast Iron product for every cook.
Consistent quality, the bond between customers and the brand, and affordable prices made Lodge a huge success.
Success doesn't come overnight, but with the right products, your store too can get an advantage over competitors. Your chances of success can increase with the right supplier. LeeKnives doesn't manufacture cookware but can put you in the right direction.
Let us help you connect with the best cookware suppliers in China with high-quality yet affordable wholesale products!
So where is Lodge Cast Iron made?
The majority of the Lodge products are made in South Pittsburg. The cast iron cookware shipped all over the world comes from the same foundry. This includes all the collections and series featured on the Lodge website. The total number of Lodge products made in the US makes up over 80 percent of the company's trade.
Lodge Cast Iron also has locations in Sevierville and Pigeon Forge. Outside of Tennessee, the company has one store in Charlotte, NC. These are factory stores that sell directly to consumers. There isn't any manufacturing in Sevierville, Pigeon Forge, or Charlotte.
Here's a video you can watch on how Lodge Cast Iron makes their cast iron skillets in the South Pittsburg foundry.
Curious about making a cast iron skillet? Read how cast iron skillets are made from start to finish.
So, the cast iron cookware Lodge sells is all manufactured in the US. What about the Lodge products manufactured elsewhere? Is it made in China? Here's more.
Are Lodge products made in China?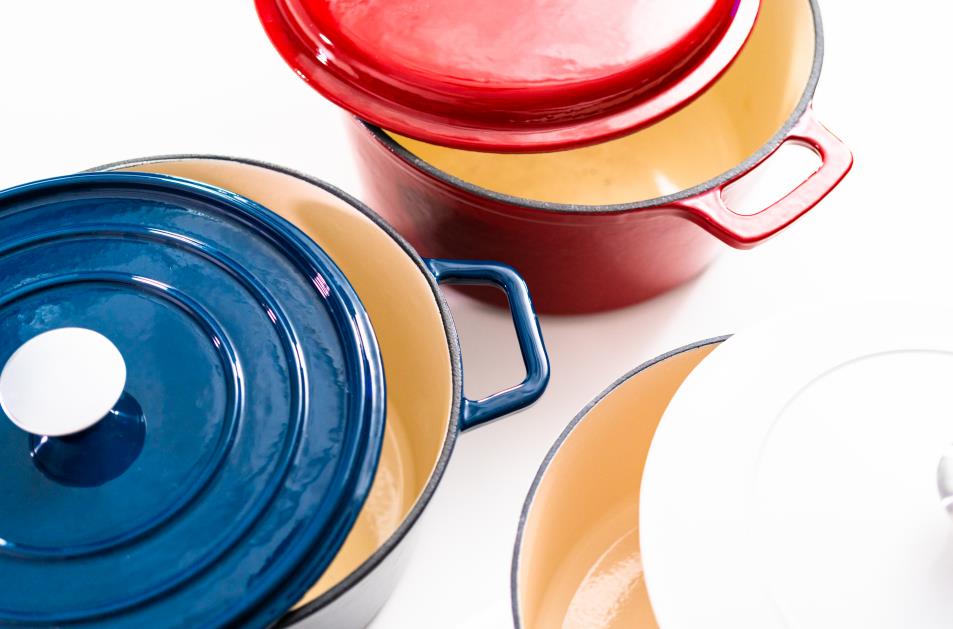 If you're asking if Lodge cast iron cookware is made in China, then the answer is yes, and no at the same time.
Not all Lodge products get manufactured in the US. The cast iron skillets, griddles, pans, and other cookware made with cast iron comes from the foundry in the US, along with the carbon steel cookware.
That leaves us with a small portion of Lodge products – enameled cast iron, to be more specific.
The Lodge branded enameled cast iron cookware is made in China. That said, Lodge casseroles, the pots with lids functioning as griddles, and other enameled cast iron cookware sold by Lodge Cast Iron aren't made in the United States.
This can make a difference for consumers wanting to purchase American-made cookware. While every buyer has their preferences, note that every Lodge product is made to last a lifetime. Like other Lodge products, the enameled cast iron casseroles, Dutch ovens, and pots are high-quality, with no defects.
Additionally, Lodge works with US-owned third-party inspection companies to ensure the enameled cast iron cookware manufactured in China is up to their standards.
Where Lodge Cast Iron products are manufactured based on material
| | |
| --- | --- |
| Material | Made in |
| Seasoned cast iron | US |
| Heat treated cast iron | US |
| Carbon steel | US |
| Enameled cast iron | China |
According to Lodge Cast Iron, the reason enameled cast iron products are manufactured in China is simple. There aren't any plants that meet the company's standards that enamel in bright colors. 
Safety considerations for cookware made in China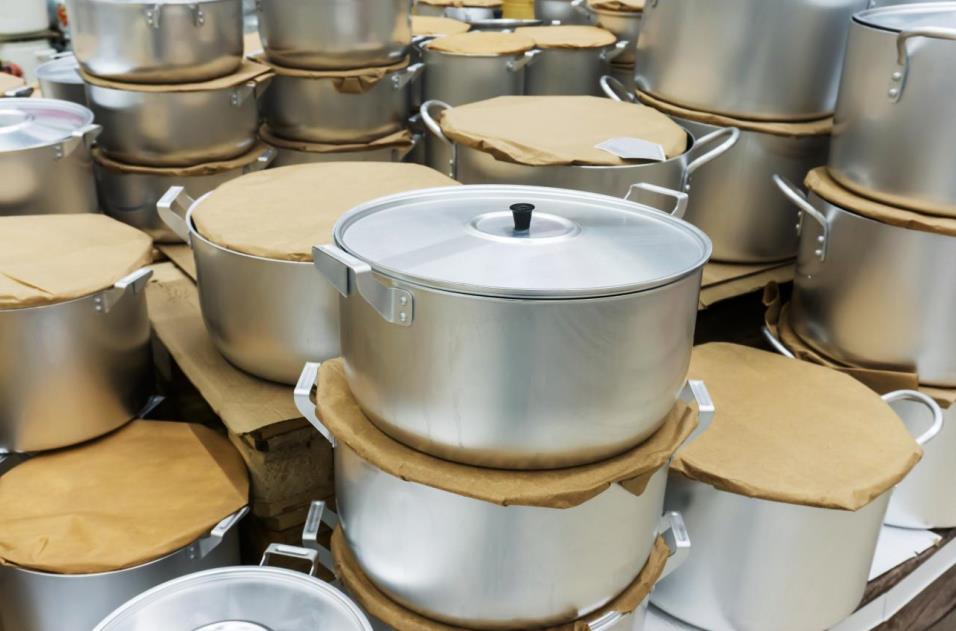 For some, cookware made in China can be a red flag due to safety concerns. Many shoppers specifically look for cookware not made in China. The stigma around Chinese-made cookware is due to the high number of products.
Countless cookware manufacturers in China produce a substantial amount of the products in the market. With this many manufacturers, consumers are destined to get their hands on bad-quality products.
Fortunately, this isn't the case with Lodge enameled cast iron products. The company has strict standards that every batch follows. This applies to any manufacturer with quality control checks. Cookware made in China can be as safe as those made in the US, if not more.
The answer to whether or not cookware manufactured in China is safe depends on the manufacturer. If they have a great system in place to maintain quality control, safety won't be a problem to stress. It's the same as any product manufactured anywhere. Stores should know the manufacturers they're getting the products from to ensure the safety of their customers and the reputation of their brands.
If you can, it is advisable to visit the manufacturer's facilities and see how they operate. This can give you an idea of the standards they follow. Plus, it will enable you to see the manufacturing process of your batches from start to finish.
If visiting the facilities isn't an option, check for the certifications and reviews of the manufacturer. Every manufacturer operating in China and exporting to other countries must follow regulations. These can give you an idea of the manufacturer's trustworthiness, ensuring you sell good-quality cookware that is 100 percent safe.
What kind of cookware should you source?
Finding the right products to furnish your store can be challenging. Continuing to sell what your customers buy the most can only get you so far.
Some stores think outside the box and offer something unique. Some focus on specific products that appeal to a specific group of buyers. Regardless, many variables go into building the right collection to boost growth.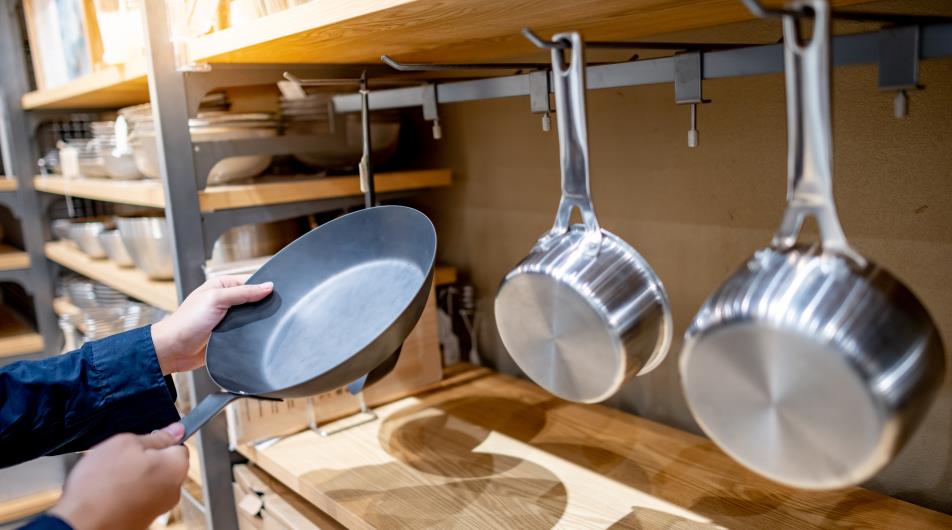 As for any other kitchen product, every cook is different. So are their needs. Different cookware materials have ranging properties that can make a perfect cooking surface for some while never passing mediocre for others.
The material determines many of the features the user will get in the end. Delivering cookware products made from materials that match the cooking style and preferences of your customers will lead to the right product in the end.
Other than materials, sourcing products from a manufacturer with a proven track of supplying safe, good-quality products is vital. This is critical whether the manufacturer is in the US, China, Europe, or anywhere.
Buy Wholesale Cookware and Start Scaling up with Us Today
Contact us and connect with a sales rep to get a free quote.
Source cookware with LeeKnives
When you venture out for new suppliers, there is a good chance you will end up with products that aren't much different or worse from what you currently sell. Avoid such problems that can put your store in jeopardy by sourcing safe, reliable cookware from us. 
We don't manufacture cookware but can connect you with the best cookware manufacturers in China. With the MOQs for your business size, customization options, and more – let us help you source the cookware products you've been anticipating selling. Request a quote today!