Each of China's cities and provinces is known for manufacturing specific goods. Shenzhen is the smartphone hub, Shandong is the center of textiles, and Yangjiang is the country's knife capital.
Yangjiang in the Guangdong province is not new to forging knives. The city has been home to many knife manufacturers for hundreds of years. Knifemakers from this region show pride in being from this region. A quick search on any wholesale supplier websites will present you with many Yangjiang knife manufacturers. With this many options, making the right choice for your business can get challenging.
This article will help you find the best knife manufacturers in Yangjiang, China. We'll cover what type of knives to order from and the advantages and disadvantages of ordering knives from the knife capital of China.
Yangjiang knife industry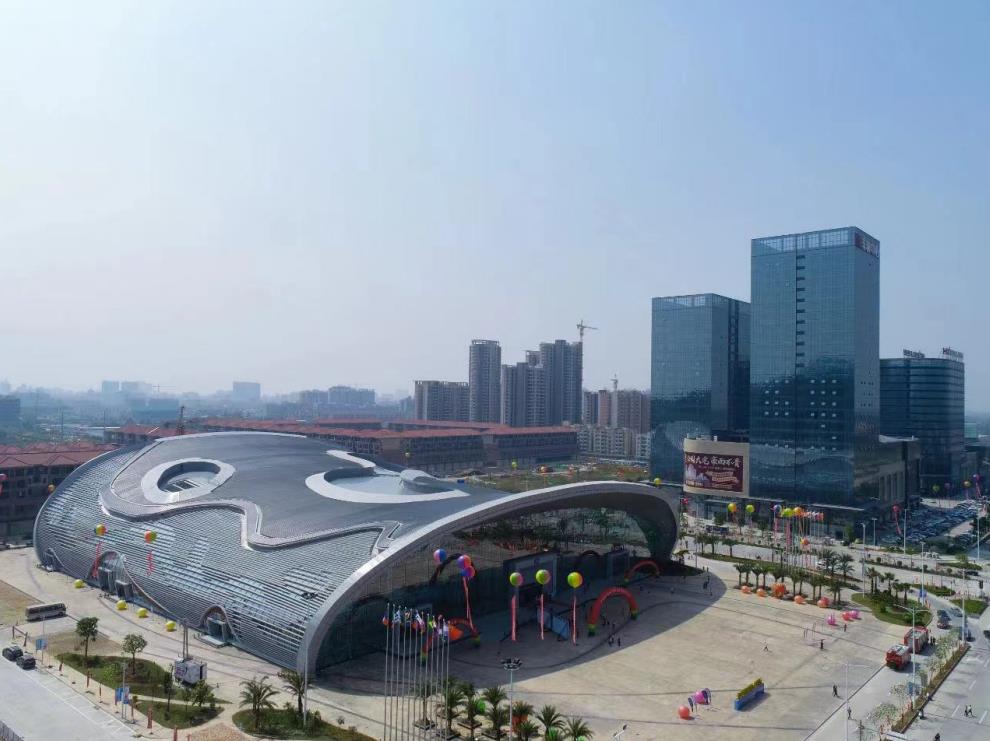 Producing any kind of cutlery is nothing new to Yangjiang. The knives and other cutlery manufactured in this region date back to the 600s. The main manufacturing areas of the city are Yangdong and Dongcheng.
According to the National Bureau of Statistics of China, the knife industry employs about 1 million people. A large part of this workforce is based in Yangjiang, with over a thousand businesses. Yangjiang manufactures over 70 percent of knives and scissors produced in China. It's no surprise that most knife companies choose this city as their base.
Five percent of the knife companies in Yangjiang manufacture their products to be sold under their labeling. Seventy percent are involved in OEM knife manufacturing. The rest are ODM manufacturers.
Europe and North America make up more than half of the knife and scissors exports. This makes Yangjiang City the export base of knives, not just in China but globally.
Facts about the Yangjiang knife industry
The products made in Yangjiang are exported to over 100 countries worldwide.
The knives, scissors, and other cutting tools manufactured in Yangjiang have over 4,000 varieties.
Yangjiang is close to Yantian, Shenzhen, and Guangdong ports. This assures the products get to the port quickly and eventually to the buyers.
The majority of the knife manufacturers in Yangjiang have no online presence. Instead, they mainly promote their products through exhibitions. The Yangjiang International Hardware Knives and Scissors Fair is one of the most crowded events held every year.
Yangjiang is home to many recognized knife brands, like Shibazi, CIVIVI (WeKnife), and Kizer. 
Buy Yangjiang Knives and Start Scaling up with Us Today
Contact us and connect with a sales rep to get a free quote.
Best knife manufacturers in Yangjiang
The current statistics show that there are more than a thousand knife manufacturers in Yangjiang. When looking for a wholesale knife manufacturer, retailers can get overwhelmed by the number of options. Here are the best knife manufacturers based in Yangjiang.
LeeKnives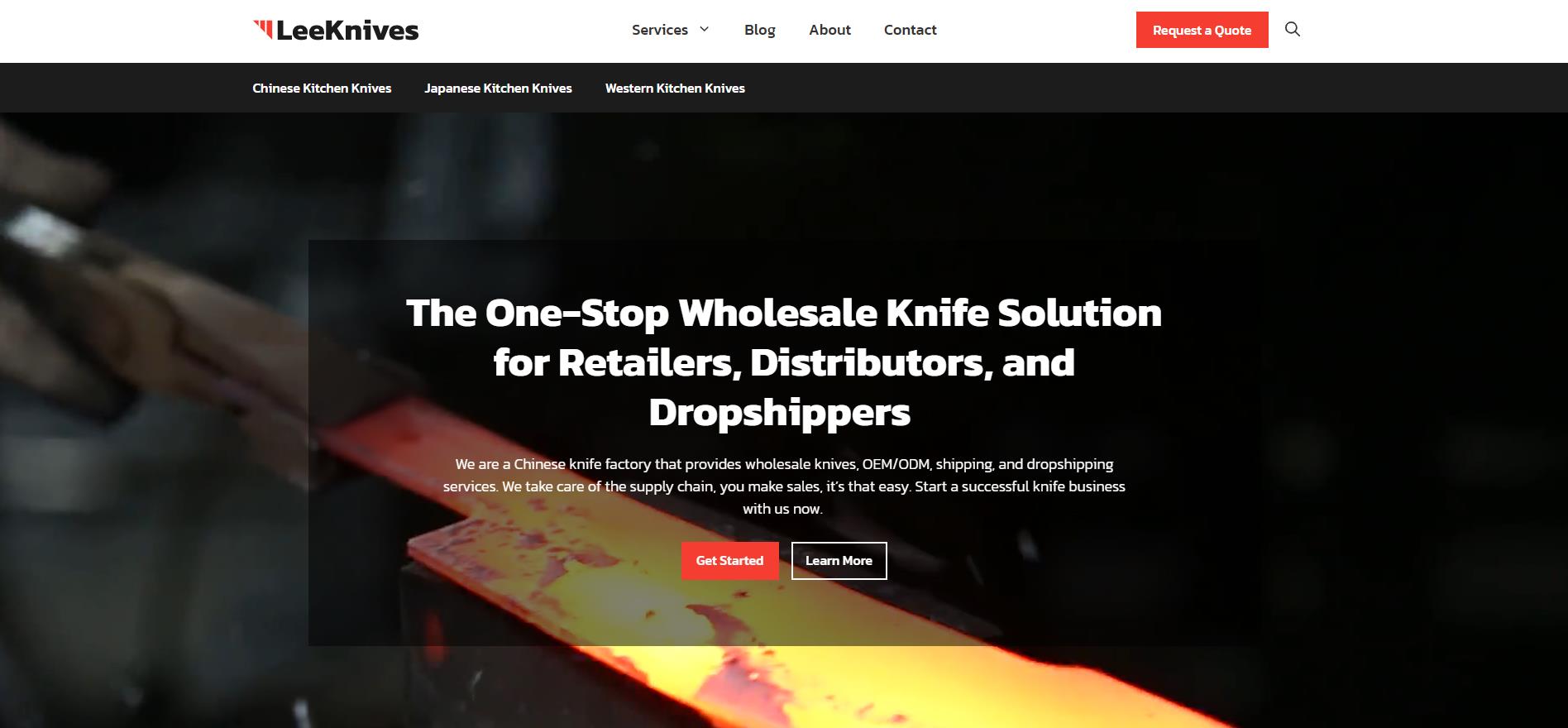 Founded in 1993, LeeKnives comes from humble beginnings. Despite its background, LeeKnives managed to be a prominent manufacturer in Yangjiang. It's a knife manufacturer that does everything. You can customize knives with OEM and order wholesale with private labeling, global shipping, and other services.
In addition to these, LeeKnives offers dropshipping services with no MOQ. The easy attitude and responsive staff make them a convenient knife manufacturer in Yangjiang City for small and medium-sized retailers.
From kitchen knives to pocket knives to multi-function tools, you can customize your product with them. The best part is upon finalizing the designs and materials, the products will be delivered to your doorstep in a month.
TianJiao Household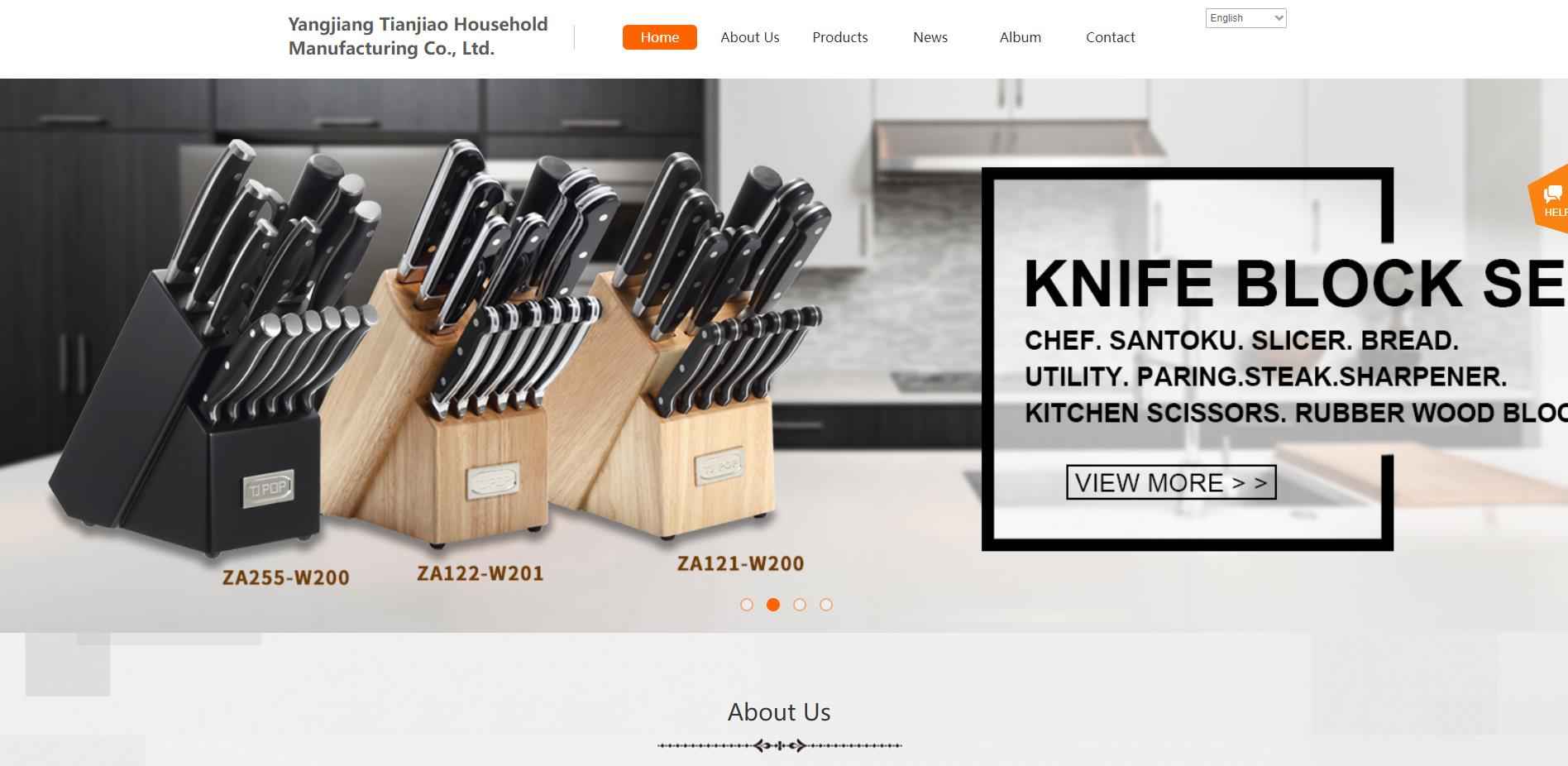 A knife manufacturer with few but proven products, TianJiao Household, is for those looking to sell kitchen knives. They wholesale the four primary kitchen knives used by home cooks. These are chef's knife, utility knife, paring knife, and cleaver.
Like many other knife manufacturers in Yangjiang City, their main exports are to Europe. Additionally, one of their main exports is to Australia, according to their Made in China profile. TianJiao Household is an option you can consider for kitchen knives, particularly if you're based in Oceania.
Henstrong Industrial & Trading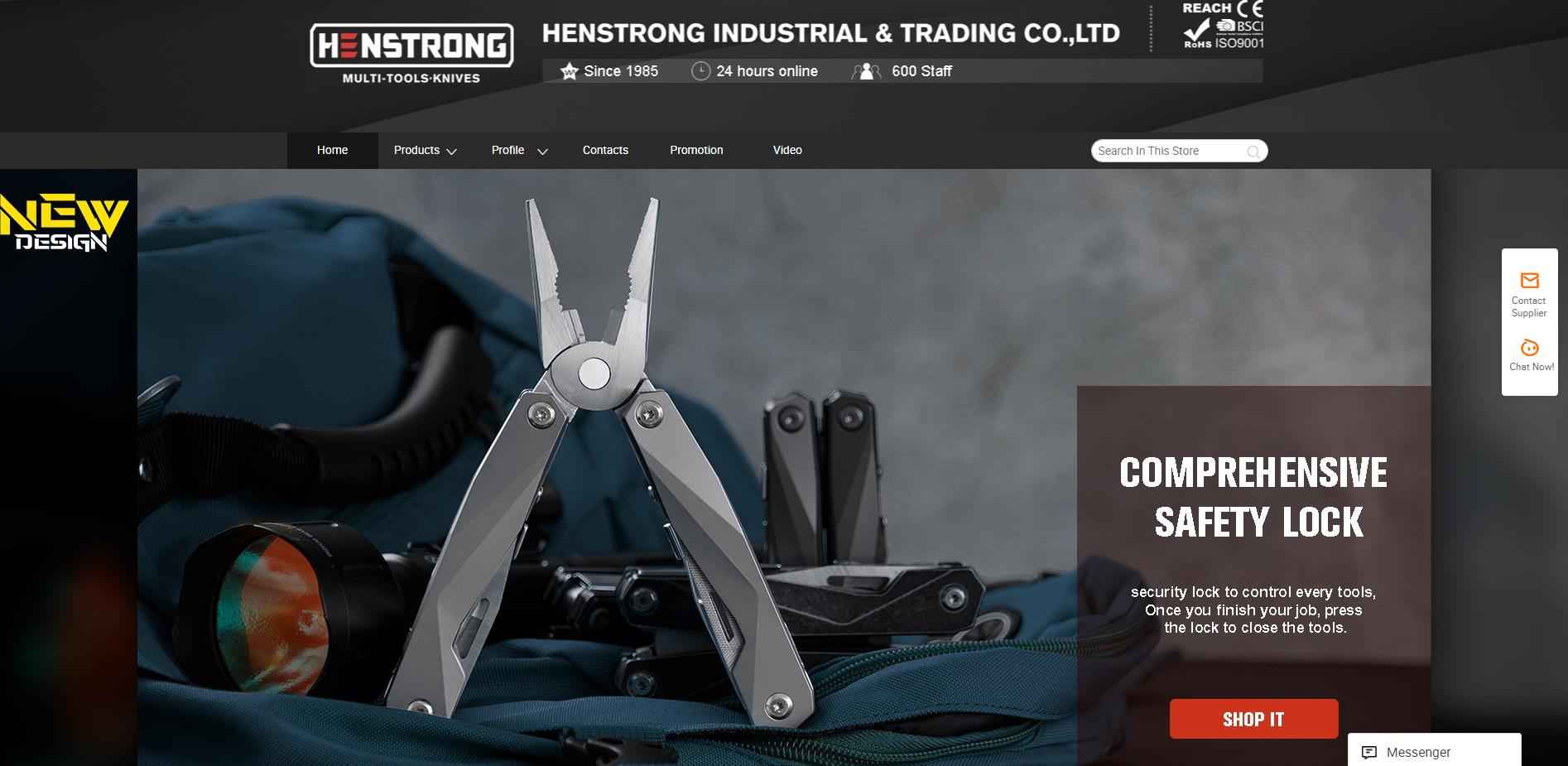 Henstrong Industrial & Trading is another knife manufacturer with a variety of wholesale products offered with OEM and ODM services. The only product missing in their catalog is kitchen knives.
This Yangjiang knife manufacturer's extensive amount of pocket knives and other related tools make up for the absence. They have patented multi-purpose tools that can interest customers looking for something with a knife.
The products they wholesale and offer customizations are more for people that enjoy the outdoors, like hunters and fishers. In addition to hunting, tactical, and utility knives, they have fishing tools, pliers, scissors, and bottle openers.
Yangjiang Suplink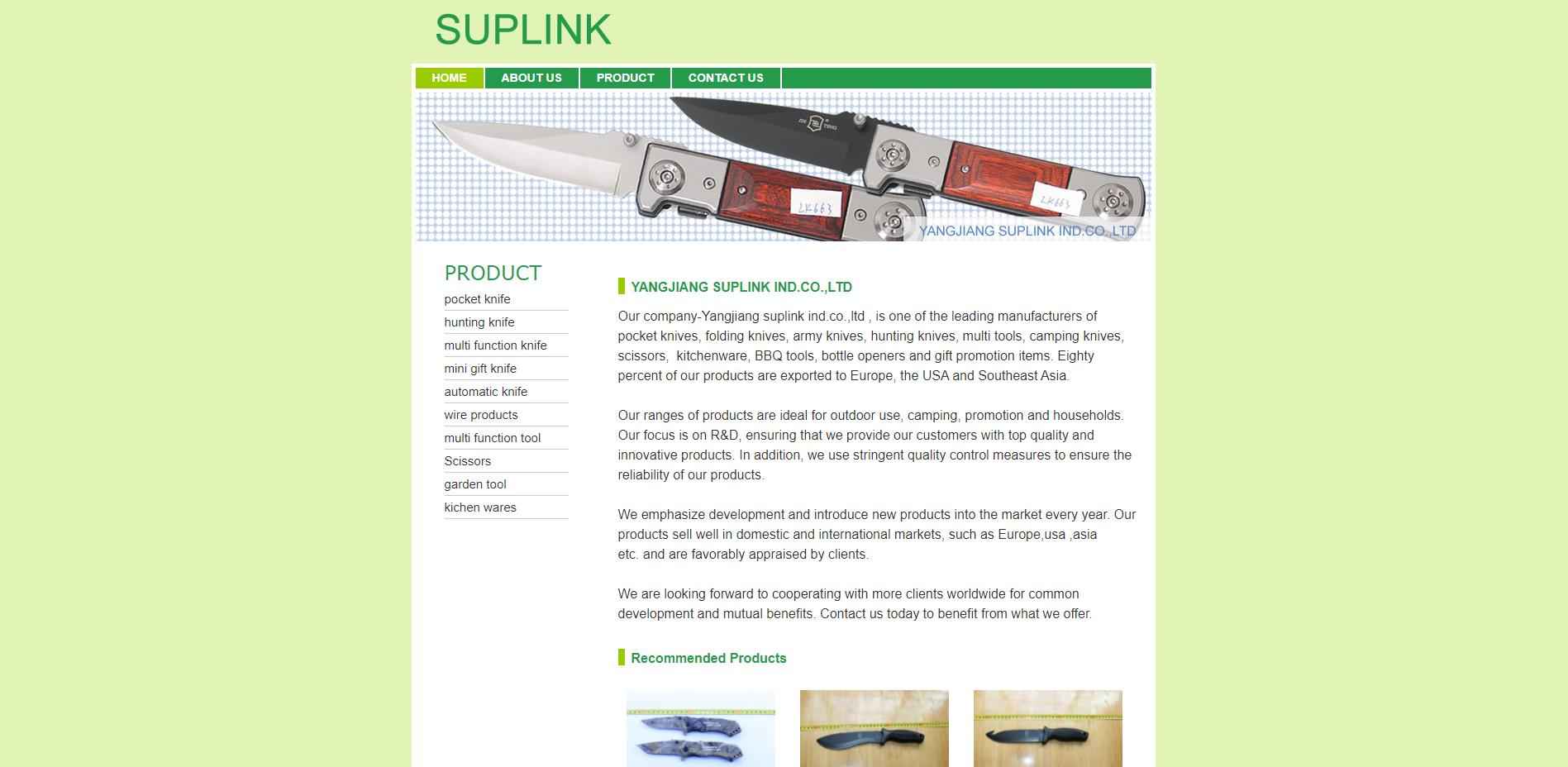 Yangjiang Suplink is a relatively new knife manufacturer established in 2015. The company mainly produces pocket knives with a variety of design elements. It's a viable option for those looking for an affordable wholesale knife manufacturer.
In addition to pocket knives, they have a wide range of multi-purpose tools that come with a cutter or blade. To name a few, multi-function pliers, knives with LED lights to keychains attached with foldable blades are among the top sellers.
Although they have affordable prices, their MOQ is among the highest. You can expect to order over a thousand pieces at the very least if you want a good deal.
Yangjiang Angele Kitchenware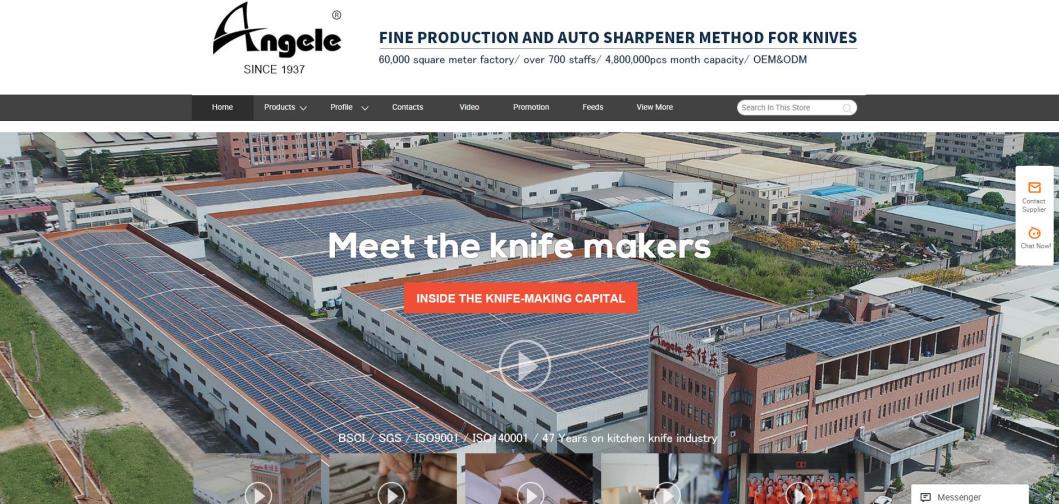 Yangjiang Angle Kitchenware specializes in home and kitchen products, as the name suggests. They manufacture and wholesale all types of kitchen knives. Their catalog includes Japanese and western-style kitchen knives with other kitchen tools, like poultry scissors and cutting boards.
They also sell their kitchen knives in sets as an alternative to purchasing them individually. Most sets include a chef's knife, boning knife, utility knife, bread knife, paring knife, and Santoku.
Yangjiang Selected Hardware Enterprise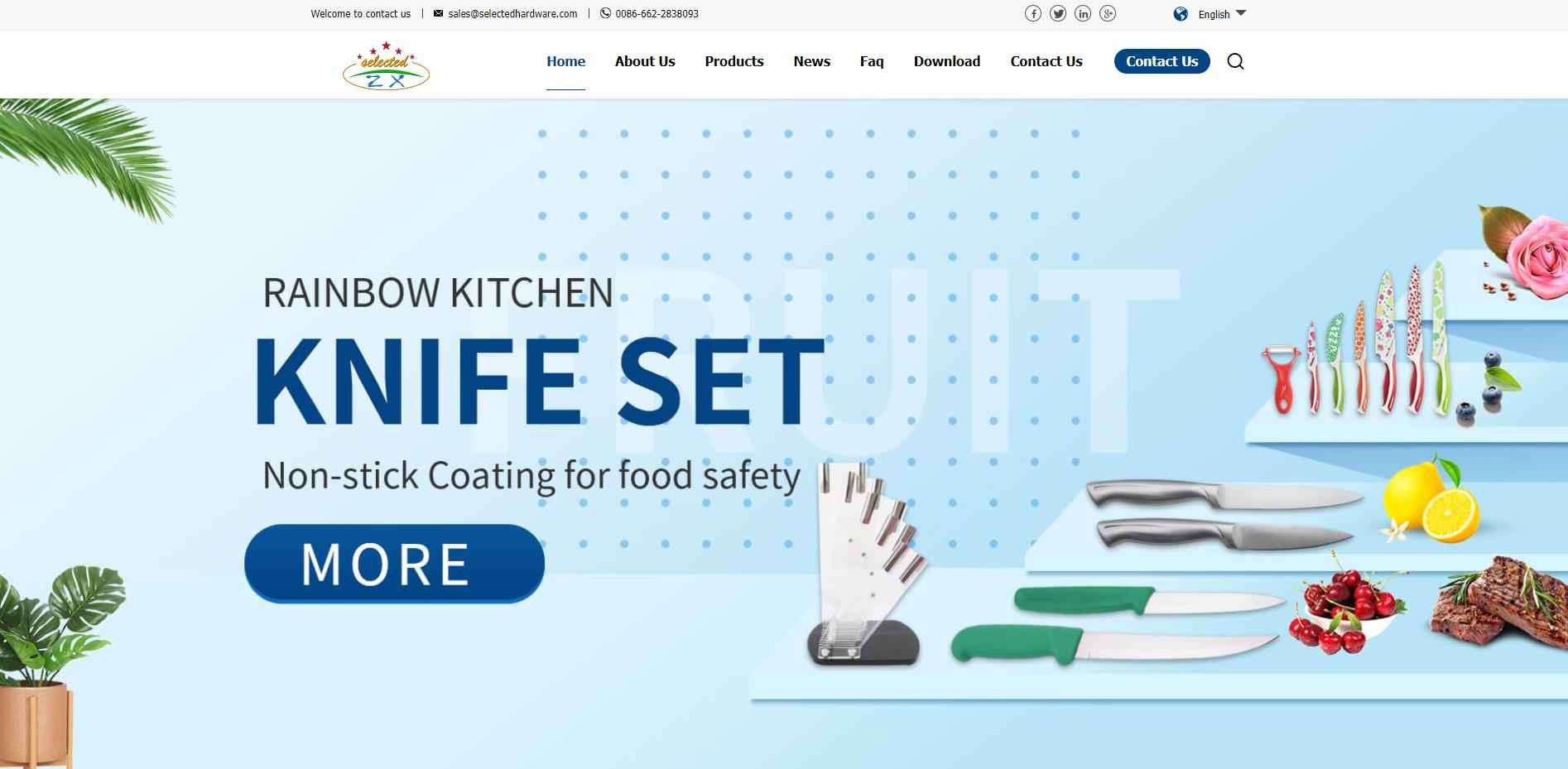 We've covered a few other kitchen knife wholesale manufacturers so far. Yangjiang Selected Hardware Enterprise is another one but primarily focuses on specialty tools. Despite the high MOQ, their budget-friendly products can lead to sales for home cooks looking for affordable options.
The quality is what you'd expect with an average price of one to two dollars per piece. Nonetheless, it's ideal for retailers and online sellers that plan on offering inexpensive knives to their customers. Aside from kitchen knives, they also have tools like peelers, pizza cutters, and utensils.
Seer Hardware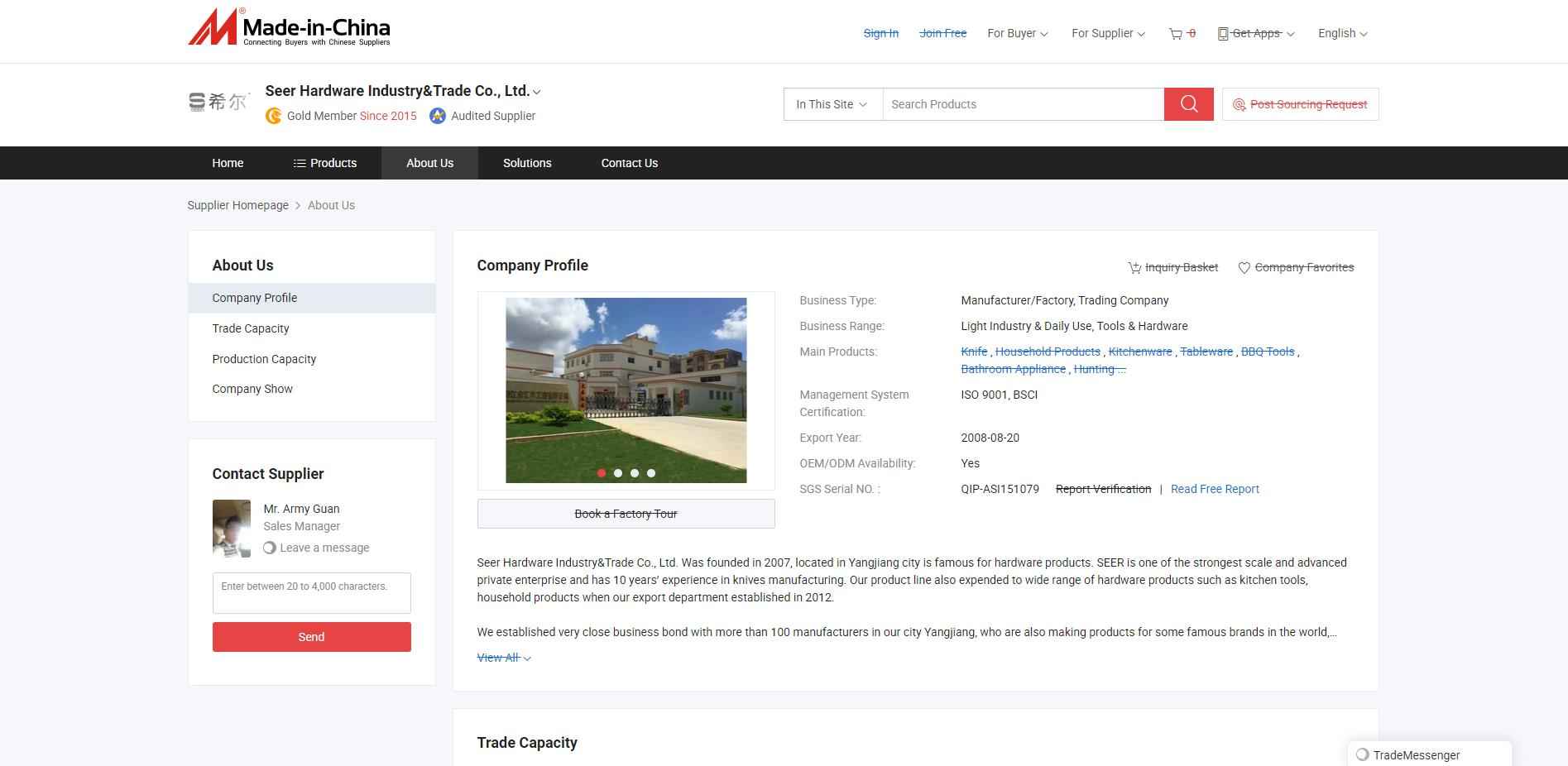 Seer Hardware has sturdy blades. The company sells Japanese and Chinese-style kitchen knives. They also have stainless steel and Damascus folding knives.
According to their profile, this knifemaker has fewer than five employees. This small workforce can mean longer lead times when ordering OEM products. It's best to get a guaranteed timeframe if you order from them. Like Yangjiang Selected Hardware Enterprise, this company also sells kitchen tools to go along with its knives.
Pros of selling Yangjiang knives
Quality: Yangjiang City's knife manufacturers have a proven history of having the most productive and experienced knifemakers in Asia. The professionalism and high competition make knife manufacturers ensure every product is up to expectations.
Pricing: Similarly, the pricing of knives is on-point due to the competition. Every Yangjiang knifemaker keeps prices at affordable ranges to stand out above others. This takes the definition of volume business to another level for Yangjiang knife manufacturers.
Variety: You'll get not just kitchen knives or EDC knives from the Yangjiang knife industry. The city is well-known for producing a wide selection of multi-purpose tools, scissors, and other cutters.
Cons of selling Yangjiang knives
Selecting: Choosing the most appropriate wholesaler to work with can get overwhelming quickly. As mentioned at the beginning of the article, over a thousand knife manufacturers are located in Yangjiang. Being presented with many choices can make it hard to find the proper manufacturer to partner up with.
Quality: We've noted that most knife manufacturers in Yangjiang will do everything to ensure they have optimal results. However, because it's such a competitive area, some companies cut down on the quality of the materials to have a higher profit margin. It's vital to avoid wholesalers with unusually cheap pricing. It's always best to wave them away and work with reputable knife manufacturers.
How to start selling Yangjiang knives (with LeeKnives)?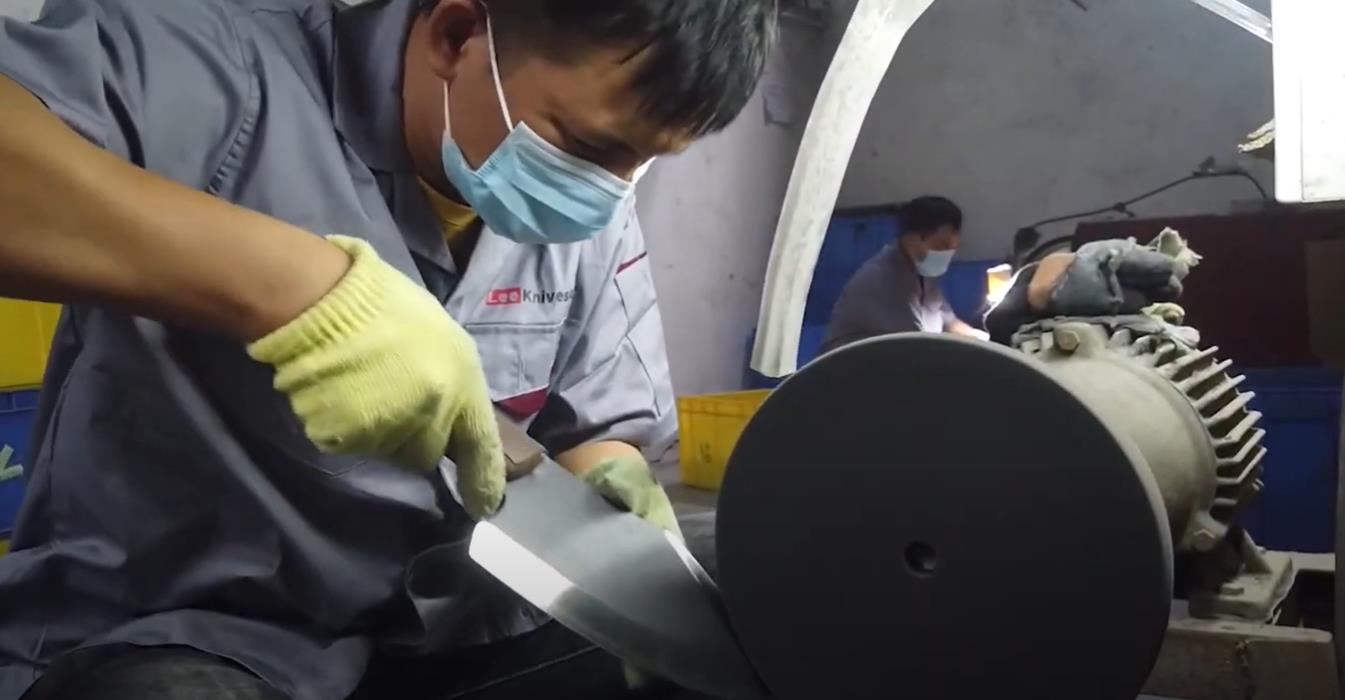 The process of starting to sell knives starts with acquiring them first. There are different processes to this, depending on how you want them.
You can order wholesale knives that we will ship to you at a moment's notice. You can also customize your knife through our OEM service, which will take more time to be ready. For example, here is how the usual process works with OEM knives.
You submit the designs and materials.
We create a visual representation of how everything would look.
Finish everything about the knife and ship a sample product if necessary (it will increase the lead time production).
We will begin manufacturing the knives, inspect them thoroughly, package, and ship them to you upon agreeing on the details.
Since we'll need to go back and forth about the product's details, OEM knives take significantly more than ODM and wholesale knives.
The process is much quicker with wholesale products, and the MOQs are lower. Additionally, you can also use our private label services.
Buy Wholesale Kitchen Knives and Start Scaling up with Us Today
Contact us and connect with a sales rep to get a free quote.
Final words
Yangjiang isn't just the knife capital of China, but the entire world. Regardless of your location, there is a high chance that the knives you see in stores come from this city.
The majority of the knife manufacturers in Yangjiang don't have a website. Unless you plan on traveling to Yangjiang for deals, wholesale supplier websites like Alibaba, Made in China, and Global Options are your best option.
As a knife manufacturer based in Yangjiang also, we offer plenty of services to our clients. If wholesale knives are what interests you, be sure to check our service page. Besides the wholesale knives, we offer other services, such as OEM and ODM, private label, and many more.