A cutting board is a knife's best friend. If you've been selling knives for a while, adding a few cutting boards to your store is the natural step forward.
With such a large variety of options, deciding on the best products that go well with your inventory is not a five minutes task.
That's why we put together this in-depth guide that will painlessly explore the most popular types of cutting boards, along with why they should (or shouldn't) land in your store.
Cutting board material
The type of cutting board customers go for depends on the kind of foods they prepare most often, the knives they use (and how fond they are of them), as well as their aesthetic preferences.
Yet, as a seller, it's your responsibility to ensure you only carry the safest products. With so many cutting boards available, you won't have an issue offering variety while preserving a certain quality level.
To determine whether a cutting board is worth your marketing efforts, the essential feature you should look for is the construction material.
This will influence not only the price and durability of the board but also the level of maintenance and sanitization required. Below are the most common materials used for cutting boards, along with their pros and cons.
Wood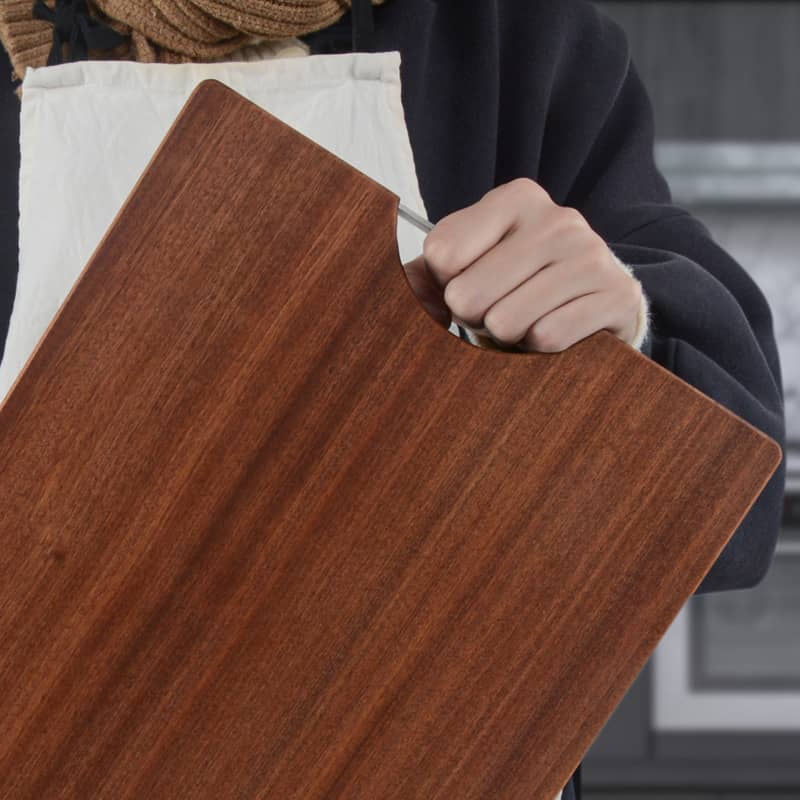 One of the most popular materials for cutting boards, by far, is wood. For a long time, wooden cutting boards had a negative sentiment attached since many people worried about them harboring bacteria.
However, it has been proven that wood boards are entirely food-safe. Due to the capillary-like grain structure of wood, boards can trap moisture underneath the cutting surface.
Bacteria trapped in this way typically die in as little as 3 to 10 minutes.
Moreover, wooden cutting boards can be easily resurfaced by using a sander or sandpaper, which means less scarring. This not only increases the board's life but also prevents moisture from pooling up and holding harmful bacteria that resist washing.
Speaking of washing, though, this is where wooden boards fall a bit short. They can't be thrown into the dishwasher, and some wood types will easily warp in humid environments.
This is why they are generally harder to maintain. They must be regularly oiled and kept as dry as possible to ensure longevity.
Bamboo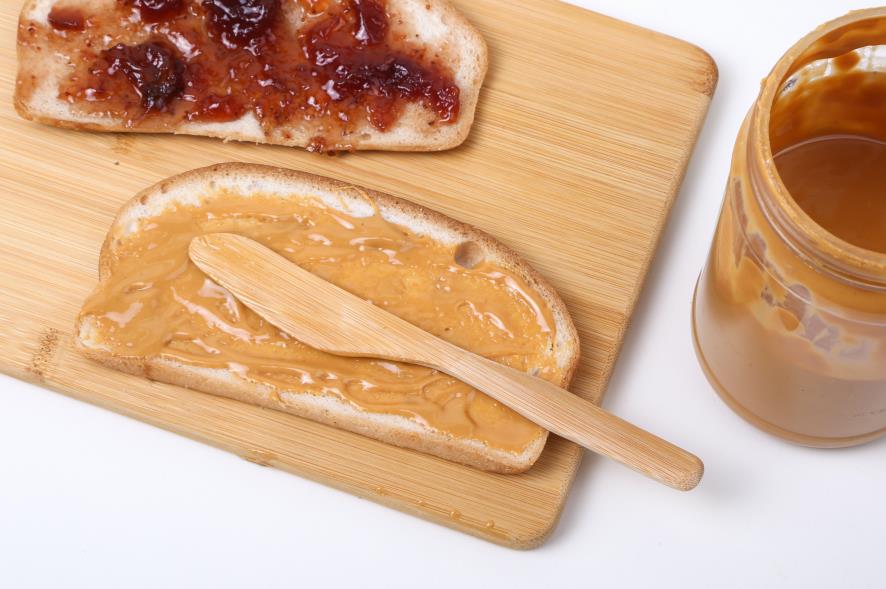 Bamboo cutting boards are an easier-to-maintain option. Bamboo is less porous than hardwoods, absorbing little to no moisture. Its tight, dense grain is also more resistant to knife scarring than most types of wood.
Bamboo is an eco-friendly, easy-to-maintain material and provides excellent value for a relatively low cost. Since bamboo is 19% harder than maple, these cutting boards can last long, though they will dull knives faster than traditional wooden boards.
One caveat is that these products are typically made by gluing pieces of bamboo together. This means that the boards are not dishwasher safe and need to be replaced more often.
Moreover, depending on the manufacturer, the adhesives might be toxic, putting some customers off.
Plastic
Plastic is a popular alternative to wood since it sounds a bit safer to use with food – on paper, at least. Plastic boards are also the cheapest option, which is why you will see them in many households.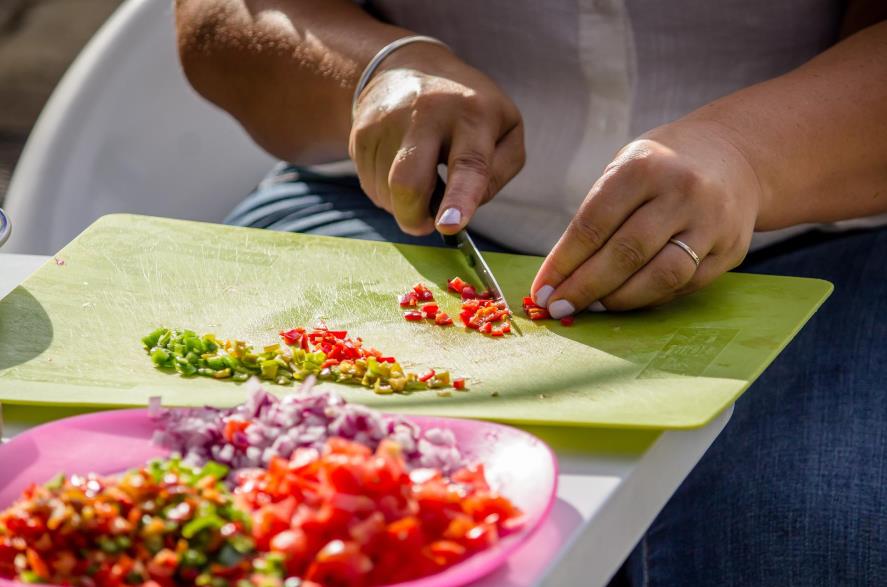 They are shaped from polyethylene, either standard PE or high density (HDPE). Both of these options are very gentle on the knives, at the cost of their durability.
Plastic boards receive deep scratches and cuts, where they can easily harbor bacteria. However, they can be easily cleaned and sanitized, so the scarring should not be an issue as long as they are replaced frequently.
Although PE is FDE approved for food use, recent studies show that the manufacturing process plays a big role in how safe they are. In some cases, they can leach harmful chemicals that affect the human endocrine system.
The risks can be mitigated by choosing a reputable provider, yet it's difficult to ensure that the end user will employ proper sanitization practices, replace the board frequently or avoid using the board for hot or acidic foods.
Antimicrobial cutting boards
Some plastic cutting boards are marketed as antimicrobial. These will generally be made with triclosan, an ingredient intended to reduce or prevent contamination.
Although an antimicrobial cutting board sounds like a great deal, studies have shown that triclosan is not effective against bacteria.
Moreover, it has been linked to numerous health issues, so it's a good idea to steer clear of these kinds of products for your store.
Composite
Composite boards are often marketed as durable and cost-effective alternatives to wood. They are made from phenolic resins and a combination of wood fibers.
Some composite boards you'll see are melamine bamboo and epicurean wood fiber boards.
Some big selling points for these products include them being easy on a cook's knives, as well as their durability. Their composition makes them more light-weight than wood, which can prove desirable for some cooks.
Although relatively cheap, composite boards should be avoided. Not only are they not dishwasher safe, but they often contain formaldehyde, a known carcinogen, along with other additives.
Rubber
Heavy-duty rubber boards are a favorite among restaurants and professional chefs. They have a superior grip to plastic, decreasing the risks of accidents, and are practically indestructible.
The flexible cutting surface absorbs knife strokes instead of pushing against them, which preserves the knives' edges like no other surface. Scarring is also not an issue with rubber since these boards can be resurfaced with sandpaper as often as needed.
Lastly, they are effortless to clean and sanitize since they resist moisture and harsh chemicals. They will preserve their form and don't need any oiling or special care.
Some downsides of rubber include the relatively higher price point and, well, lack of grace. Rubber boards won't make great candidates for customers who care about visuals.
Marble/Granite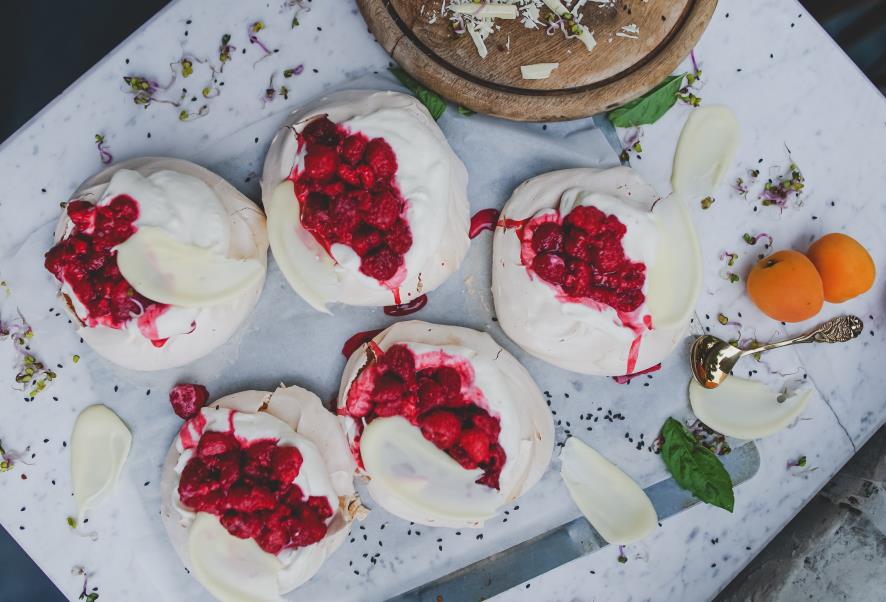 Marble and granite boards are a cleaning freak's dream come true. You will hardly find a material that's easier to clean. Yet, to assess whether a cutting board will be gentle on the knives, one should try scoring it.
Solid surface boards aren't great for cooks who care about their knives, even the slightest bit. Although marble is fantastic to look at, it will dull knives in record time.
So, considering their lack of practicality, why are they even produced? Since they can maintain a consistently cool temperature, these boards are fantastic for working with fresh pastry dough.
They work well for presenting food in a pinch, but they aren't necessarily practical for that purpose since they can be pretty heavy.
If you choose to sell these boards, you should know they have an exclusive clientele. They are best suited for professional pastry chefs (and interior designers).
Glass
Regarding glass, "cutting board" isn't the most fitting name. Although they are easy to wash and sanitize, they are very harsh on knives and will break easily.
The smooth surface is a disaster waiting to happen since it makes it very easy for the knife to slip and hurt someone.
Yet, they are excellent for charcuterie boards and general presentation purposes. They also work well for fresh dough. Yet, for general chopping purposes, they should be avoided.
Cutting boards by shape and uses
Cutting boards are a kitchen essential, so you shouldn't be surprised when they come in all shapes and sizes. Some can even be color-coded to avoid cross-contamination and many feature gimmicks of questionable utility.
You'll find boards that fold to preserve space, sold in sets of varying sizes, featuring handles, liquid catching grooves, and even attached to recipients that hold the prepped ingredients.
Judging by some of the most common features, you can classify boards in the following categories.
Standard cutting board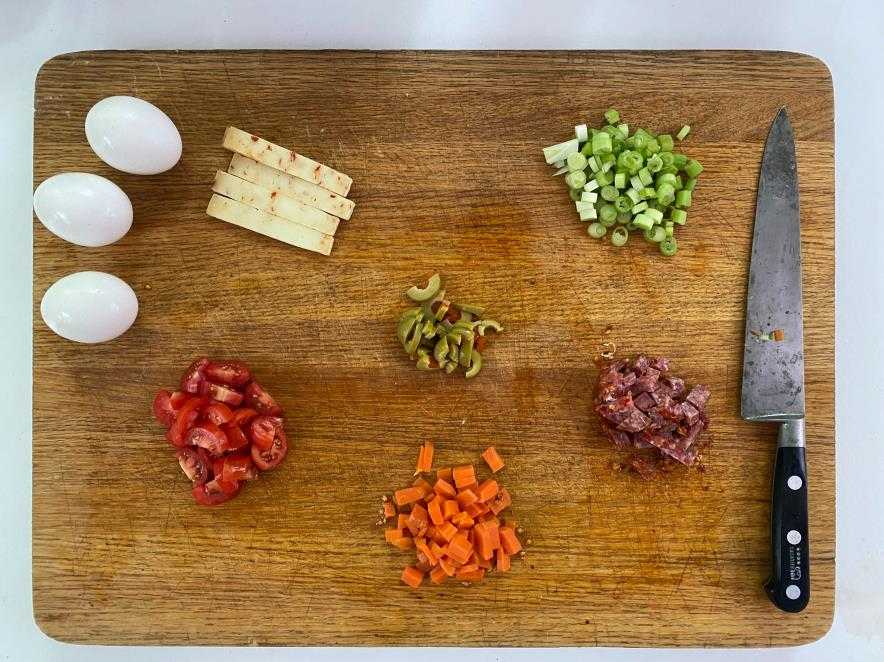 The tried and true cutting board features little to no extra features. It comes in a variety of shapes, although the most popular one, by far, is rectangular.
Square cutting boards are nice to look at but don't offer much space to work on. Likewise, round boards are excellent for presenting food but much less effective than the traditional rectangular ones.
An excellent option for a daily cutting board is a half-circle. This shape allows the cook to push the board against a solid surface while offering them a place to rest their wrist while prepping.
Apart from that, novelty shapes should generally be avoided, as they aren't efficient and can be pretty tacky. No one ever wanted a cutting board shaped like a guitar.
Butcher block
Unlike a standard cutting board, a butcher block needs to sustain frequent quartering, deboning, chopping, and filleting, so it needs to be sturdy enough to stay in place and resist damage.
A decent butchering block should be at least 1 ½ inches thick (ideally 2 inches) and 12 by 12 inches to provide a sufficient cutting surface.
Thickness is important because it determines the block's weight. Faced with heavy knife strokes, a butcher's block needs to stay put; otherwise, it can lead to injuries or poultry flying way past its prime.
The best wood types for this product include maple, walnut, or teak. These are durable and feature small pores, which significantly reduce the risk of contamination.
Charcuterie board
Charcuterie boards are the names we give those cutting boards that aren't efficient for prepping but look great in a social media picture.
Round boards are excellent for this purpose since they are visually pleasing but don't offer much space for actual chopping.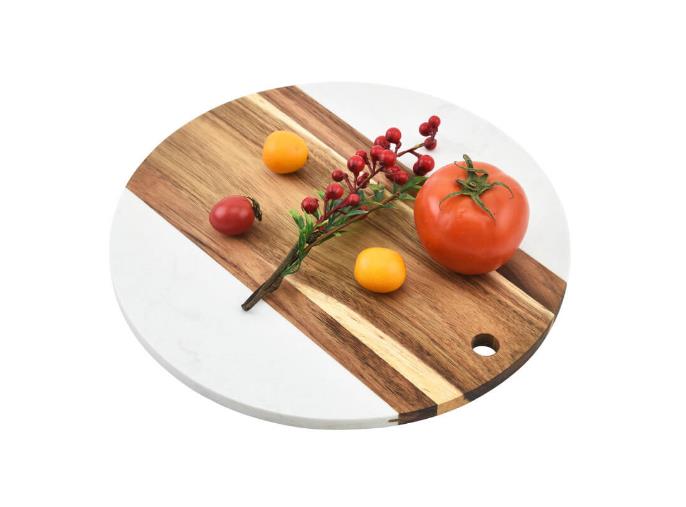 This is also where some novelty boards can find their purpose since shapes like hearts or hexagons can look great for a charcuterie mise-en-place.
The material or finish of the board is equally important for food presentation. Boards made of glass, marble, or granite are popular, although some wood types can be equally striking.
The wooden charcuterie boards should be non-porous, so teak, American Cherry, olive, and acacia woods are ideal choices.
Bread cutting boards
There are more than 100 types of bread available around the globe, so it shouldn't be a surprise that bread cutting boards are just as varied. However, the buying process should not take a lot of time since they serve a pretty straightforward purpose.
That's why presenting your customer with only a few great choices is crucial.
Some bread boards are lengthier than standard, so they can handle baguettes, although many fit the bill for a traditional-sized board.
A common feature is a textured side or narrow grooves that are supposed to catch breadcrumbs and make cleaning easier.
Carving board
Carving boards were originally designed for cutting meat, although they have since proven helpful for many other tasks, including prepping juicy vegetables and fruit, like watermelon or tomato.
They typically feature a juice trough around the board's exterior that catches juices and keeps the board (and the countertops) dry. Other common and desirable extras are carving spikes or pouring spouts.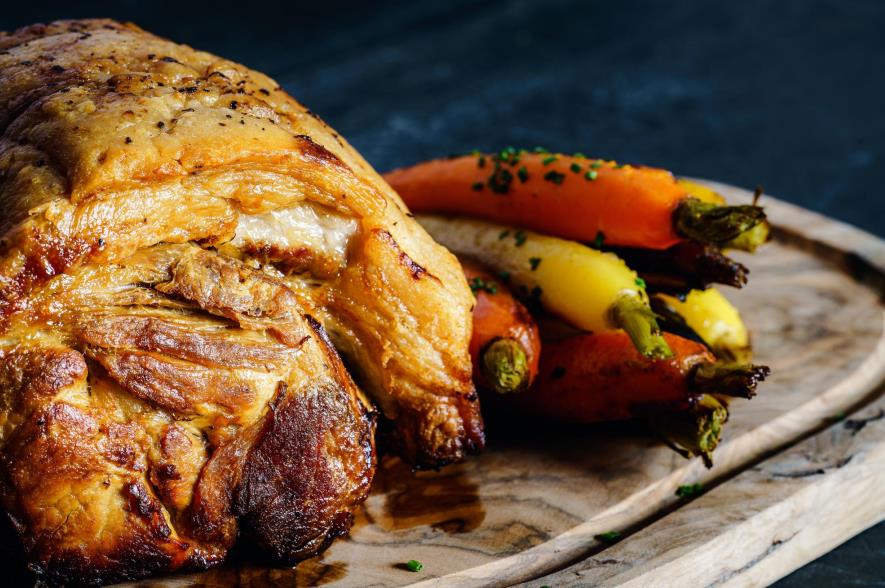 It's common for them to sell as reversible options, where one side serves as a carving board while the other serves as a standard cutting board.
When choosing a carving board, customers look for both functionality and visual appeal since they will most likely use it for slicing and presenting roasts.
Maple, acacia, and bamboo are excellent materials for carving boards as they resist moisture and look great on a diner table.
Wooden cutting board variations
Among all cutting board materials, wood is generally the safest, most practical, and most stylish option. But not all wooden cutting boards are made equal.
When deciding which product should get a spot in your store, you should judge a board by two factors – the wood grain and the wood type.
The wood grain
Cutting boards are made of lumber blocks, so the "grain" of a cutting board is decided during the woodworking process.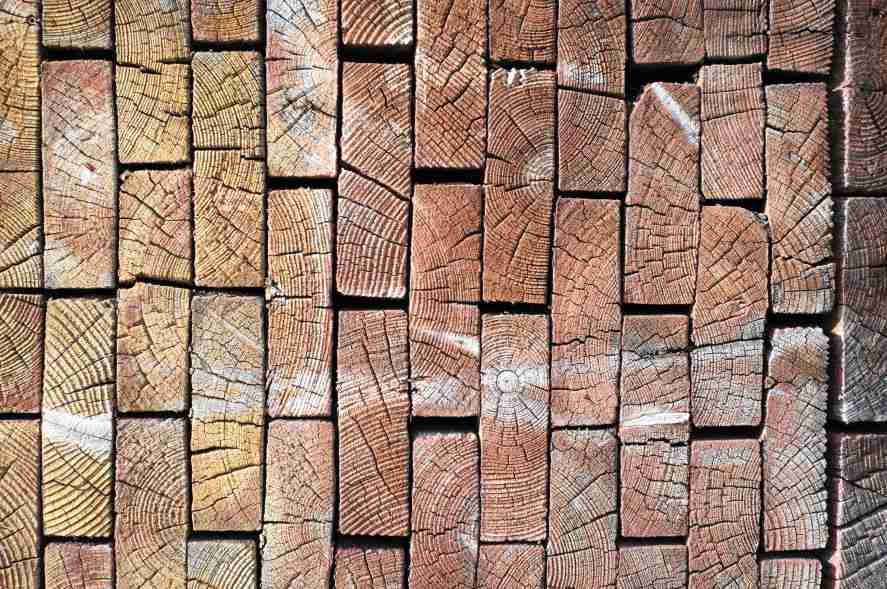 Each piece of lumber has three different surfaces that we refer to as grains.
The face grain is the "outside" of a board, where you typically see the natural beauty of a piece of wood. This is why face grain is mainly used for table tops and furniture panels.
Edge grain is the side of the board which woodworkers would use to measure the thickness of a piece of lumber.
Finally, end grain refers to the end of the board.
Regarding the final product, face grain boards will make knives dull faster and scar quickly, so they aren't quite as practical as the other two types.
Edge grain boards are tougher than face grain and make for durable, cost-efficient choices. They also need less maintenance than end-grain, although they aren't as easy on the knives.
End grain boards are arguably the best choice since they are gentle on knives and can self-heal, which prologues their life. However, they must be regularly oiled to be kept in top condition and generally come at a higher price tag.
The wood type
Depending on how a tree produces its seeds, its wood is classified as either hardwood or softwood. Softwood comes from coniferous trees that produce exposed seeds such as yew, pine, or cypress.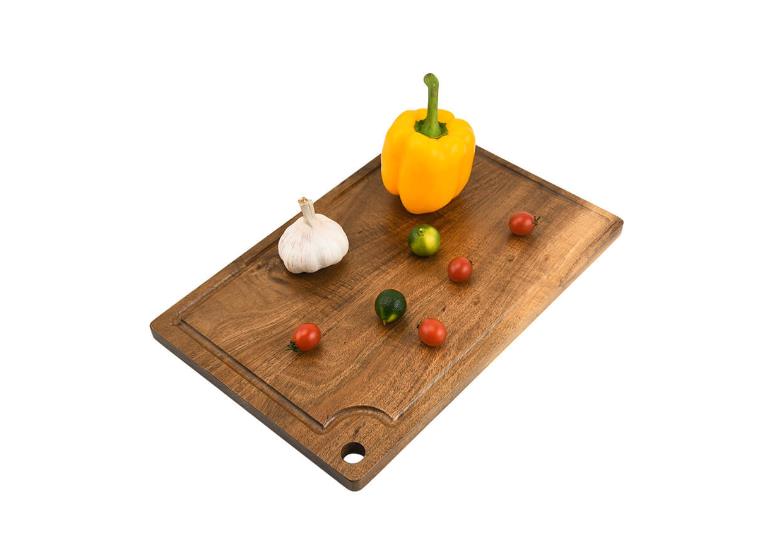 Hardwood comes from trees that produce seeds enclosed within a fruit, such as oak and walnut. However, this classification does not say much about the hardness of the wood.
Instead, we use the Janka hardness test to measure how resistant to dents and wear a wood species is.
Hardwood is a superior choice for cutting boards since it is more durable and easier on knives.
The optimal hardness for a cutting board is in the Janka range of 900 to 1500.
Furthermore, the porosity of the wood should be considered. Some species of wood have more closed pores, which makes them more resistant to moisture. Red Oak, for example, has a high hardness rating but a very porous grain, which makes it a poor choice for a cutting board.
| | | | | | | |
| --- | --- | --- | --- | --- | --- | --- |
| | Ebony | Acacia | Teak | Maple | Cherry | Walnut |
| Janka | 3220 | varies | 1070 | 1450 | 995 | 1010 |
| Durability | Excellent | Excellent | Good | Good | Fair | Fair |
| Maintenance | Moderate | Easy | Easy | Easy | Easy | Moderate |
| Knives | Poor | Gentle | Fair | Fair | Gentle | Gentle |
You'll find plenty more information in our in-depth guide regarding the various types of wood used for cutting boards.
How to choose a cutting board to sell?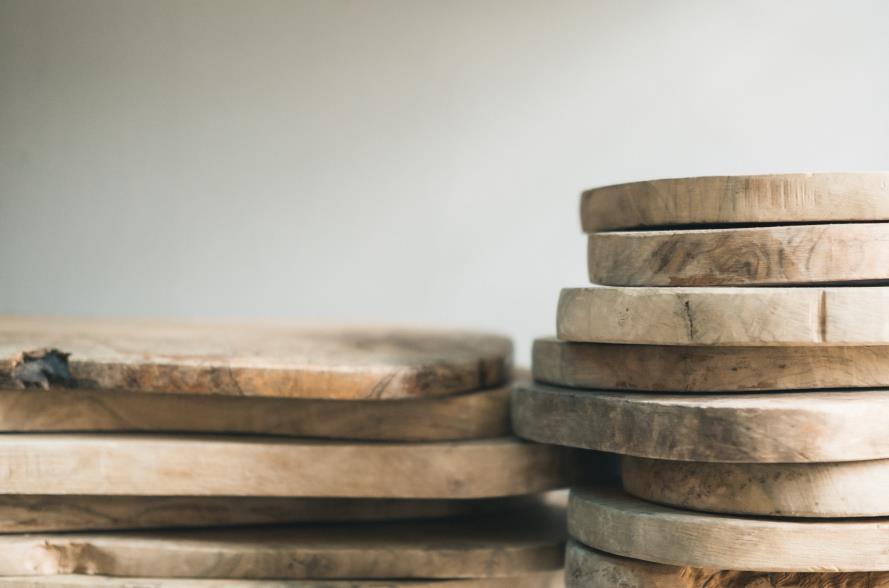 Cutting boards are staples in any kitchen, so they aren't necessarily hard to sell. Due to cross-contamination risks, cooks are advised to use at least two different boards – one for meat and one for everything else.
If you're not sure what kind of cutting board you should sell, a great starting point is to profile your customer base. The average home cook will generally want a board that's durable, safe, and doesn't require a lot of maintenance, such as maple or bamboo boards.
If your customers can splurge on higher-end knives, it's worth looking into boards that are stylish, durable, but gentle on their tools, such as an end-grain teak board.
Professional chefs will appreciate natural rubber boards that are suitable for heavy use.
For customers who appreciate the visual aspect of a product, walnut or acacia boards make great choices.
Generally, the safest options for both the chefs and their knives include wood, rubber, and formaldehyde-free bamboo.
Look out for toxic finishes such as unrefined, petroleum-based mineral oil, or chemical-based wood stains (which contain acrylic or urethane binders).
Lastly, there are many boards with extra features, but they usually come with trade-offs. Rubber feet will make a board more stable, but they won't allow the cook to use both sides of the product.
Likewise, liquid-catching grooves or handles might seem like a good idea, but they can make the board harder to sanitize.
Takeaway
There is no "best" option for a cutting board that will comply with everyone's tastes, which is why you should first consider the type of customers you serve.
Depending on their lifestyle and general preferences when it comes to kitchen utensils, they might prefer one option over the other.
It's up to you to decide which type of cutting board will look and feel best in their kitchens, but we hope this guide will give you a good starting point.
Remember to contact us anytime for a quote of your ideal cutting boards, other kitchen accessories, or kitchen knives!