Walnut wood, particularly black walnut, is a popular choice for cutting boards today and we're here to help you with product knowledge on this wood.
As this article will show, walnut wood is a good choice for a cutting board, and there are a number of reasons why. Let's investigate this useful hardwood further!
What is walnut wood?
Walnut wood is from the walnut tree, of which there are over 20 species in the genus Juglans.
Walnut trees are found in Europe, Asia, and the Americas. They produce edible fruit, which is good as edible fruit generally means a non–toxic wood product that's safe for consumers to use.
The characteristics of walnut wood
Walnut is a hardwood that's environment resistant and appropriate for indoor and outdoor use, so it's used for everything from cabinetry to patio furniture.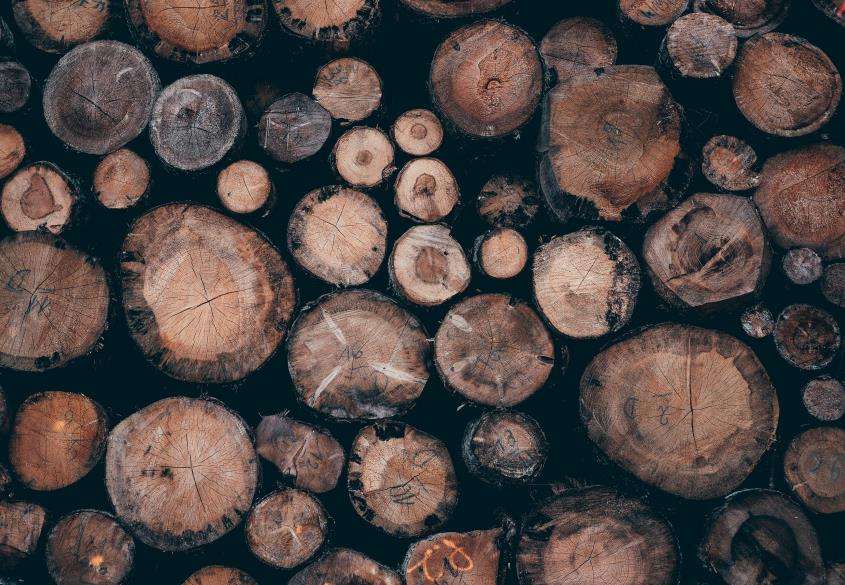 Medium hard and relatively heavy, walnut wood ranges from a light brown to a dark chocolate shade with streaking. Purple, grey, and reddish tones can also occur.
The wood has a straight grain, which can sometimes be irregular. It has a slightly coarse texture, and a deep natural shine when worked. Walnut wood diversifies its patterning and can have interesting anomalies like burls (swirling) which is why walnut is a favored wood for luxury car veneers!
Walnut wood is semi-ring-porous to diffuse-porous depending on its age and it can be closed (tiny pores) or open grain (large pores) depending on where it's grown. For the purposes of a cutting board, closed-grain walnut is best as this limits the liquid absorbed by the board.
These growth characteristics all make for a wood that's intriguing to look at and aesthetically pleasing for home products like cutting boards.
Buy Wholesale Cutting Boards and Start Scaling up with Us Today
Contact us and connect with a sales rep to get a free quote.
Is walnut wood good for cutting boards?
Hardness and kindness to knives
Black walnut has a Janka hardness rating of 1 010 lbf and English walnut is slightly harder at 1 220 lbf.
This puts these commonly used walnut species in the 'Goldilocks' range of hardness for cutting boards, i.e. they're just right.
That range is 1 000 to 1 500 on the Janka scale and means a cutting surface that's hard enough for durability, but soft enough not to bend or damage knife blades.
Rot resistance
Black walnut offers high resistance to rot/fungal decay, whilst English walnut is moderately resistant to rot.
These woods are usually treated when they're being made into cutting boards so rot in walnut is not an issue to the buyer.
Antimicrobial properties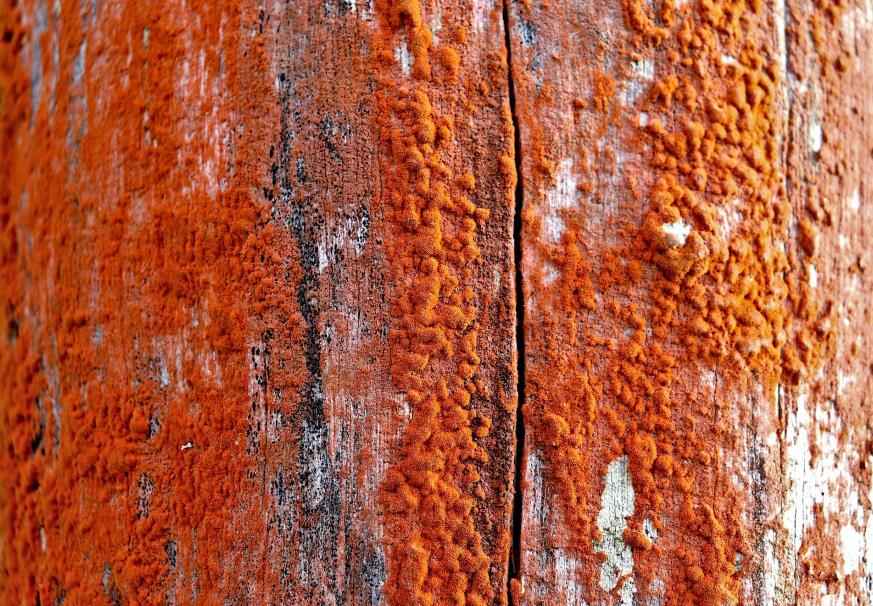 Both black walnut and English walnut have antimicrobial qualities which makes them sanitary cutting boards.
Water and pest resistance
Walnut is highly resistant to wet environments and water drops on their surface. Particularly if it's sealed with a food-safe product like food-grade mineral oil or beeswax to give a lustrous clear finish.
This moisture resistance means that walnut wood cutting boards aren't prone to warping, cracking, or fungus growth, which is good news for the purchaser!
Walnut wood is naturally vulnerable to insect predation, but pest treating it during manufacture eliminates this problem.
Workability
Walnut is classed as a wood that's easy to work if its grain is uniform. It also takes treatments like varnishes/stains well, so beautifying a walnut cutting board is simply done.
Walnut is easily carved too, meaning that a cutting board supplier can offer carved walnut cutting boards for a bespoke 'look'.
Aesthetic
Walnut is seen as a premium wood today because it's beautiful, variegated in appearance, and relatively scarce. You'd be selling a classy, desirable piece of wood if you're selling a walnut cutting board.
With colors ranging from violet hues to pale shades as well as inkier dark tones, every customer can find a walnut cutting board to match their kitchen décor, walnut offers good versatility that way.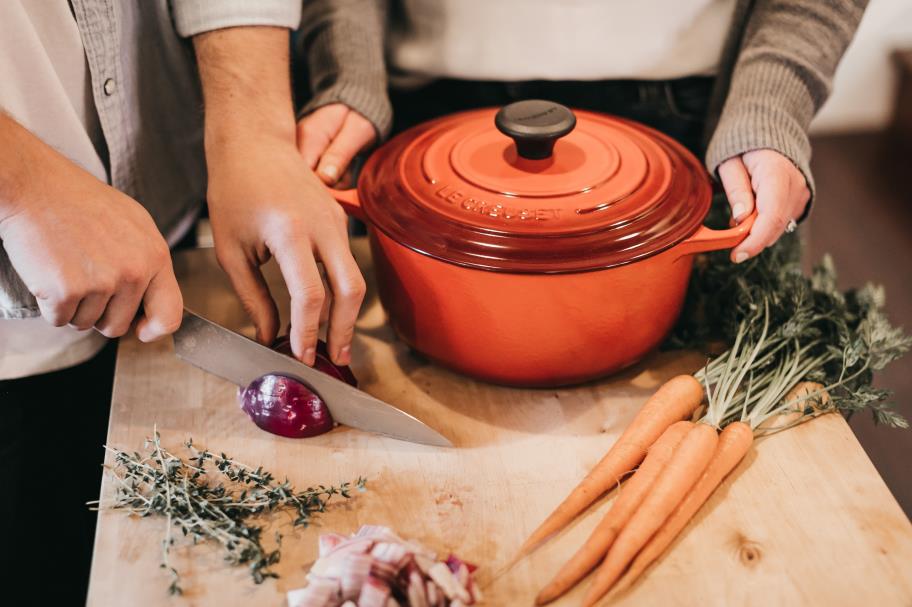 As we've seen, walnut woods are strong contenders for a choice of cutting board material. Now let's look at some other popular cutting board woods!
Walnut wood vs other wood types
Maple
Maple has a Janka hardness rating of 1 450 lbf so it's also in the 'Goldilocks' zone for cutting boards and won't ruin a cutting edge.
Maple doesn't have good natural water resistance and requires regular oiling to make it highly water-retardant. This means it's not the best choice for wet kitchen environments or if the board is to be stored near a sink.
Maple cutting boards because of their permeability can be prone to moisture-induced rot. They are also prone to pest damage so must be pest treated by the manufacturer.
With its straight grain and smooth texture, maple is more homogenous in appearance than woods like walnut, but it can offer patterning too – those pieces are good picks for a charcuterie board.
In appearance, maple is a blonder wood that develops a honey-colored patina as it ages. This lighter base tone is undeniably pretty but will unfortunately show knife marks quite quickly.
Overall, maple isn't the best cutting board wood to consider but does well in charcuterie boards because these see less intensive use.
Teak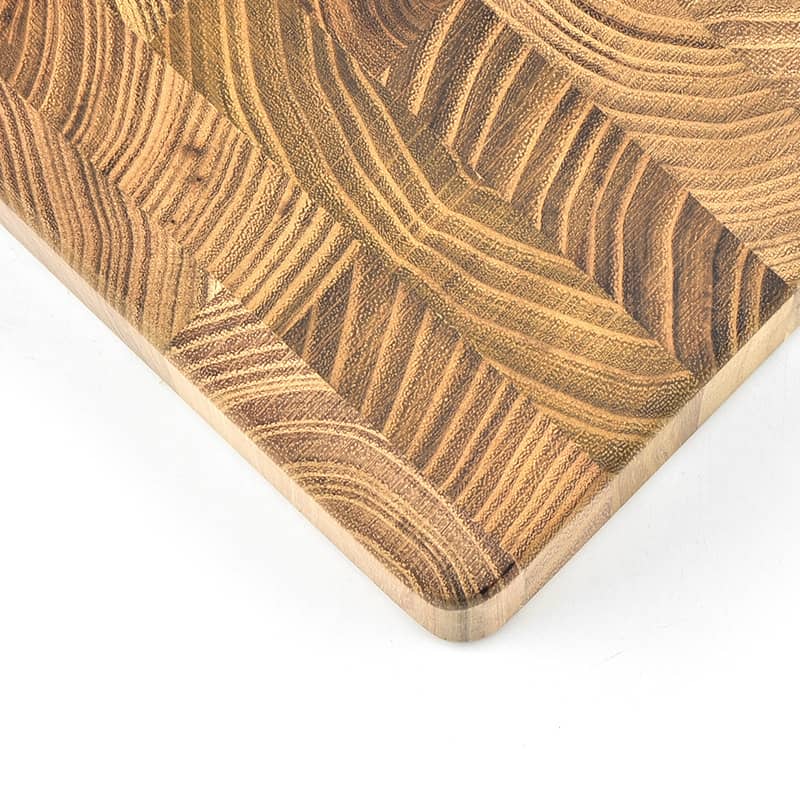 Teak wood has a Janka hardness of 1 155 lbf so it's safe and appropriate to work on with kitchen knives.
Teak is rot resistant, and also exceptionally water resistant as it's an oil heavy wood – these are desirable qualities in a cutting board and ensure durability over the long term.
Although pests can attack teak, teak wood for cutting boards is pre–treated to prevent this issue.
Teak offers a germ killing cutting surface because it has natural antimicrobial properties, which is key for acceptable kitchen hygiene.
Gorgeous teak has a tight and straight grain pattern that supports a glossy surface finish. In color, teak is usually a light honey brown color but offers color variation unique to each piece of wood, no two boards will be identical!
Teak will develop a gray or silvered patina as it ages, which is desirable to many wood enthusiasts and seen as a sign of quality wood.
Teak wood is certainly a wise choice for a cutting board material as it just ticks so many boxes for a kitchen wood product. It's got the impact resistance and toughness to survive daily use without onerous or complicated care required.
Acacia
Acacia differs widely in Janka hardness rating as there are about 1 000 different acacia species!
The best acacia for a cutting board will be between 1 000 and 1 500 Janka hardness, and this class of teak is readily available today from leading suppliers.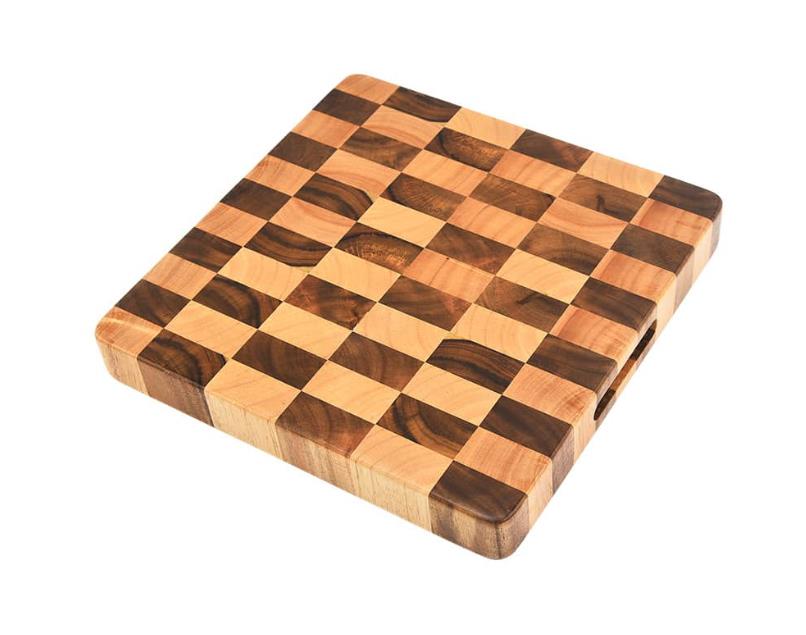 The oil content of acacia species means that it's a rot resistant choice for cutting boards, and it's antimicrobial too, giving good protection against kitchen pathogens.
Acacia has good water resistance, so it won't warp or crack easily, particularly if it's been treated to enhance this natural protection.
Insect pests need not be a concern as many species of acacia are naturally pest retardant.
Acacia wood has many admirers as it's an appealing wood to look at and enjoy in the kitchen setting.
Acacia cutting boards are available in assorted natural hues, with streaking or without, depending on what species is being sold.
The texture of acacia is medium to coarse, with a straight or slightly interweaved grain that won't trap food particles whilst food prep is being done.
Acacia can darken slightly as it ages, giving that time earned patina so loved by wood experts.
Compared to many other woods available today, acacia offers a fairly priced and long lasting cutting board.
The latest cutting board designs see its natural beauty being paired with other materials like marble, for a truly special product that cleverly combines Nature's best.
Buy Wholesale Cutting Boards and Start Scaling up with Us Today
Contact us and connect with a sales rep to get a free quote.
In conclusion
Wood cutting boards are a diverse and exciting product to retail as each type of wood gives its own character and strengths to the board.
Wood is appreciated in the knife accessories market today and as it becomes scarcer, its innate appeal and exclusiveness rise.
Nothing can compete with the beauty and enduring charm of a totally natural kitchen showpiece, and wood offers such variety that the range of products available can satisfy even the pickiest customer.
We hope that this article has answered your walnut wood questions and also given you inspiration in expanding or starting a wood cutting board range of your own.
Do consider wood cutting boards as wedding, housewarming, or engagement gifts – they're such useful gifts that will see everyday use!
LeeKnives offers an alluring range of wood cutting boards backed by in – depth product knowledge and helpful after sales support. Do have a look.
Our quote portal is the place to be for the best deals and all the information you need on the ordering process.
Until next time dear reader, we wish you good health, and happy selling!